Hotel spas for a better winter
Release the tension in your muscles and minds in the lap of luxury
It always feels good to go to a hotel spa, but I was extra happy when I walked into the lobby of the Conrad Seoul's spa. Sitting in a sofa next to the curtains, I first filled out a questionnaire and then was guided to the spa room. I liked the room's huge, sunny window (they closed the window during the massage for extra coziness) and their aromatherapy products by WAS were especially attractive as I felt like I was being healed just by the scent of their oils. I didn't pick the oils myself, but three different kinds were used for a foot bath, body massage and a treatment. Swedish massage was the main focus and the therapist gently rubbed my skin using the palm of her hands. I hoped that she would press a bit harder on the knots in my muscles, but it was satisfying enough. I love to fall asleep in the middle of a massage and that's exactly what happened. The aroma of the oil followed me around until the next day—not to mention how soft my skin felt!
The JW Spa in the JW Marriott Dongdaemun Square Seoul was where I could really have the knots in my muscles worked out. The therapist who took care of me was so professional. I chose the treatment where the masseuse uses their palms and fingers, as they usually apply delicate pressure on one's muscles. What I realized once again was that a massage really depends a lot on the ability of the therapist. The pressure applied on my muscles was rather intense, but I happily endured it to get better results. The therapist's hands pressed exactly where they were supposed to, making me think, "Oh, right there, right there!" I asked her to focus on my back and shoulders, so this took up the biggest part of my massage. At the JW Marriott Hotel Seoul in Banpo, I tried their spa package, which includes a night's stay in a Superior room, a spa pass for two, breakfast at The Café for two and a late check out at 2pm. The spa room itself was rather old and there wasn't anything special about it, but I was glad to see that they were using oil products by Yonka, which I use at home as well. They also use products by luxurious cosmetic brands such as Comfort Zone and Leisuretime. During their deep tissue treatments, the therapist uses her fingers, elbows and arms. My hands and face often swell up after a treatment like this, but because I went to the spa's oxygen room and put on an oxygen mask for 10 minutes right after the massage, the swelling went down. Breathing in oxygen after a spa treatment was an unusual, yet refreshing experience.
Other then these, the facial program at The Belle Spa of The Plaza Hotel Seoul and the Sulwhasoo program by Lotte Hotel Seoul are worth checking out. The facial spa program at the Sheraton Seoul D Cube Hotel starts at 150,000 won, making it one of the more reasonable hotel spa programs.
Hotel spa programs in Seoul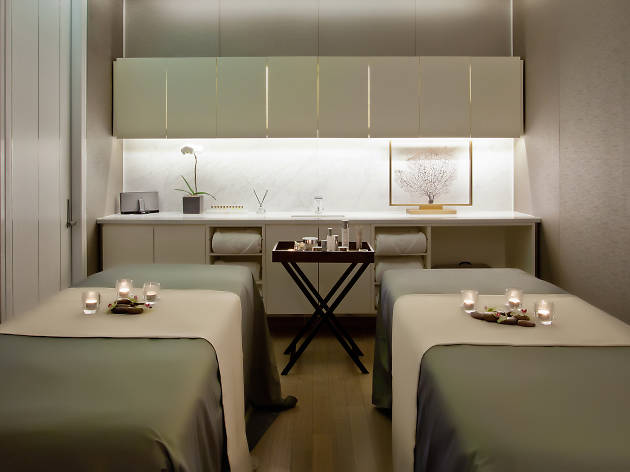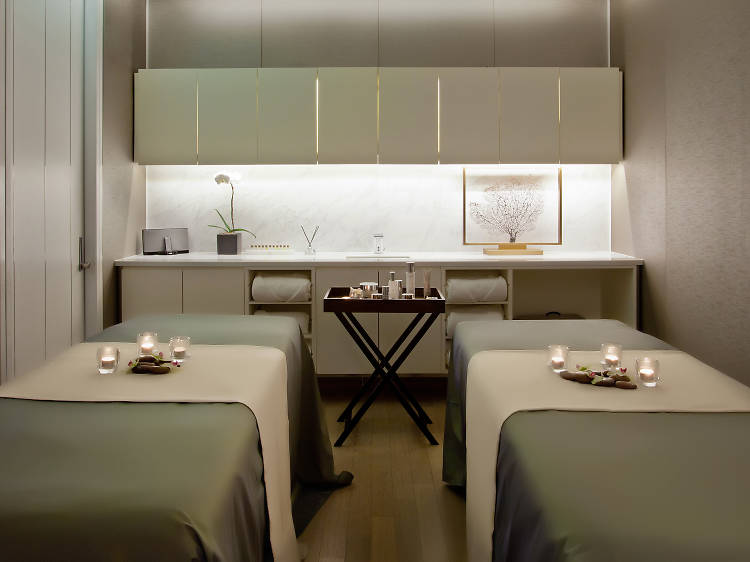 Real Aromatherapy Experience at the Conrad Seoul
Before the treatment starts, you first have a foot bath for 15 minutes so that your feet can be washed and scrubbed. Three different types of oil are used during the session and they provide you with a gentle Swedish massage. It is relaxing enough for one to fall asleep during it. (02-6137-7432). 180,000 won (60mins).
Aromatherapy Associate at the JW Marriott Dongdaemun Square Seoul
They only use their palms and fingers for their massage and apply delicate yet deep pressure to your muscle knots. They use products by Aromatherapy. (02-2276-3282). 176,000 won (60mins).
Aroma Deep Tissue Treatment at the JW Marriott Hotel Seoul
They use products by the French brand Yonka. Peppermint oil will alleviate your stress and their oxygen room where you can breathe in oxygen for 10 minutes after a Swedish massage and deep tissue treatment is absolutely the best. (02-6282-6578). 176,000 won (60mins).
The Belle Spa Signature Treatment at The Plaza Seoul
They offer a variety of spa packages that include traditional Korean massage therapies. This is the only spa that uses products from the Italian spa town of Saturnia. (02-310-7764). 168,000 won (70mins).
Pevonia Soothing Skin Facial Treatment at the Sheraton Seoul D Cube City Hotel
After a deep cleansing, they use a gel serum as they massage your skin and a vitalizing cream to soothe it. Thanks to this facial treatment, your skin will feel softer and its tone will be brighter.
(02-2211-1680). 154,000 won (60mins).
Sulwhasoo Spa Signature Treatment at the Lotte Hotel Seoul
Before the treatment starts, you first warm your body in Sulwhasoo Spa's salt studio. Then begins the session that will brighten your skin with a shoulder massage and the use of whitening products with ginseng-based ingredients. (02-318-6121). 200,000 won.
Namu Signature at the Park Hyatt Seoul
This spa, which is under the Park Hyatt Seoul's direct management, offers a spa menu with four different natural element themes of "trees," "water," "rocks" and "Korea." (02- 2016-1176). 210,000 won(60mins).