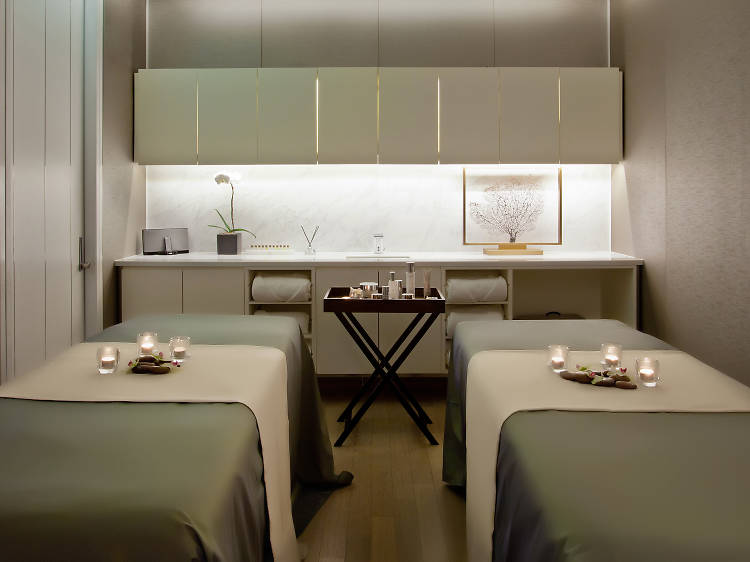 Real Aromatherapy Experience at the Conrad Seoul
Before the treatment starts, you first have a foot bath for 15 minutes so that your feet can be washed and scrubbed. Three different types of oil are used during the session and they provide you with a gentle Swedish massage. It is relaxing enough for one to fall asleep during it. (02-6137-7432). 180,000 won (60mins).
Aromatherapy Associate at the JW Marriott Dongdaemun Square Seoul
They only use their palms and fingers for their massage and apply delicate yet deep pressure to your muscle knots. They use products by Aromatherapy. (02-2276-3282). 176,000 won (60mins).
Aroma Deep Tissue Treatment at the JW Marriott Hotel Seoul
They use products by the French brand Yonka. Peppermint oil will alleviate your stress and their oxygen room where you can breathe in oxygen for 10 minutes after a Swedish massage and deep tissue treatment is absolutely the best. (02-6282-6578). 176,000 won (60mins).
The Belle Spa Signature Treatment at The Plaza Seoul
They offer a variety of spa packages that include traditional Korean massage therapies. This is the only spa that uses products from the Italian spa town of Saturnia. (02-310-7764). 168,000 won (70mins).
Pevonia Soothing Skin Facial Treatment at the Sheraton Seoul D Cube City Hotel
After a deep cleansing, they use a gel serum as they massage your skin and a vitalizing cream to soothe it. Thanks to this facial treatment, your skin will feel softer and its tone will be brighter.
(02-2211-1680). 154,000 won (60mins).
Sulwhasoo Spa Signature Treatment at the Lotte Hotel Seoul
Before the treatment starts, you first warm your body in Sulwhasoo Spa's salt studio. Then begins the session that will brighten your skin with a shoulder massage and the use of whitening products with ginseng-based ingredients. (02-318-6121). 200,000 won.
Namu Signature at the Park Hyatt Seoul
This spa, which is under the Park Hyatt Seoul's direct management, offers a spa menu with four different natural element themes of "trees," "water," "rocks" and "Korea." (02- 2016-1176). 210,000 won(60mins).