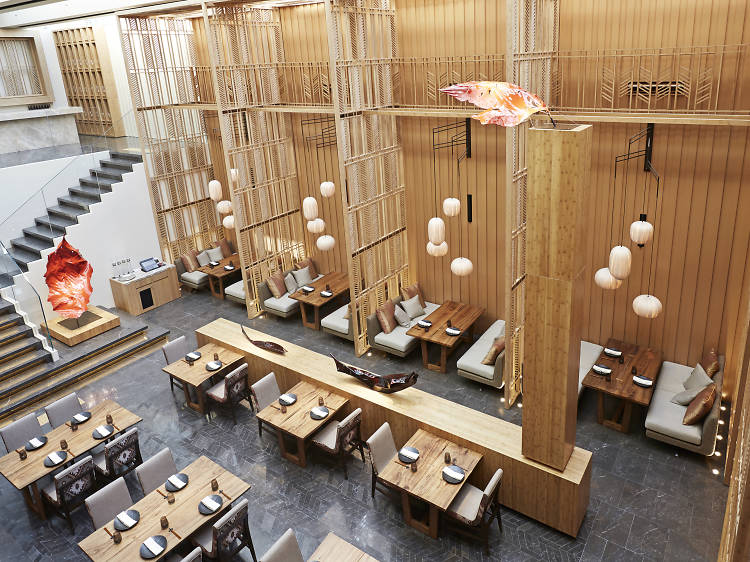 On the first day of October, the Four Seasons Hotel Seoul finally opened. Its 25-story building stands tall beside Gwanghwamun. As Four Seasons Hotel is one of the most luxurious hotels in the world, its branch in Seoul with 317 rooms is definitely being put on the spotlight. Having a look at their restaurants and rooms in the lobby lounge, which they affectionately call the "Living Room," I could see how much they invested into the building. Most of the walls and shelves are made of marble and every corner of the hotel and rooms are decorated with a total of 160 pieces of art. The swimming pool even has golden tiles. To light the hotel's ball room, Four Seasons used crystal products from a famous Czech company.
Equal care has been given to the hotel's dining options. But their classy atmosphere was made possible for reasons that extend beyond how the fact that they spent a lot of money on it. What matters the most is their savoir-faire and what they have been building up over the past 50 years in regards to managing hotels and resorts all around the world. There are seven restaurants located In the hotel. The most stylish one among them is arguably their Japanese restaurant, Kioku. As you walk in, you can look down on the tables, three stories below, as there are no opaque ceilings in between. The restaurant is composed of two stories: a sushi bar is on the top and table seats downstairs with wooden partitions. Also at the hotel is the more affordable Italian option, Boccalino's, which with prices starting at 16,000 won is a real steal by hotel standards. But this doesn't necessarily mean that you should expect less from them. Their beefsteak, served during the hotel's opening event, was amazing.
Those staying at the hotel overnight can enjoy impressive views on top of great service. From the lounge on the 28th floor, guests can see Gyeongbokgung (Gyeongbok Palace) and the Blue House near Bugaksan Mountain on the one side and Namsan and busy downtown Seoul on the other. Beds come in three different options: soft, medium, and hard. While most hotels provide complimentary fruit, snacks at the Four Seasons Hotel are provided at the guest's preference.
The bar Charles H, which is in the basement, is quickly gaining popularity. Only two weeks after opening doors, people are already talking about their speakeasy concept. My next Seoul staycation? Definitely at the Four Seasons.
97, Saemunan-ro, Jongno-gu (fourseasons.com/kr/seoul, 02-6388-5000). Deluxe Room one night 445,000 won.