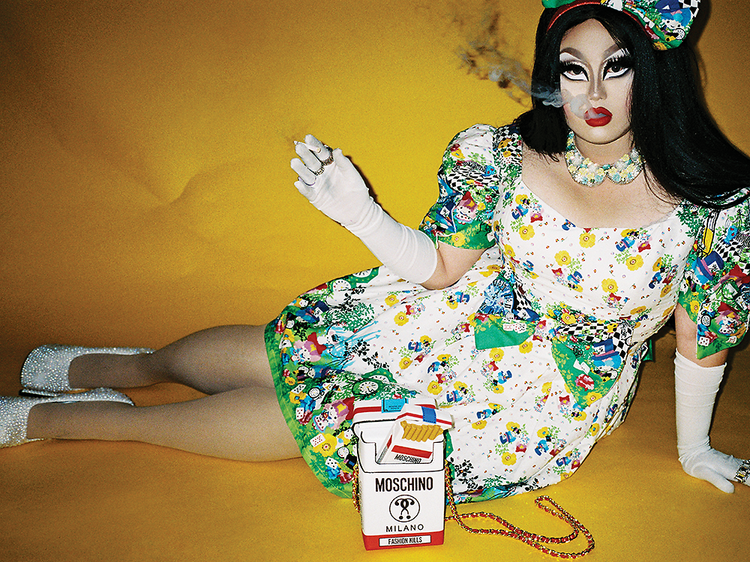 Tae Hwan Kim
Welcome back to your motherland, Korea.
Thank you. It feels great to be back. Although I've lived in the US since middle school, my 2 years of high school spent in Korea makes me feel like a native. But every time I visit, everything feels new.
There were lots and lots of people who came out to see you at Club SKRT.
I never imagined that there would be that many people. I remember thinking I'd be grateful even if 10 people showed up.
News about you coming to Korea was a craze on social media.
Really? I had no idea. I felt deeply honored to see all the people who packed the club.
During your performance, you almost cried but held it in.
My eyes got watery from watching people scream and enjoy themselves with anything I did. I still feel their energy in me. I don't know when I'll be able to see a spectacle like that again. I would love to come back often if situations allow.
You sang a Korean pop songs during the performance. was that intended?
Yes. The song, by a group named Morning that unfortunately disappeared after one album, is called Habit (Seupgwan). It's the song I listened to everyday in high school. Because it helped me go through life as a teenager, I wanted to share its charm with the audience. I also wanted to include Gummy's If You Come Back, actually, but left it out because it was too sad.
When asked about your feelings about the performance, you mentioned it was your wish to be able to perform in Korea.
When I was 16 in Korea, Itaewon was my playground. I was outgoing from a young age [laughs]. From what I recall, it was impossible to see transgendered people or drag queens in the area. That's why I wanted to bring the American drag culture to Korea and introduce it. To my surprise, though, the drag queen community here is quite lively.
Have you met any of the Korean drag queens?
Of course. They were very mysterious. Their on stage performances were very professionally planned. Most of all, I loved their friendliness towards me.
While you can see more of LGBTQ culture in Korea nowadays, many are still unfamiliar with drag queens. We believe that a lot more people will be informed through this opportunity.
That would be a relief. I looked myself up online and a news agency introduced me as a transgender. I believe many people here don't know the difference between a transgender and a drag queen.