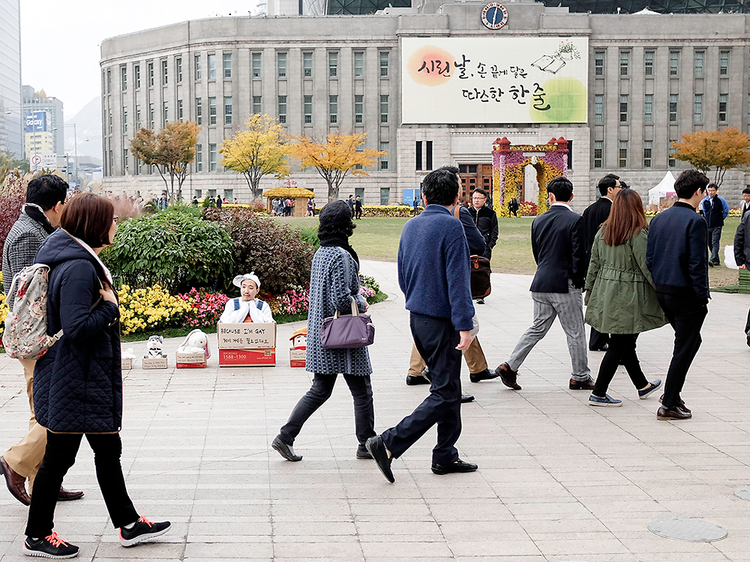 Blair Kitchener
How would you introduce yourself?
People call me an artist or an activist. I draw illustrations, take pictures and put on various performances here and there. It was never my intent, but doing what I can do with the talent that I have, in a field that I know best, doing the work that I want to do—I naturally ended up in the LGBT scene.
Does that mean you were an art major?
In high school, I studied really hard and got into business school. Being a normal student at a university made me wonder what I really wanted to pursue. Finally, in the end I left my school and decided to walk the path I'm now walking.
What made you start doing street performances?
An organization for teenage [sexual] minorities called Dding Dong was the beginning of my performances. It's a queer community founded recently to help students who were being bullied at school or kicked out of the house for coming out of the closet. They need finances to keep the place running, but in my opinion, the deeper issue that we need to get to is changing the way people view the LGBT community. That's how I came up with the performance, "Unjustifiable."
What's "Unjustifiable"?
It's a street performance that has been featured in Hongdae, City Hall, Myeongdong and other places where lots of people pass by. This performance is expressing the injustice of a child suffering when they are kicked out of their home because of their gender identity.
What gave you the inspiration for the piece?
I wanted to share this message in a friendly, approachable way instead of being all scary and dark. I was inspired by the scene in Toy Story, when Andy throws away Woody because he's going off to college. It's my witty way of expressing how unfair it is to abandon a child because they are gay, similarly to how we might toss out a bunny doll because it's missing an eye. At first, people passing by were worried some haters might attack me or curse at me, but thankfully most of them [have] enjoyed this performance. (If this were to happen in Utah or in a country like India, this story would've been featured in the 8 o'clock News and not in Time Out.)

*PHOTOGRAPHS: Blair Kitchener