2016 Incheon Pentaport Rock Festival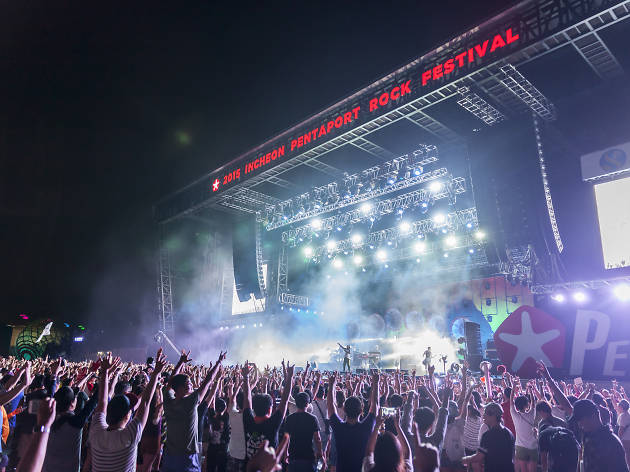 1/2
2/2
Green! Freedom! Holiday!

- Line-up
Aug 12
Suede, Nell, Boys In The Kitchen, Crash, Galaxy Express, Method, Oral Cigarettes, Rude Paper, Run River North, Rux, We Are The Night, Geeks, Incredivle, Ja Mezz, Microdot, Zion. T

Aug 13
Weezer, 10cm, At The Drive-In, Crossfaith, Daybreak, Dickpunks, Grouplove, IAMNOT, IDIOTAPE, Life and Time, NBT, Oriental Showcus, The Preachers, Romantic Punch, Sultan of the Disco

Aug 14
Panic! at the Disco, Two Door Cinema Club, BlackHoney, Dear Cloud, Fromm, Jannabi, Jooniljung, The Koxx, Ludistelo, MAAN, Monarchy, Spyair, Peterpan Complex, The Vaccines

- Must-see Musicians
Suede, a quintessential Britpop and modern rock band.

- Other headliners
Weezer, who has sold 17 million albums; groovy and melodic Panic! at the Disco; electronic pop band Two Door Cinema Club and more.

- Past successes
With Seo Taiji as headliner in 2015 the festival attracted 45,000 people that night and 100,000 for all three days.

- Reasons to go
For those music maniacs who live and die for rock, this one is for you.

- Tip
BYO food? Not allowed to bring outside food.
Etc. Discounts for Incheon citizens, students of universities in Incheon, military personnel, those who are handicapped and people of national
merit (refer to website). Children under the age of 13 with guardians and people over the age of 65 will be admitted for free (documents required). Aerosol deodorant spray prohibited.