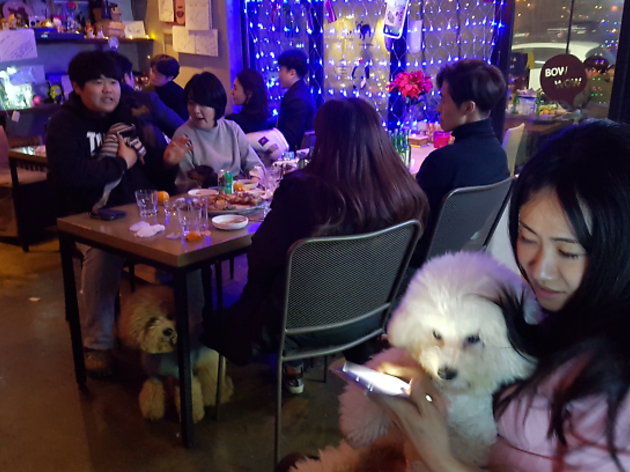 Dog-friendly restaurants, bars and cafés you should take your furry friend to
Don't leave your lil' dog go out of the fun!
What do you do when you want to party and don't want to leave your companion animal at home? Well, next time you plan on grabbing a few drinks with your buddies, ask them to meet at one of these places in Seoul and take your furry friend with you!
Dog-friendly restaurants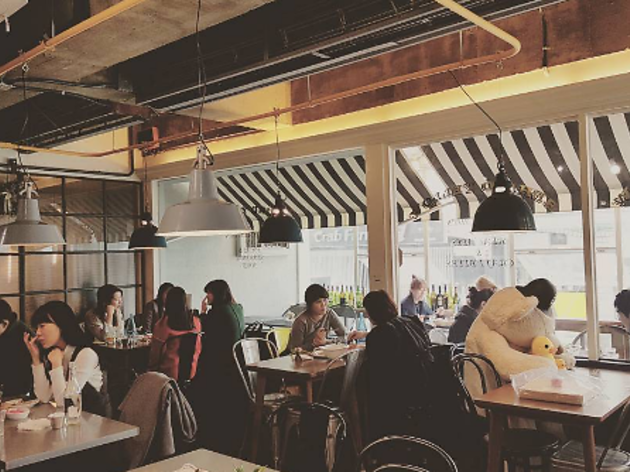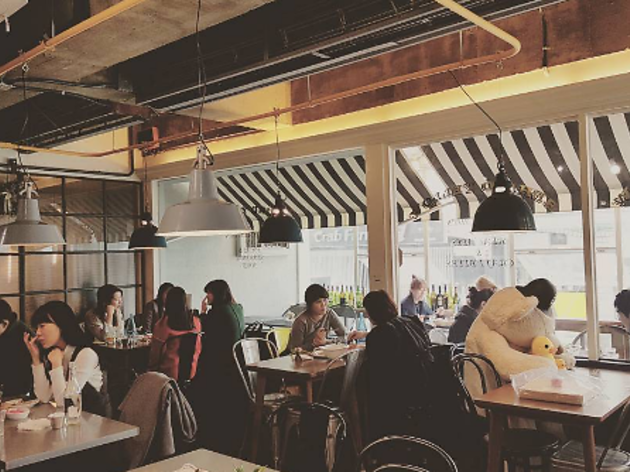 Nonhyeon-dong's Behind Yellow is a well-known dog-friendly restaurant. They've got great services geared towards dogs, and also make some mouth-watering dishes for humans. Inside the venue is a small terrace area with four tables dedicated to those with a four-legged friend. They even offer comfortable dog seats that are fully equipped with railings which prevent a dog from falling off the chair. Note that while medium and large breeds are also allowed inside, but must be leashed at all times. Behind Yellow's specialty is the Roast Beef Gorgon (19,000 won). It's a rich, creamy pasta dish with Australian beef tenderloin and a lot of gorgonzola cheese. Their fresh ricotta spinach pizza (22,000 won) is also a popular menu item.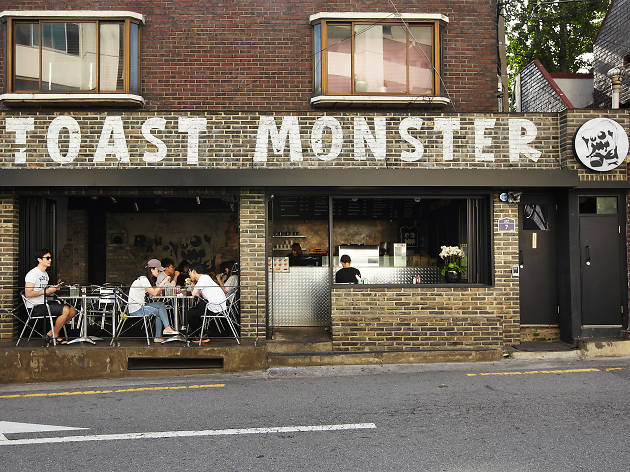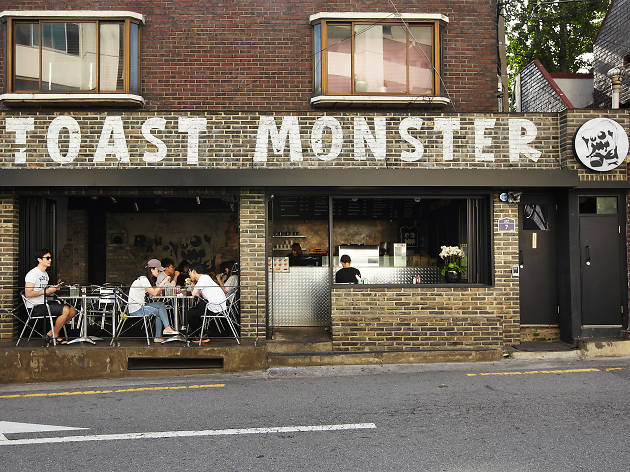 As its name suggests, Toast Monster located on the Gyeongnidan-gil Road is all about toasted sandwiches. Juicy lobster pieces with fresh onions and spicy jalapeños make the Lobster Toast (18,000 won), a popular menu item. The Bacon, Egg and Cheese (6,000 won) along with the Mac and Cheese Sloppy Joe (10,000 won) are both filled with a lot of cheese and simply yummy and filling. Enjoying one of these tempting things with your furry friend around you – it's too good to pass. Note, however, that animals are allowed in here only during weekdays.
Dog-friendly bars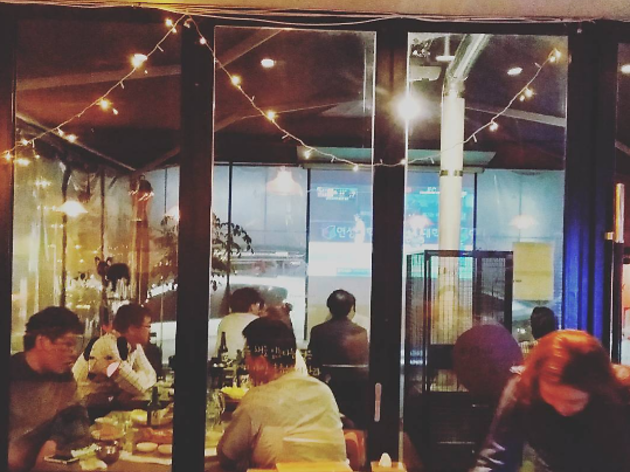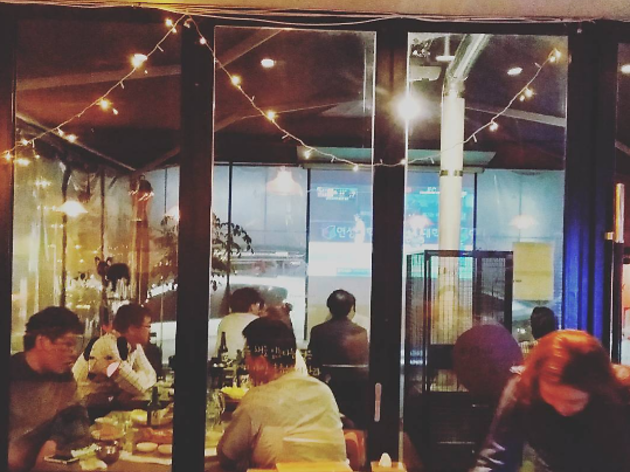 Their mascot is two Bichon Frise furballs. Too cute? We agree. Bichon Pocha located in Shinsa-dong is so popular amongst animal lovers in Seoul that the whole bar is swarmed by dogs of all breeds, especially during dinner time. But, is it a real bar, you ask? They are open till 6am, and has a wide open space along with a terrace. Often, you can even spot some Korean celebrities hanging out with their human and animal friends, as well. Their main menu is seafood, including steamed octopus and fresh sea squirt (35,000 won). With all the fish tanks installed in the restaurant, it's always good to ask the server what's in season. If sea food isn't your thing, there is the spicy stir-fried pork bone dish (20,000 won).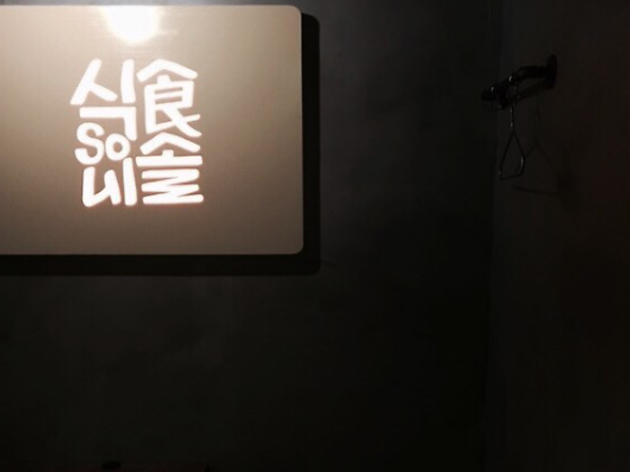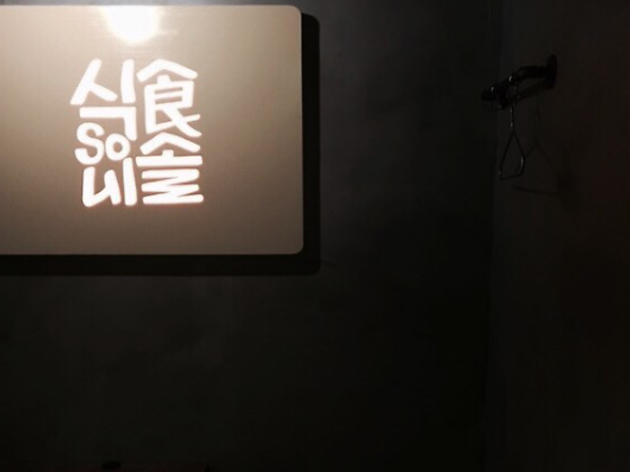 Located in Dogok-dong, Sik-Soul has a space reserved for customers who bring their dogs. All of the dishes here are pretty good, especially considering the price. The sweet and spicy chilli tuna tortilla (20,000 won) and the large pan of okonomiyaki with crunchy bean sprouts (19,000 won) are great to be shared with a group. There are also a few beef dishes including the beef bibimjangbap (7,000 won) and Gyeongsang-do style beef and radish Soup (7,000 won).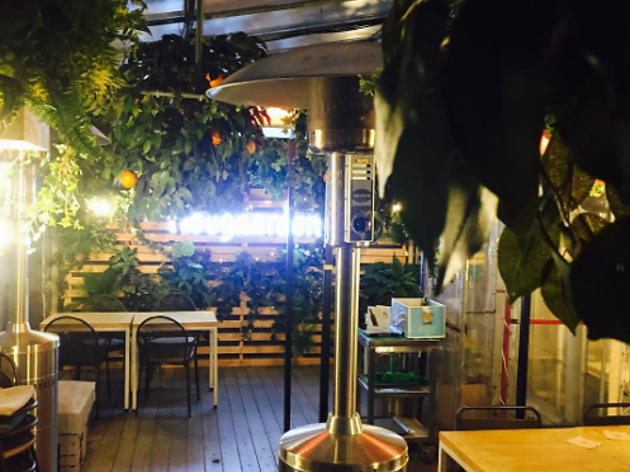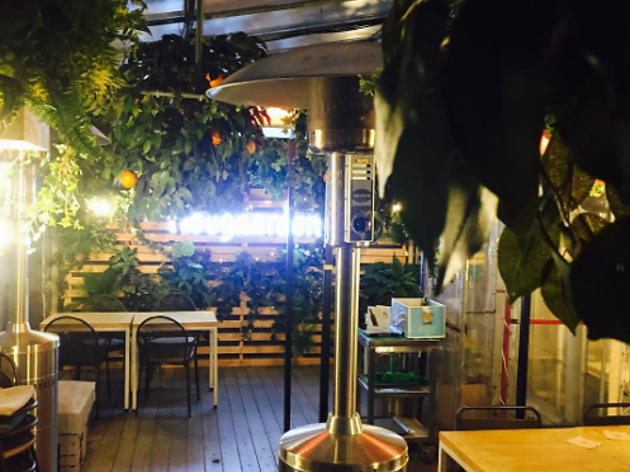 Patio.D is Hapjeong's celebrated dog-friendly restaurant. Their Pesto Genovese Pasta (18,000 won) with fresh basil sauce and Lobster Rose Pasta (24,000 won) are their most popular menu items, while the pizza and homemade burgers are also good. Note that the second floor of the restaurant is open to dogs, but the third floor has restrictions. What to look for here in terms of space, however, is the rooftop, where dogs are free to roam. Anyone who's bringing their dog here is required to have potty pads with them – but if you do forget, you can purchase some at the restaurant.
Dog-friendly cafés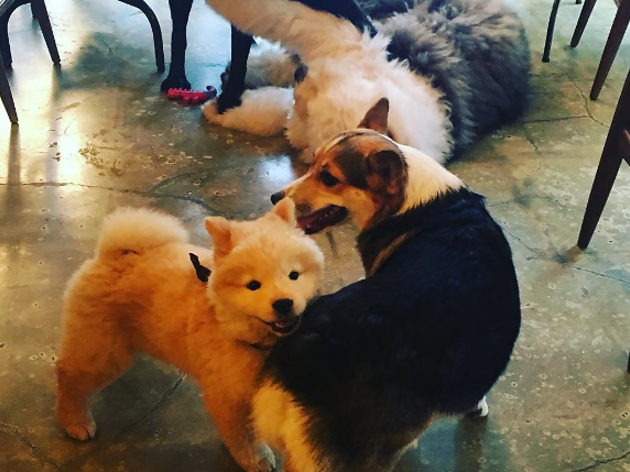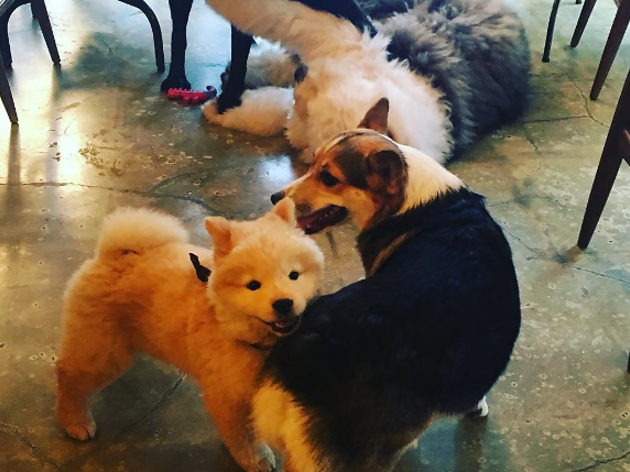 Maybe I was lucky, but on the day I went, there were more dogs than there were people. Mangwon-dong's Café Bongja gets its name from the owner's beloved Welsh corgi, Bongja. Along with the goofball corgi, there is another dog who always roams around the café. A mascot duo, these two are often the reason the patrons frequent this place. As for the café menu, the drinks served here are on an inexpensive side, while you are free to bring in food from outside. The green grape and grapefruit juice (6,500 won) and grapefruit ade (6,500 won) are quite refreshing.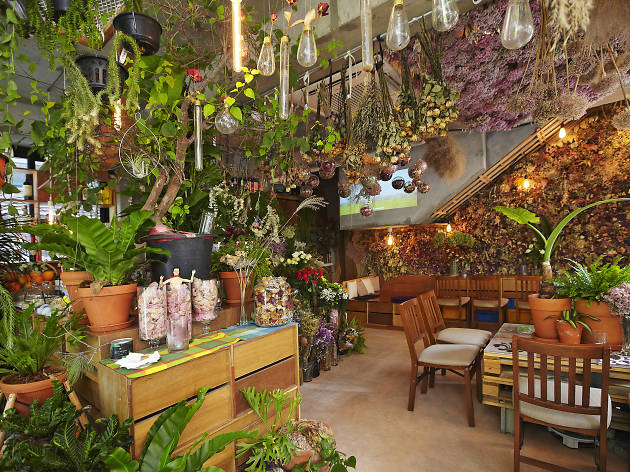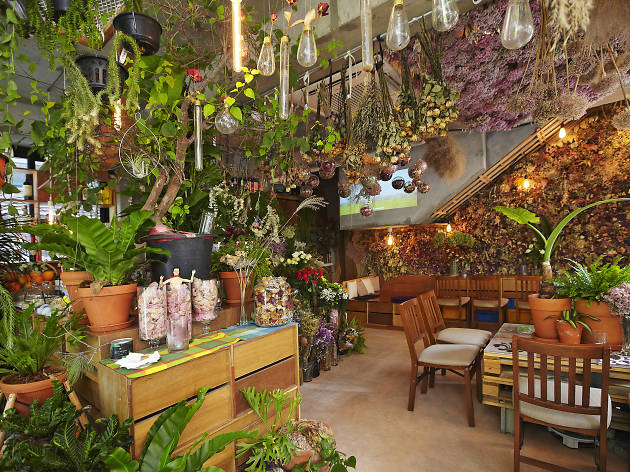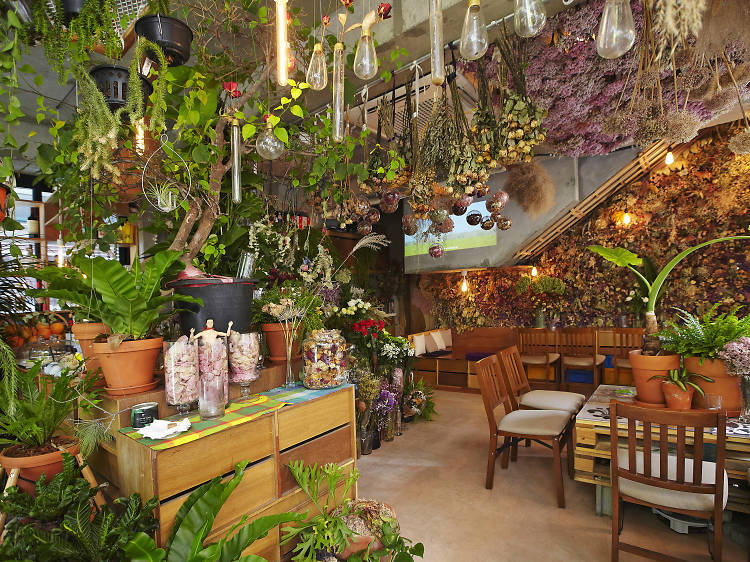 Yeonnam-dong's VERS Garden uses flowers and plants as the main ingredients for their unique and stylish interior. Upon entering, you will see around 30 types of unique plants and flowers on display all around you, even in the water dispenser. It is a café and a flower shop, which transforms into a wine bar for the evenings. Customers are welcome to bring in their furry friends here, and considering the quality time with your best buddy, surrounded by beautiful flowers, the price of drinks (most herb teas are 7,000 – 7,500 won) here are not bad at all (their Choco Shake with floral scents is a specialty). Don't forget to bring potty pads if you're accompanied by your dog, as the café itself doesn't offer any. Oh, and it's a great place to take selfies with your dog!
Located near Dosan Park, this café is owned by designer Woo Young-mi, who is at the center of the craze over K-fashion. It is also used as an exhibition hall for artists, and the café always looks new as they have different exhibitions all the time. It's the perfect spot to go with your friends, bring a laptop and work or read books on your own. Another plus is that you can bring your pets too.
Find out more about Pet Cafés in Seoul