Myeongdong street food: Edible or regrettable?
Street food is in a whole other dimension in Myeongdong.
You already know about street food in Seoul. Whether it's a spicy and savory dish like tteokboki and o-deng or a sweet red-bean filled pastry, most Seoulites know that street food is in a whole other dimension in the shopping district of Myeongdong. Filled with so many different food vendors, you gotta wonder—why are all the tourists lined up at their booths? Is it really that good? Is it really paying for? We at Time Out Seoul have done all the investigative work for ya.
These carts vary in location and availability month to month, and we can't guarantee how long the trends will last, so catch them (or please don't) while you can.
Edible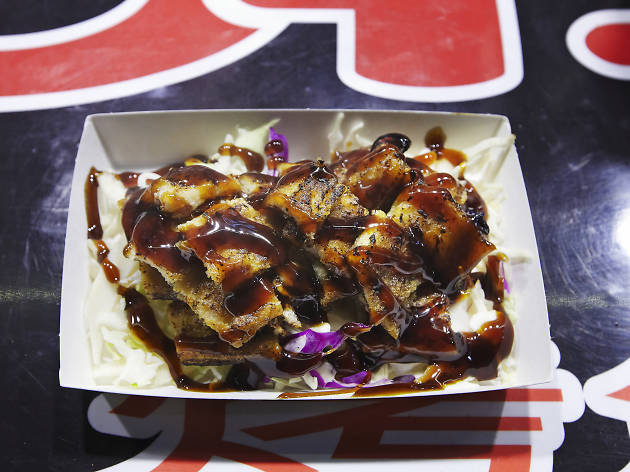 Eel? As a street food? Yes, they sell eel and it's not entirely gross! This eel is seasoned overnight with salt, pepper, ginger, lemon and other herbs, steamed beforehand, cooked on a charcoal pan and then served over a bed of lettuce with your choice or barbecue or spicy sauce. Depending on how many customers they have, the process takes 5 to 10 minutes. 8,000 won.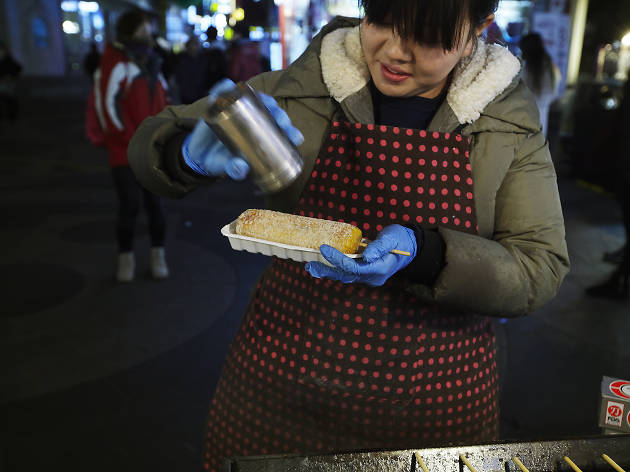 For tourists in Myeongdong, Havana corn has become the new selfie-stick. Just as popular, but so much less annoying (and exceptionally delicious!). Made famous in restaurants by Café Habana in New York, Havana corn here in Myeongdong is offered in three different varieties: plain, honey butter and the Narcotic. The Narcotic is made of steamed corn that's lathered in butter, sprinkled with parmesan cheese and a dash of hot pepper. 4,000 won.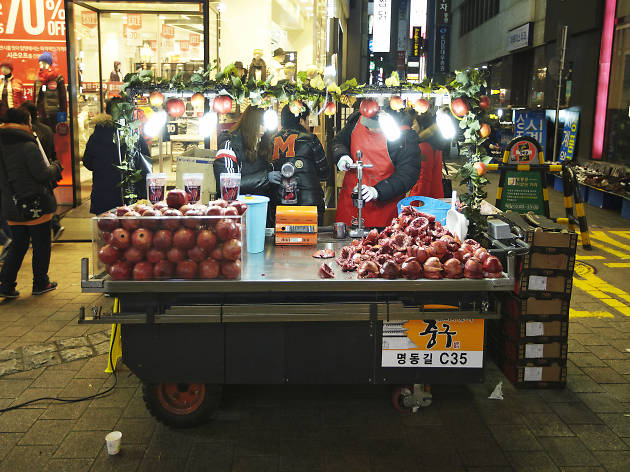 There's no catch. It's just pomegranate juice and is a sweet, healthy surprise amongst all the calorie-filled fried food. A highly sought after fruit in China, this "moon plant" is associated with good luck because of its red color. Pomengrante juice stands are a dime a dozen in Myeongdong and one of the healthier options. 5,000 won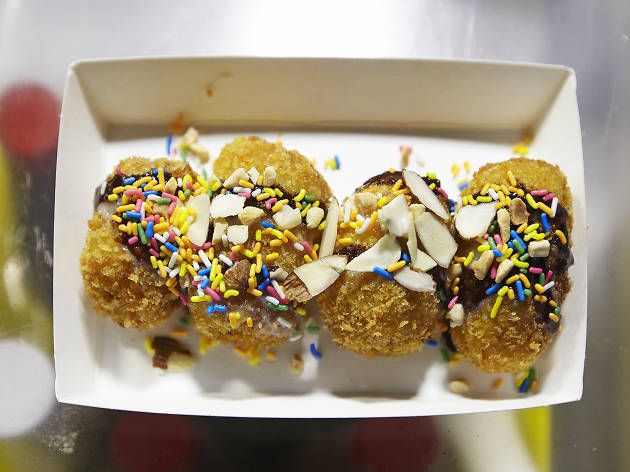 Similar to the taste (and smells) of a nutella-filled crepe, this chocolaty dessert is almost worth trying. A banana is rolled in batter and then deep fried. As a finishing touch, it's cut into pieces, topped with chocolate syrup, sliced almonds and sprinkles. In our opinion, they should just stick the banana on a stick and skip the whole frying process… But it's not that bad if you insist on having your food fried. 4,000 won.
Regrettable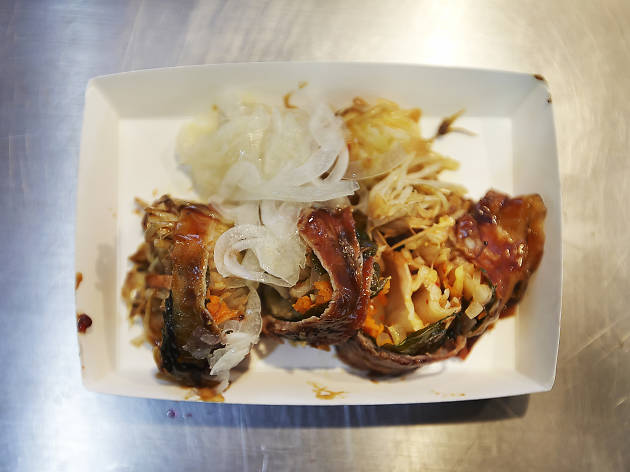 Vegetable-samgyeopsal roll
When you try this dish, you gotta ask yourself: How do they manage to take such delicious ingredients and combine them into such an unappetizing taste? For this dish, a large, thin slice of samgyeopsal is wrapped around a variety of spring vegetables (similar to those you might find in Vietnamese spring rolls) and then cooked over a pan fire, cut into four thick slices and served with your choice of barbeque or spicy sauce. 5,000 won.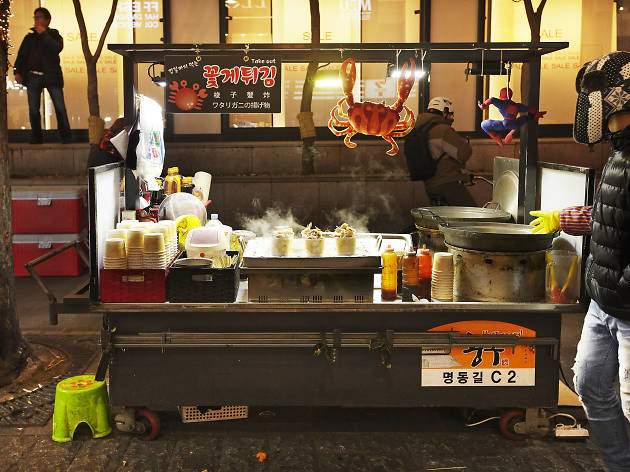 At first glance, you'd think this dish was just tempura. However, the cups are instead filled with the tiny fried claws and the bodies of swimming crabs. All of it is for eating, so enjoy the crunch as the food goes down! (Or in my case, coming back up… As I'm pretty sure I felt the claws when I threw up afterwards). 5,000 won.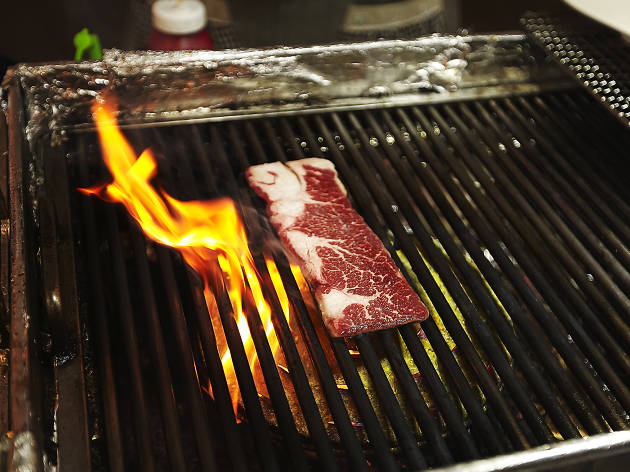 You thought it could only be done at a round table with chopsticks and soju, but it is indeed being done right in the heart of Myeongdong. A slice of meat (approximately 150 grams of hanwoo beef) is cooked over a pan grill and then served over a bed of sprouts. Sure, it's not exactly bad, but that's because there's absolutely no flavor to it whatsoever. 5,000 won.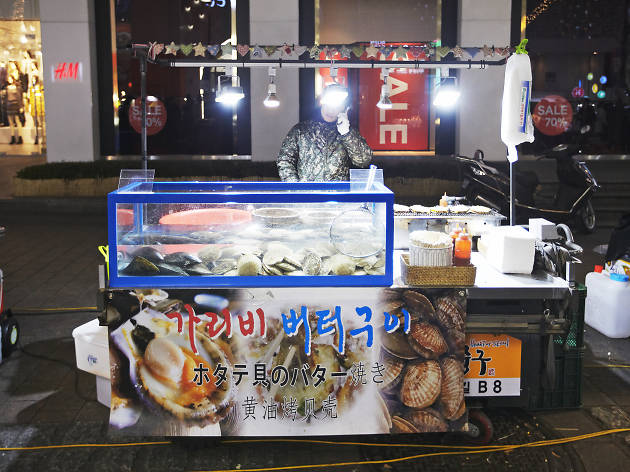 Perhaps the most visually stunning of all the carts… the sight of the tank is incredibly entertaining, but the contents are not worth eating. The live scallops are removed from a tank, seasoned and left to cook over a grill. Topped with mozzarella and cheddar, the cheese is then melted with a kitchen torch. (Note: For the price, you only get three bites.) 7,000 won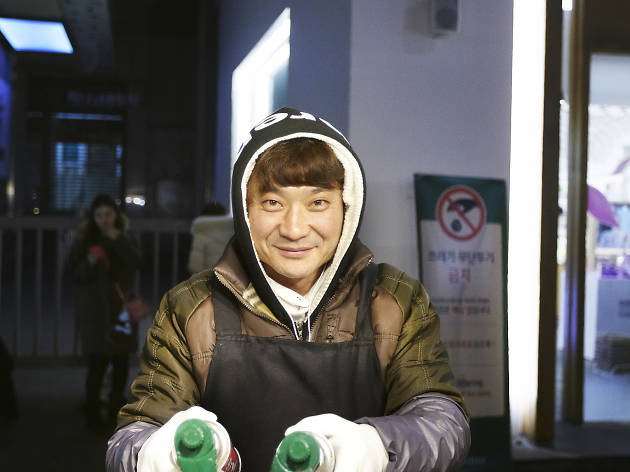 An insider's comment: "I've been in the Myeongdong street food business for over ten years. Sometimes it's donuts and desserts, sometimes meat. I just try whatever I think might work at the moment. These days, the Seoul government's involved and you're allowed to be in business for 20 days out of the month and there are a lot of Chinese people who are here helping out as well. I haven't really learned other languages much and have an assistant who helps with language now. One dish isn't necessarily more fun to make than another, but you sure do meet a lot of people doing this job." – Jung Young-sik (Broiled eel CEO).
More to explore