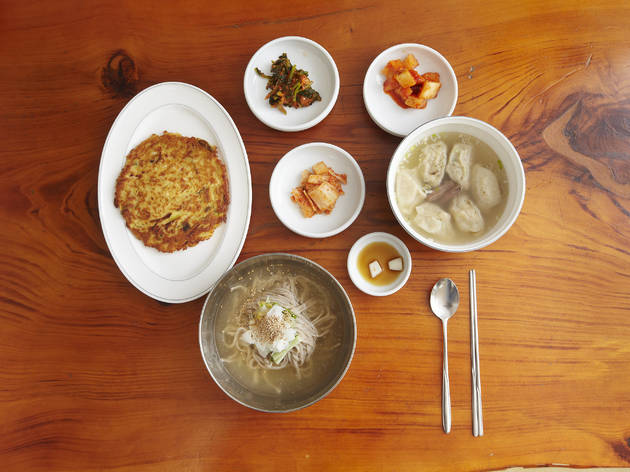 1/2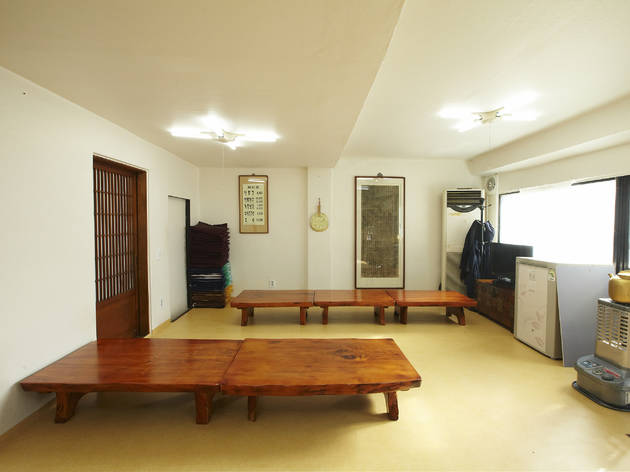 2/2
Named after the hometown of owner Yun Hu-ja's parents, Hadan is all about simplicity and quality. White walls surround low wooden tables and floor cushions, and the pared-down menu features just five items: mandu-guk (dumpling soup), mandu jeongol (a large, brothy dumpling stew), nokdu jijim (mung bean pancakes), maemil naeng kalguksu (buckwheat cold knife-cut noodles) and jokbal (braised pork trotters). When asked about the mandu, since it's written on the sign outside, Ms. Yun sighs: "Yes, the media always like to write about it because people think 'North Korea' and they think 'mandu.'" But it's clear that her pride lies in the buckwheat cold noodles, her own recipe inspired by the cold, clean flavors of the north. Her noodles are made in small batches by hand every day, 50 to 100 grams at a time, and the buckwheat gives them a little extra chew. Pair this with a savory mung bean pancake for a meaty, crisp contrast. This is not to say the mandu aren't good—they have surprisingly thin skins for their plentiful fillings and have the mild flavors of mom's home cooking. If you can't find room in your stomach for dumplings, order a pack of 16 for 15,000 won to take home.
Restaurants who make their own kimchi is becoming more of a rarity these days, but Hadan goes a step further and makes their own soy sauce as well. It seems the hard work is paying off: They've been open for over 20 years now, and are beloved by neighborhood locals and out-of-towners alike—at 1pm on a weekday, we found ourselves waiting for seats to open up. Avoid peak hours or be prepared for a bit of a wait.
Venue name:
Hadan
Contact:
Address:
14, Seongbuk-ro 6-gil
Seongbuk-gu
Seoul


Opening hours:
12pm¬–8pm (break time 3pm–5pm, last order 7:20pm)
Transport:
Hansung Univ. Station (Line 4), exit 6
Price:
Naeng kalguksu 8,000 won, mandu-guk 8,000 won, nokdu jijim 7,000 won.