Kong-guksu for all seasons
From a 57-year-old family-run place to a humble yet skillful restaurant nestled between traditional markets.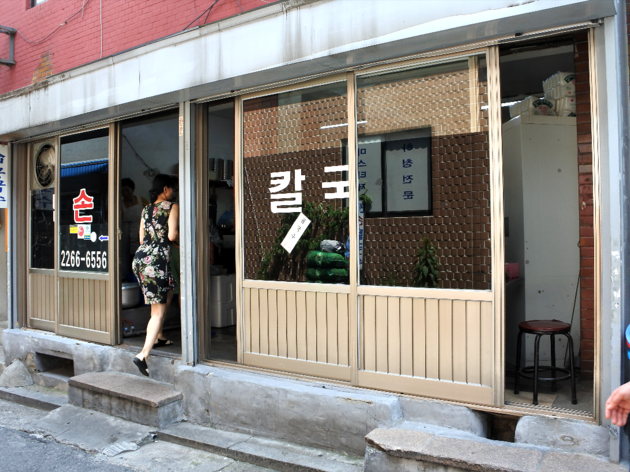 Some get busy in the summer so they never miss a chance to get this simple meal; others just don't get why it is even considered 'food'. Whether it's an acquired taste or not, the appeal of kong-guksu (cold soybean noodle soup) is in its natural, nutty and oh-so-comforting flavors. Some may consider the combination of just beans, water and salt that go into the soup is way too simple to allow any distinct character. But there are, in fact, many different factors to be found in one bowl to create variations: the type of noodles and garnish, along with how thick or thin the soup is and how savory (or even sweet) it is. We don't know how you feel about the dish, and we know we can't make you change your mind anyway; it's for those with delicate taste buds who've already got hooked by the simple, milky soup, we've prepared a list of great Kong-guksu restaurants in Seoul.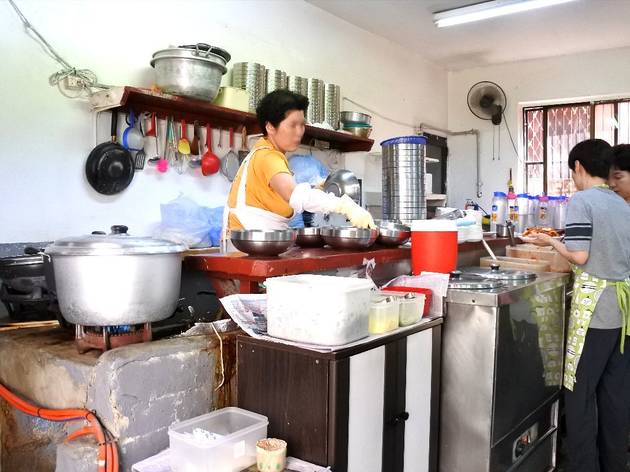 Jung-gu's Ojang-dong may be known for its decades-year-old naengmyeon eateries, but it's got another type of cold noodle dish that deserves to be held in an equally high regard: kong-guksu. Stepping in the humble establishment located in a narrow alley, you'll first notice large pots and an unpretentious open kitchen where ivory-colored dough constantly turns into soft noodles. One rather odd-looking scene you'll encounter here is that, even for a solo diner, a huge amount of kimchi's served. With one bite of the fresh kimchi, though, you'll know why: unfermented yet seasoned with a generous amount of fish sauce, the geotjeori (fresh kimchi) is crispy, pleasantly tangy and oh-so-addictive. At Manna Son Kalguksu, nothing's added to the kong-guksu before it's served, so the kimchi is that much important. The atmosphere, the service and even price (7,000 won) are friendly Manna Son Kalguksu. As the name suggests, also on the menu is kal-guksu priced at 6,000 won.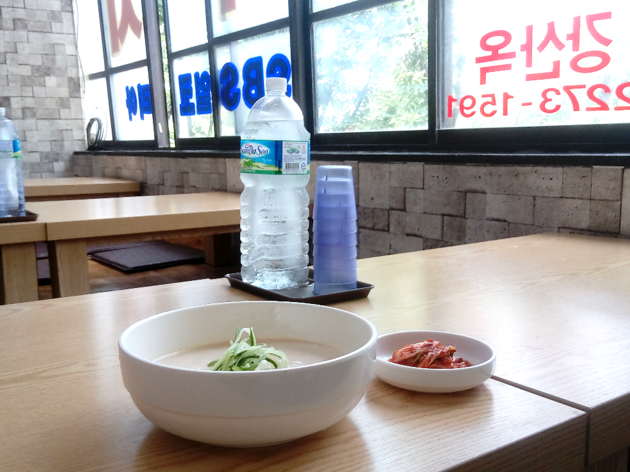 Between the Cheonggye 4-ga and the 5-ga by the Cheonggycheon Stream, this 57-year-old restaurant is housed on the second floor of an old, run-down looking building. Nestled around numerous wholesalers inside the Bangsan Market, Gangsan-Og is an easy miss for the first-timers. Contrary to its humble exterior, however, the restaurant which is now run by the third-generation owners, is one of the most loved Korean eateries in the area. In fact, in the 1960's and 70's, Gangsan-Og was one of the fancier establishments in the neighborhood which was still in part war-torn. Running from 11am only till 3pm, this kong-guksu (cold soybean noodle soup) restaurant is always filled with mostly older generations: in whom a sentimental value associated with the restaurant, the area and the dish still remains. For the younger crowds, however, it is only natural that the comfort of the bowl—which is largely due to the memories associated with it—may not be felt easily. The distinct atmosphere and service found at an almost 60-year-old mom-and-pop shop, though, is evident even in a single visit; while serving the constant flow of patrons, the owner keeps herself even busier by bringing complimentary soup for everyone, and asking around if anyone would like more noodles in their bowl. The flavors of the kong-guksu may not be anything special, but the warmth and generosity of the owners certainly are, making a long wait worthwhile.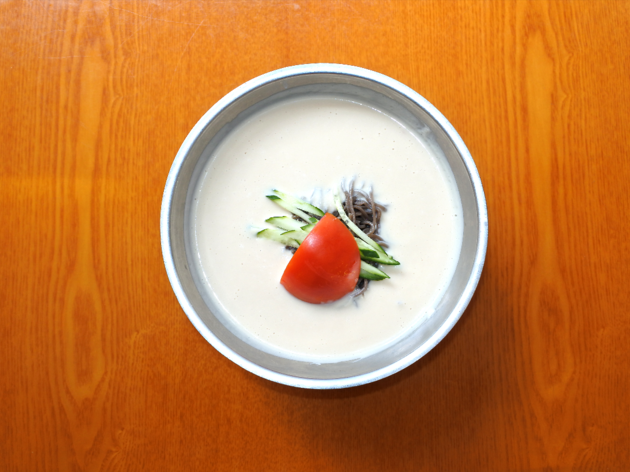 Matjarang uses buckwehat instead of flour to make its own noodles for kong-guksu (cold soybean noodle soup). Given that buckwheat often goes well for cold broths, the combination is quite smart, but unfortunately, the texture was a bit too chewy with a rather chalky surface making each bite quite unpleasant. The soup, however, is just nutty enough and deliciously thick. It's already savory enough when served, but prepared on the table are salt water (for better dilution) and sugar to be added to taste. Adding anything sweet to the dish is, in fact, quite rare of a scene among Seoulites, but it's what Matjarang's older-generation patrons do; many of them come from Jeolla-do, arguably the most epicurean province(s) in the country, so those who are curious may do as they do. The garnish atop the kong-guksu is a large piece of crunchy tomato, which goes surprisingly well with the mild soup. Would we go back? When in the area, possibly. But with the price of 11,000 won for a single bowl, it'll have to be with someone who loves kong-guksu enough (there are many other noodle and meat dishes featured on the menu, though).
Show more