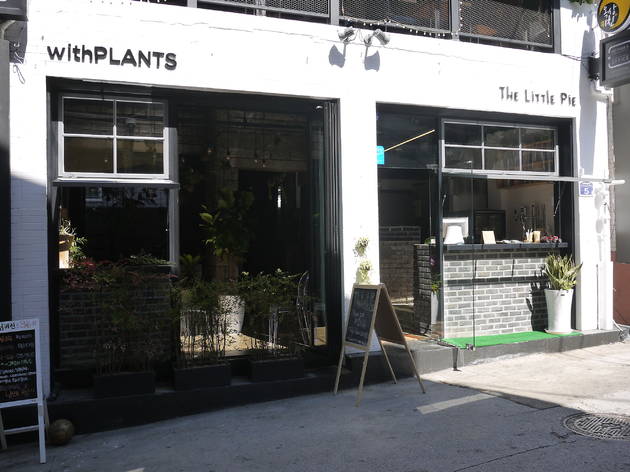 With restaurants in Gyeongridan these days opening up as quickly as they close, it's easy for a good place to get lost in the crowd of subpar churros and overpriced cappuccinos. And at first glance, The Little Pie looks just like any other posh café that's opened up in the neighborhood. That is, until you look closer and you see the simple menu of two items— chicken pot pie and meat pie. Just as the mouthwatering taste of kimchi jjigae might remind Korean college students of home, these savory pies do the same for many who grew up in the West. While the city's dessert scene might have flourished in terms of other sweet baked goods and even dessert pies, the savory pie is still difficult to come by. (Especially at an affordable price.) Owner Marco Kwon serves you the pies, often fresh out of the oven, in a venue surrounded by a decadence of plants. Previously an architect (hence, the interest in the venue's design), Marco fell in love with pies during his stay in Australia and tried his best to recreate that taste here. With a golden, flaky crust on the outside, the chicken pot pie is filled with a simple combination of cream, chicken, onions and lots of mushrooms. The meat pie was our favorite option with chunks of beef and onions, and a slight peppery kick. Some (myself included) might prefer chicken pot pies to be heavier on the chicken stock and cream, and richer in vegetables (carrots and peas, please) and others might like their meat pies minced, rather than chunky. However, at 4,500 won a pie with refillable soda at an extra 1,000 won, it's really hard to complain. After all, even the chicken pot pies that do exist in the area (albeit slightly bigger) cost at least 10,000 won. Lots of restaurants in Gyeongridan come and go, but we hope this one stays.
Venue name:
The Little Pie
Contact:
Address:
5, Noksapyeong daero 46 gil
Yongsan-gu
Seoul


Opening hours:
Tue–Sun 12–11pm (or until sold out)
Transport:
Noksapyeong Station, Exit 2
Price:
Pies 4,500 won.