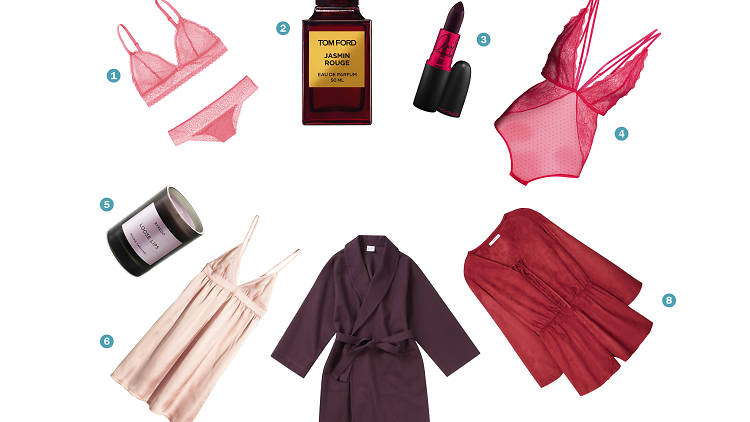 Shall we romance ?
All shades of red for all types of lovin' By Hwang Hye-young
1. We dare you to say no tho this lacy, pink como. Etam, Price TBA.
2. The truest way to his heart is through his nose with this floral scent, Jasmine Rouge. Tom Ford, 270,000 won.
3. What's sexier than doing good The proceeds from this lipstick go towards the fight against AIDS. Ariana Grande Viva Glam Lipstick, MAC, 29,000 won.
4. One-pieces were all the rage in swimwear this past season. Try a nighttime swim in the bedroom with this one. H&M, 39,000 won.
5. A candlelit dinner for two? This scent whispers, "Skip dinner and go for dessert." Loose Lips, Byredo, 96,000 won.
6. Sexy doesn't always have to mean raunchy and this baby pink slip-on proves it. H&M, 39,000 won.6.
7. Warm enough to double as a coat, tis bathrobe is so soft you can wear it to bed. Closing Ment, 109,000 won.
8. A comfortable jumpsuit that'll highlight your waistline. Mango, 79,000 won.