48 Hours: See Nice Legs walk Hongdae
Music, drinks and friendship with expat-band Nice Legs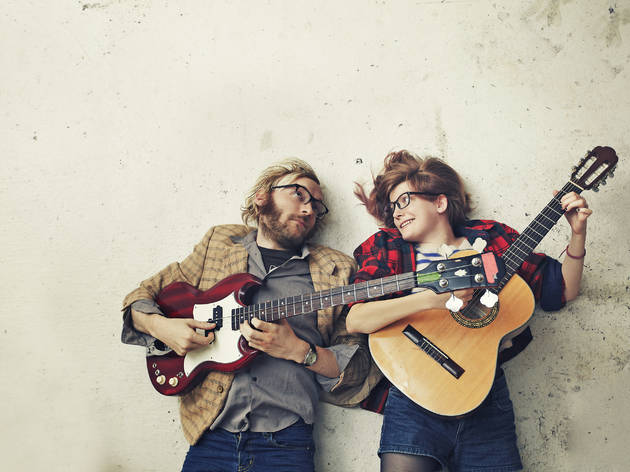 Lauren Walker and Mark Lentz were born in the same hospital in the same month of the same year, grew up in the same neighborhood, came to Korea at relatively the same time and finally met each other through mutual friends in Seoul. A long way from North Little Rock, Arkansas, they became the band known as Nice Legs during the spring of 2014 and released their first EP Lullaby Land later that year. Performing in a genre that is described by some as "dream pop," they've toured in Tokyo, Taiwan, China and the U.S. since their debut. Most recently, they performed at the Jarasum International Jazz Festival. Expats in the Hongdae scene for six years, they share fond memories and stories of places in the neighborhood that used to exist, of drunkenly falling asleep on the first subway and going the full 360 on Line 2, the friends they made, who are no longer here, and their love of music. In this month's 48 hours, the band shares with us two nights at their favorite Seoul spots.
Saturday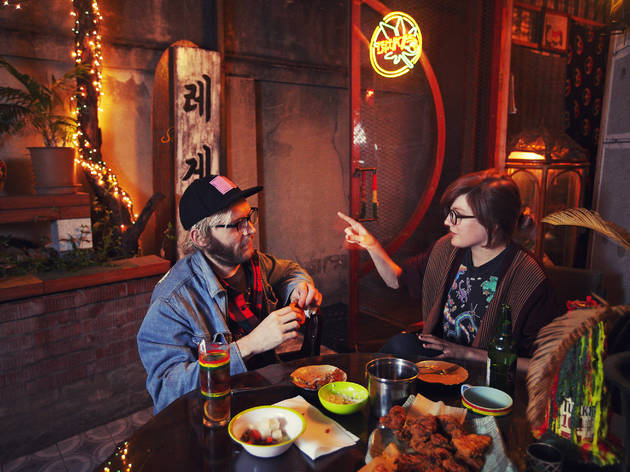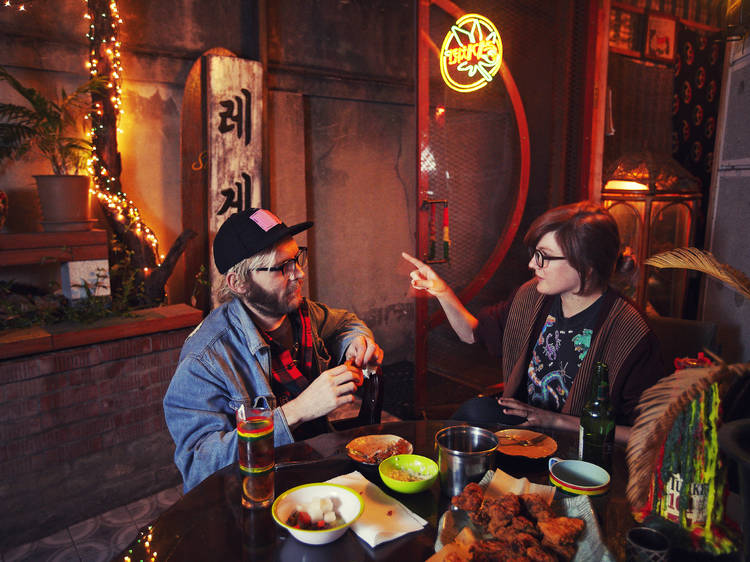 8:00pm Meet up with friends at Reggae Chicken
Lauren We like to come here because we love the guy who owns the place. I only eat the french fries though because I'm a vegetarian.
Mark She loves the white sauce that comes with the food.
Lauren What's in it do you think?
Mark Don't know, don't care.
Lauren We also like to get the rum and cokes. It's just a chill place where the atmosphere's good, the drinks are decent and where our friends gather.
Mark And the chicken's kinda different from other places.
10:00pm Drinks and music at Moonshine
Lauren The place (located upstairs of Reggae Chicken) opened up only about three months ago and not that many people know about it. It's a tattoo parlor and a bar, too.
Mark Yeah, I like to call it a "bar-lor."
Lauren Mark got both his tattoos here. I think it's a great idea… get drunk AND get a tattoo! The bar's décor is full of all sorts of cool things, but where you get the tattoo is a separate clean space. Plus, there are all these instruments upstairs. We've even performed small concerts here for small crowds twice.
Mark Sometimes, when we're at bars, people think we're married!
Lauren Sometimes, people think we're cousins.
Mark But we are definitely not married. And it's cool how platonic of friends we are.
Lauren And super cool how his wife is about everything. She's really the greatest.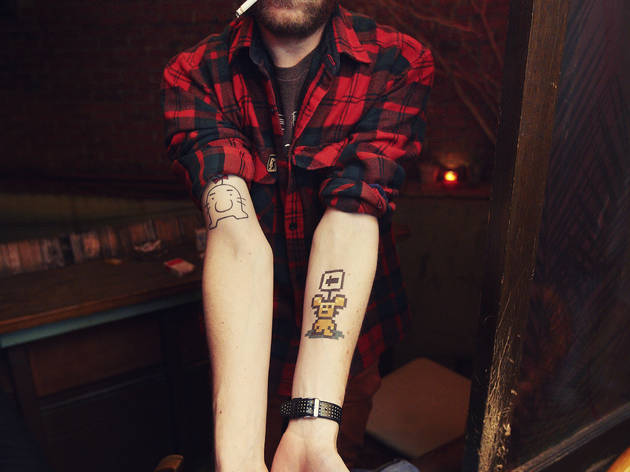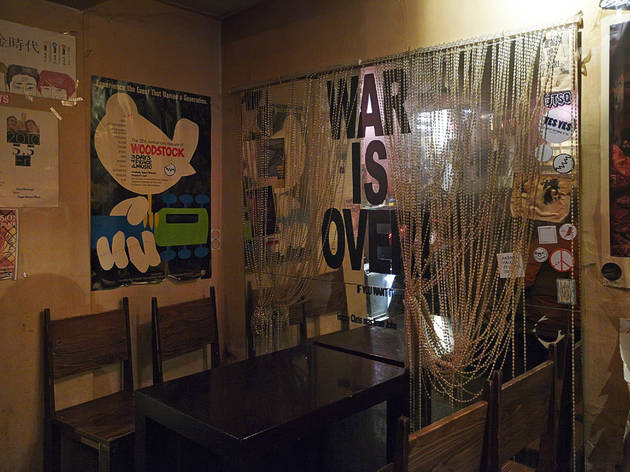 12:00am Second round of drinks and music at Strange Fruit
Lauren I like Strange Fruit because it kind of has a dingy house show vibe. There's no stage, so there's more of an intimate feel. When there are no concerts, they're always playing good oldies. Always interesting people to meet there. Unique acts and nice staff.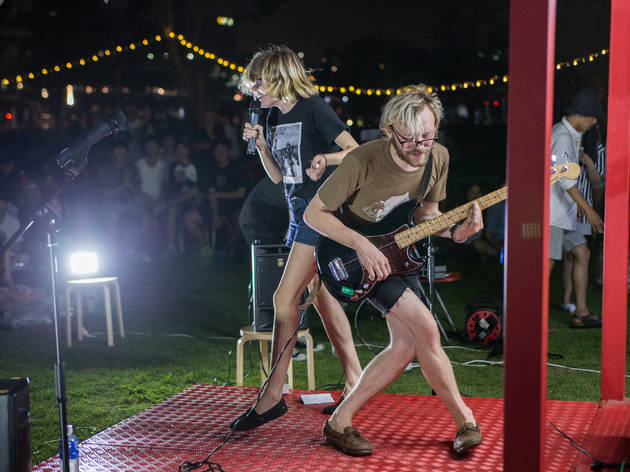 Douglas Vautour
[PHOTO CREDIT: DOUGLAS VAUTOUR]
Sunday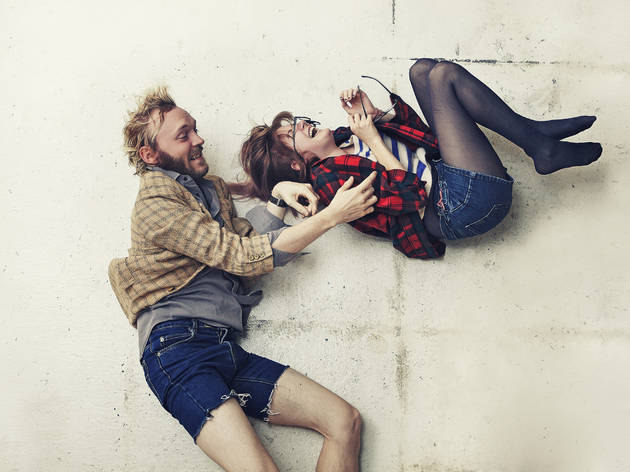 4:00pm Bulgasari at Yogiga Expression Gallery
Lauren I came to Korea with two things in mind. North Korean humans rights. [Lauren previously worked as a refugee resettlement case manager in Buffalo, New York] and Yogiga. My friend went on and on about this place. And when I came to Korea, it's where I met most of my friends. Mark, you wanna add something?
Mark I love this place. That's about it.
Lauren It's magical, wouldn't you say?
Mark Yes, it's where we recorded our first album.
Lauren It's a haven for weirdos and creative geniuses who just want to express themselves. If you lack social skills… If you need a place to feel at home, this is a place where they will nurture you and help you find what you want to express. Sure, it's not an incredibly organized place all the time, but what else can you expect when there's no limit to anything. It's really warm and refreshing.
[Lauren, who has a key to Yogiga, explains their once a month event, Bulgasari.]
Bulgasari, meaning starfish, is an event that happens every last Sunday of the month. An experimental open-mike. It's different every time. A grab bag. Sometimes it's great and sometimes it's like, let's get a coffee and come back (because there's no time limit). There's experimental and noise music, dancers, comedians and rappers. We're always looking for artists to put up their work for the event because you can do it for free. I don't know what kind of person I would be today without Yogiga.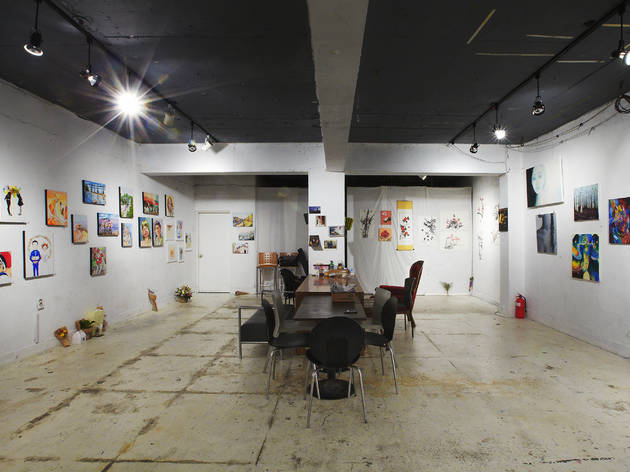 7:00pm Live performance at Hongdae Playground
Mark This is where we first performed!
Lauren Mark was out of a job and I was living with him and his wife, sorta not doing much. She was nudging him to get out of the house and so the two of us went out to Hongdae Park. I do most of the singing and lyric-writing while Mark plays guitar, composes the music and backs me up on vocals.
Mark Yeah, that first time we went out and performed—the response was so much better than we anticipated. Even though it was the first time we did music together.
Lauren We just went out to the park and sang everyday for two weeks. We had this musical chemistry that neither of us anticipated.
Mark We met lots of weird people during performances and made lots of good memories here.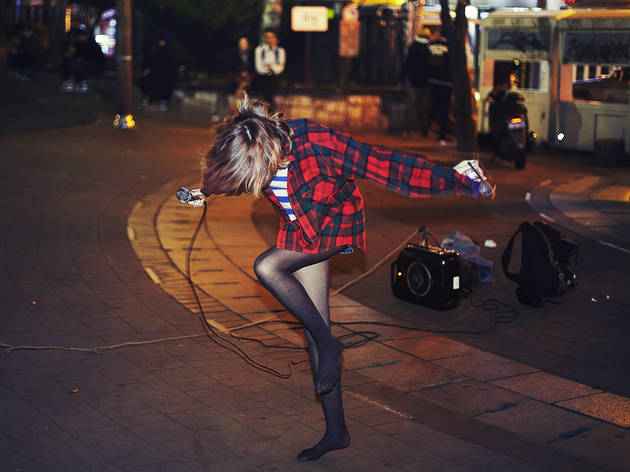 Lauren announces into the microphone. "We are Nice Legs, please be nice!"