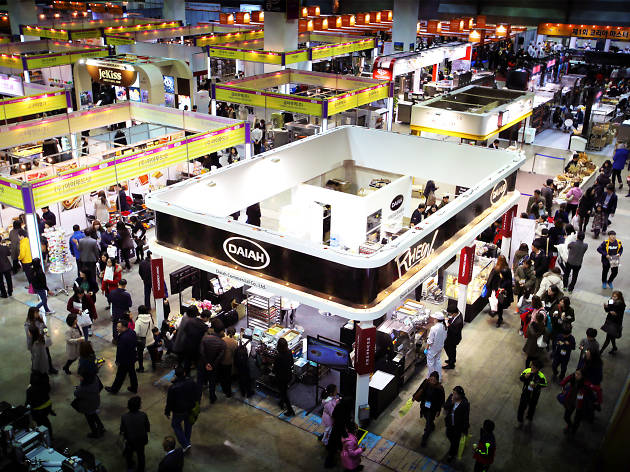 While the phrase "industry trade show" might give Food Week Korea a bad rep, the dry terminology definitely doesn't do Food Week Korea any justice. With delicious and innovative foods at every turn and your favorite celebrity chefs around every corner, Food Week Korea has all the latest trends in food and dining, along with developments in dishes that you know and love, with over 1,000 companies from over 30 countries participating. A food lover's paradise that covers everything you'd wanna know from a business perspective to everything you'd wanna taste from a foodie's perspective. As it is a food "industry trade show," manufacturers, importers, exporters and small shop owners make up a good chunk of the people that visit the event (the fair has a unique business matching program to set up small businesses with the service providers they need), but there's still plenty to do just as a spectator. Food Week Global, Seoul International Bakery Fair, Seoul Cooking and Dining Show and Food Week TECH make up the four larger categories of the event. Each of the shows will have hundreds of booths set up so that you can experience the latest trends happening in the food scene. (For example, Food Week Korea was one of the first to pick up on the craft beer scene and highlight the Great Korean Beer Festival.) With many of the international booths also setting up small concerts and performances, a good plan for the event would be to grab some food and drinks, walk around and then head towards more food! And the most important rule of all? Absolutely do not count calories.
Must see events for spectators
Seoul Cooking Show 2015: If you think watching people cook on television is fascinating, you've got to see it happening in real life. At the Seoul Cooking Show 2015, you'll get the opportunity to see some of Seoul's leading chefs use all five senses to cook. With the theme of the show being "Using All Five Senses," it'll be a great opportunity for you to hear, see, smell, touch and taste some of today's most innovative cuisine. Last year's show, themed "Inspiration on The Table," was one of the most popular events of Food Week Korea; so don't miss out this year. Shows happen each day of the event at 11am–12:20pm, 1pm–2:20pm and 3pm–4:20pm.
The 17th Seoul International Bakery Fair: American cookbook author James Beard once said: "Good bread is the most fundamentally satisfying of all foods," and there's nowhere you feel that more than at this fair. With over 350 booths set up all featuring your favorite carbs, who can resist a good bread sample when it's just sitting there? (Yes, this is one of the main reasons to go!) A bakery competition happening within the fair features some of the most beautifully decorated desserts in the country and some of the city's top bread-baking veterans answer questions about how this craft has evolved over the years here.