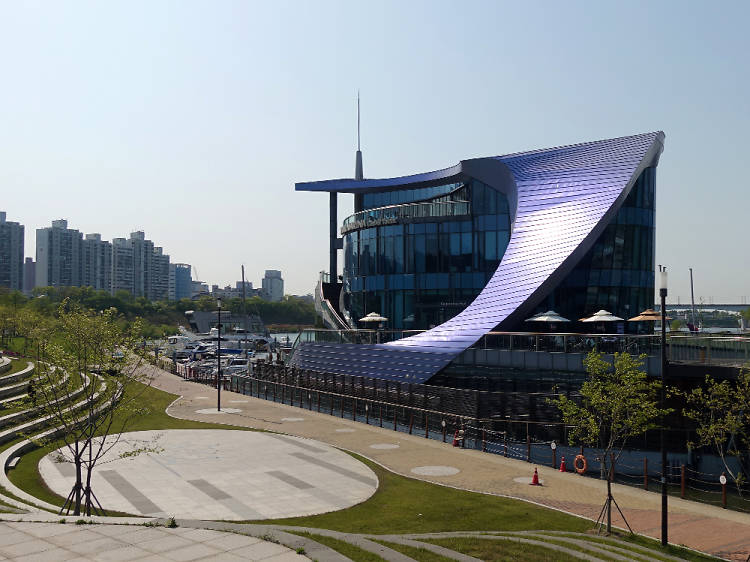 Of the many water activities the Han river provides, taking a trip on a yacht is one indeed one of them. You might be under the impression that those that do participate in the activity on yachting live completely different lives than the vast majority of us, but that's not always the case, at least not on the Han. Yachts in Seoul can rented and enjoyed by anyone who wills.
There are certain marinas along the Han River where you will be able to rent out a yacht. All you have to do is make a reservation in advance. One of the more well-known marinas is the Seoul Marina Club & Yacht located in Yeouido. The yachts come in two sizes, a 27-feet and 31- feet 'Cruiser Yacht'. For those who are looking for something a little bit more luxurious, the 'Power Yacht' might be the better, yet much pricier alternative. Gangnam's representative yacht club is 700 Yacht Club in Banpo, the oldest existent club of its kind in Korea. Due to its location, the most popular yacht tours are the sunset tour and the Banpo Bridge Rainbow Fountain tour. Catering services are available upon request, so if you're looking for a private and romantic spot, you might want to think about making a reservation at 700 Yacht Club.
If you're looking for something a little less private, perhaps Airbnb's 'Han River Sailboat Ride and Picnic' tour could be for you. Together with foreigners traveling to Seoul from all over the world, you will have to not just introduce yourself but share your experience in touring Seoul with all the strangers afloat on the same yacht. Once the yachting is over, the group will get together at an outdoor restaurant to have a nice picnic to end the trip. The whole experience is hosted by travel writer and will be personally operating the yacht. From April to October, the trip will be hosted twice a month with the start point at the Seoul Marina Club & Yacht.
The yachting experience on the Han River will be refreshing for both Seoulites and foreigners alike. It's just a great way of seeing Seoul in a new way, enjoying the waves, the sun, the breeze and the skyline of Seoul.
BY Choi Jae-won
02-3780-8400
02-1577-5280