Gastro Tour Seoul
A tour good enough to impress the skeptics!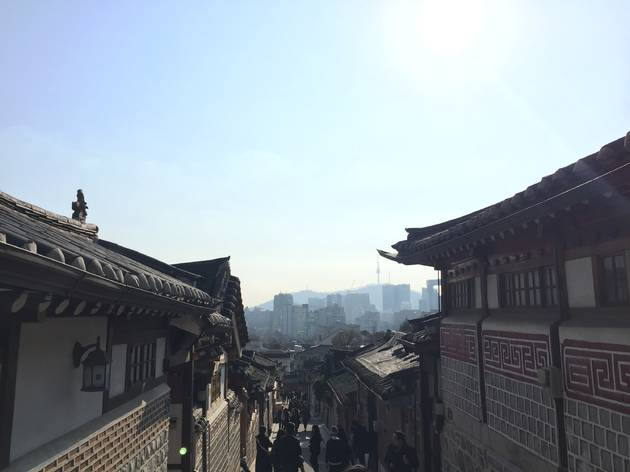 To be honest, I hate going on tours. I normally feel too impatient to listen to other people tell me things that I could Google and will only do it if the tour will drive me to places I couldn't otherwise reach by car. So, when I say that I was impressed by a tour, it's worth reading on. Former hotelier and public relations manager, Veronica Tae-Ahn Kang, founded Gastro Tour Seoul almost a year ago. It features a variety of walking tours that'll take you from historic sites to culinary hotspots. By learning about the culture behind the tastes, it allows one to have a more meaningful eating (and drinking) experience. There were many such tours operating the day we went on our Brew Master Tour and were led by guides whose English was perhaps a bit more native than Veronica's. However, the flair that Veronica could bring out as a local served a stark contrast to the others. Passing through Bukchon Hanok Village, she not only relayed the village's well-known history but smaller, lesser-known details. She pointed out a green-roofed, French-Colonial tiled home built in 1938 by Yi Jungu (not on the average tourist route) and gave us anecdotes about private parties hosted by so-and-so celebrities and what it's like to stay overnight in a guesthouse approximated at 1 million won per night. Moreover, it was obvious that the destinations she chose were picked for good reason. (The brew masters we were introduced to? One of the best parts of the tour.) At the restaurants we visited, she could distinctly point out the differences in flavor and texture of the various dishes in addition to eating etiquette and food histories I had never heard about. It was the perfect personal touch even Google couldn't customize. For more information and additional services, check out gastrotourseoul.com
Brew Master Tour (4 hours, from 99,000 won)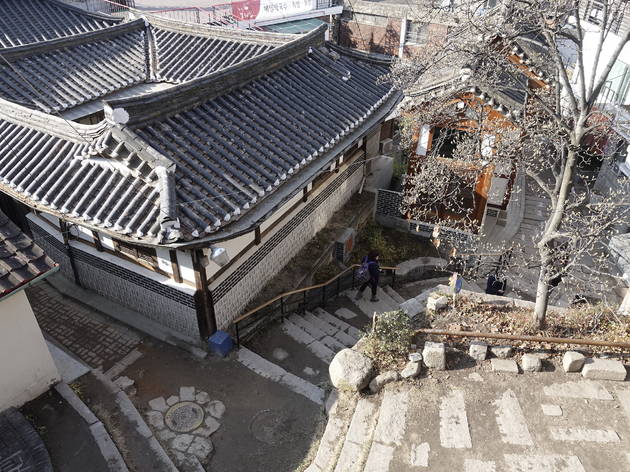 We met up at Anguk Station, exit 1 and walked through the Bukchon Hanok Village. On the way to the top for a panoramic view, she pointed out how many of the houses had mugwort planted outside. Apparently, this was done on purpose as the smell of mugwort burning is so strong that if there were a fire in the neighborhood, anyone would immediately be able to smell it.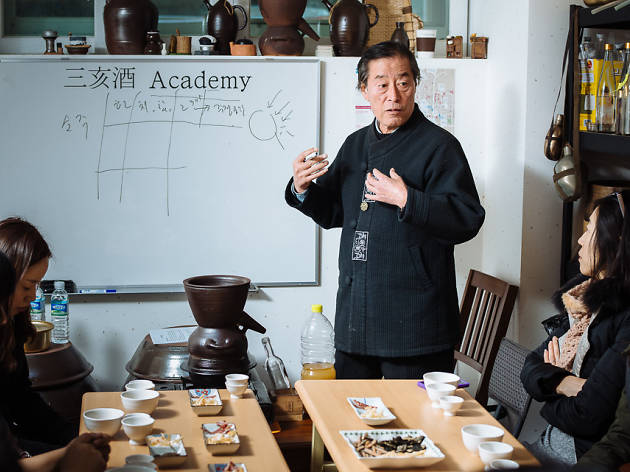 Dylan Goldby
At the Soju Academy, we got the chance to meet the experts on soju. Surrounded by large jars of makgeolli and the distillation process, the head teacher poured us drink after drink, explaining the history behind and the process by which each drink was made and the differences in alcohol content. While the sips of makgeolli, yakju and artisan soju were great, it was pretty great to be able to meet the head teacher—an elderly man with a sense of humor and taste for alcohol.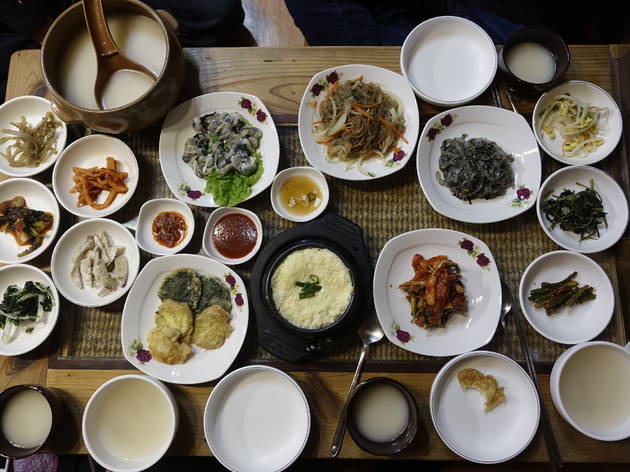 After drinks, we headed to a restaurant called Jangja-eui-Nabi, located in a small alley off the main Insadong Street. There we had a hearty traditional Korean lunch that included everything from bossam (boiled pork) to hong-eo (fermented skate fish) as well as doenjjang jiggae and various other well-prepared side dishes. The brew master sat with us as he poured bowls of dongdongju out of the ceramic dish and after he left, Veronica explained the difference in the taste in brews between the two brew masters. (Take the tour and let us know which one you prefer.)
For those looking to spend more time in the Insadong area, Veronica has some great tips for dessert nearby. (They're some of the same that Time Out Seoul suggests as well!)
Other tours and services available on the Gastro Tour Seoul
Gastro Tour Seoul's most popular tour that takes you around Insadong and Bukchon for a great eating experience. The focus of this tour is to sample various traditional Korean foods.
This tour includes one of Seoul's great night-eats—Korean barbecue—and tops it off with makgeolli.
Veronica talks in length about how she's lived in the Ichon area for more than 40 years. A top-notch local, she takes you to for some of the best eats in her neighborhood—sushi, chicken, tempura, udon and dessert.
Tuscany of Korea, Seosan Tour
This is a full day tour that takes you to Seosan "the Tuscany of Korea." The tour includes lunch and dinner with an emphasis on seafood.
Traditional Market and Cooking Class
This class combines a visit to the market as well as a class taught by a Korean chef (who also speaks English). Once the meal is prepared, it's enjoyed together.