Gwanghui-dong Little Russia
Bundle up and try meats, soups, pies and liquors
The "Little Russia" of Seoul is not necessarily the St. Petersburg of Tolstoy novels but rather, a collection of well-established restaurants in Gwanghui-dong. It's not limited to Russia either: Within the neighborhood, there's cuisine from Central Asian countries like Kazakhstan, Kyrgyzstan and Uzbekistan as well as a handful of Mongolian options. Especially when the weather's chilly, it's nice to bundle up and try meats, soups, pies and liquors that have kept those regions warm for centuries.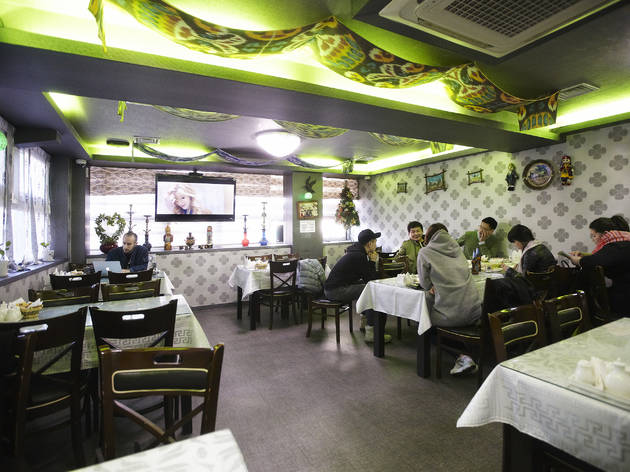 This is undoubtedly the best-known restaurant in the neighborhood; to the point that even those that are not necessarily fans of Uzbek or Russian cuisine know about Fortune. With a bakery and café on the first floor and a full restaurant on the second, Fortune has been the go-to place for many a fan of shashlyk (Russian-style skewered meat). In Russia, this garlic, black pepper, oregano and sea salt meat and vegetable dish is often cooked outdoors over an open fire and served during the summer—giving a slightly charcoal feeling to the meat. However, if you aren't a fan of skewers, the extensive menu leaves you with plenty of options from potato dishes to soups and salads. The borscht (a beet soup of Ukrainian origin) here comes served with a side of sour cream, which is the perfect addition to this dish.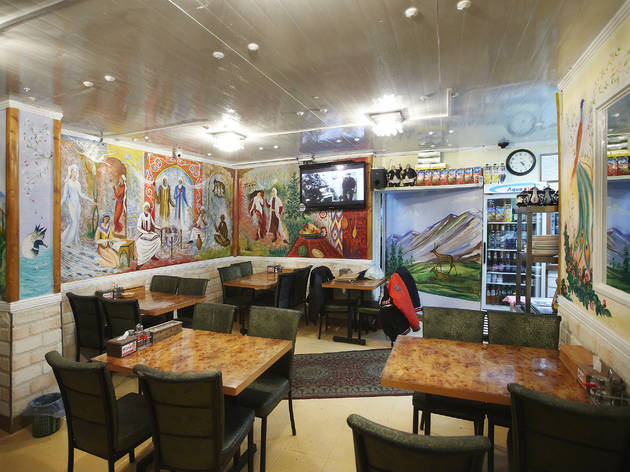 A much-loved city in Uzbekistan located on the Silk Road, the name "Samarkand" is branded on a handful of restaurants in this area. With a mural of the Silk Road painted on the walls and traditional Uzbek costumes to try on, the restaurant does its best to capture its home city in both its décor and food. One of the dishes to try here is the meat pie, samsa. Order as an appetizer and bite into its hard crust to discover the well-seasoned, tender meat on the inside. For the main dishes, save room for the golubtsi—a hearty, meat-stuffed cabbage roll that comes served with a side of vegetables. A variety of dishes labeled "anju," similar to ones you might find in Korean pochas, are served as well, so if you're adding a bit of alcohol to your dinner, you may want to get the Russian-style fruit bowl to go with it.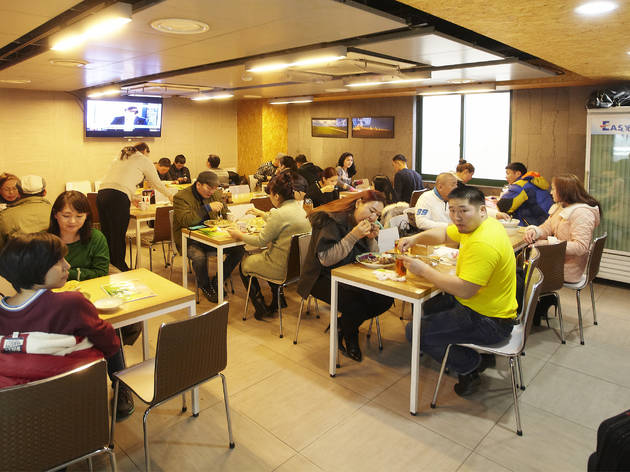 This Mongolian restaurant fills up quickly with both foreigners and Koreans alike and it's clear that no matter what ethnicity anyone is, the first thing to do is order the dumplings. The size of a small child's fist, the buuz (meat-filled dumplings) come served with a side of sour cream and could suffice as a meal for one. Other popular choices at the restaurant include a variety of stir-fry dishes as well as niisel (Mongolian potato salad). Two more familiar options are rice served with Mongolian beefsteak and Mongolian rib soup made with beef ribs, carrots and potatoes (said to be great for hangovers).