Q&A: The Jensen family
What are Seoul families doing for the holidays?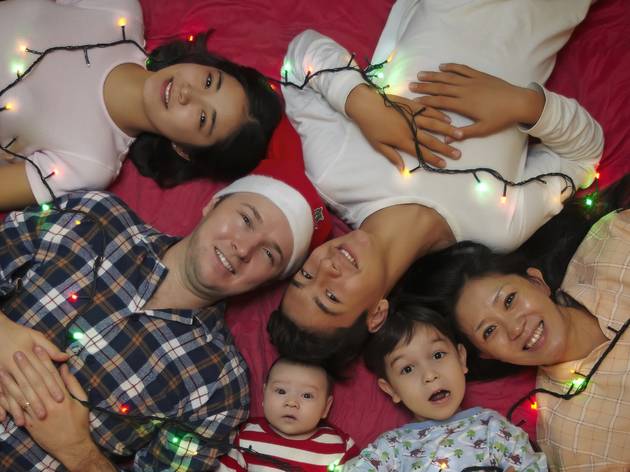 As Seoul becomes more international, the faces of the city's families are changing and bringing with them different ways to celebrate Christmas. Time Out Seoul met with the Jensen family who started out in England, but moved to Korea five years ago. Alex and Kay have four children—Panya (daughter, age 16), Jin (son, age 14), Viggo (son, age 4) and Estella (daughter, 4 months). On a busy Saturday morning, they take the time to share with us their Christmas traditions, what they like the best and what they're looking forward to this year.
What was Christmas like back in England?
Alex Well, Christmas in England consisted of 10 days of eating really. We'd be all cooped up at my mother's, and since she's Icelandic, we'd have Icelandic dishes and just spend time together.
Kay Christmas here's much more of a romantic thing. I never celebrated Christmas like that until I got to England. We still see a lot of couples when we go out for Christmas.
How do you think celebrating Christmas is different here?
Panya Isn't it the same?
Jin I don't think one's better or one's worse. I just think it's culturally different. Like maybe here, we'd be kimchi jjigae and there we'd eat something else—that's all.
What do you do here for Christmas?
Kay Usually around the beginning of December, we put up the tree. We have decorations.
Alex We have two very special meals—one for Christmas Eve and one on Christmas Day. We'll have food that's very specific to Icelandic cuisine like cured ham, sugared, Brussels sprouts and vegetables. It's not easy to get the exact same ingredients, but we still enjoy it. We attend the Catholic parish in Hannam-dong. We'll walk around and see all the lights around Shinsegae. Christmas is becoming bigger every year.
Jin We watch movies at home too…
Alex It's a Wonderful Life is one of my favorites.
Jin How about Home Alone?
Alex That's a good one, too.
Do you get a lot of presents for Christmas?
Panya Last year, I got a Bobbi Brown make up set.
Jin I got an iPad?
Kay [laughs] Yeah, daddy goes all out for Christmas. We also got some presents from the kids, too. I got some bracelets last year.
Viggo I want a watch this year! A Cabot robot watch!
What are you going to do when Panya and Jin start to want to go out and meet their friends for Christmas?
Alex [laughs] Never going to happen. They're going to be locked down
What'll be different about Christmas this year?
Alex So far, we've had guests for Christmas every year. This will be the first year we celebrate it with just us. We're doing our best to embrace the meaning of it and we're starting our own traditions.