Salsa for scintillating times
Why don't you get up and dance? By Denny Hong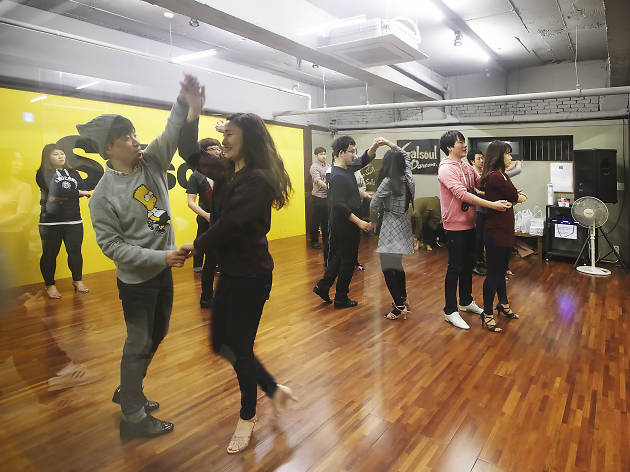 Great for: Those who want to meet new people, those with a great sense of rhythm

Not so great for: Those who are shy or looking for a quiet, solitary exercise to
A word from a long-timer
I started dancing around 15 years ago. I began with ballroom, competing in university and eventually moved to the social dance scenes of salsa, argentine tango and swing dance in both the Chicago and Memphis area. After moving to Korea in 2003, I was happy to find that all three of these dance scenes existed here, with salsa being the largest. I've been active in the Korean dance scene ever since, and consider myself fortunate to have befriended most of the top professionals and salsa organizers here.

Salsa dancing in the social dance scene comes in a variety of styles. Cuban style; Columbian style; L.A. style, which is often called "on 1" (with the accents on the first and fifth beat); and New York style, also known as "on 2" (with the accents on the second and sixth beat) are among the most well known variations in salsa around the world.

The Korean salsa scene today is mostly dominated by the on 2 style of dancing. However, depending on the venue, you can find salseros and salseras dancing to on 1, on 2 or on whatever beat they choose. Newcomers to the scene might find it difficult to find the right club to go to, so hopefully these clubs in Seoul will help you get started.

I've found that Korean dancers here are extremely dedicated to improving their dance skills. Their steps are precise, and their spins are immaculate. Sometimes this is seen as a critique of the local crowd in that they value performance over passion in dance. On the other hand, some expats from Latin American cultures, where they literally grew up with the music, might feel they don't need to practice and learn new steps; because for them it's all about the sabor (the flavor or passion) of the dance, more than learning the technical elements.

My experience, as a Korean-American who's danced on both sides of the Pacific, is that no matter where you dance, you'll always find the same arguments. It doesn't matter if you dance on 1 or on 2 with passion or with precision. Dance is a physical expression of your personality, so just remember to be yourself on the dance floor.
Learning for the first time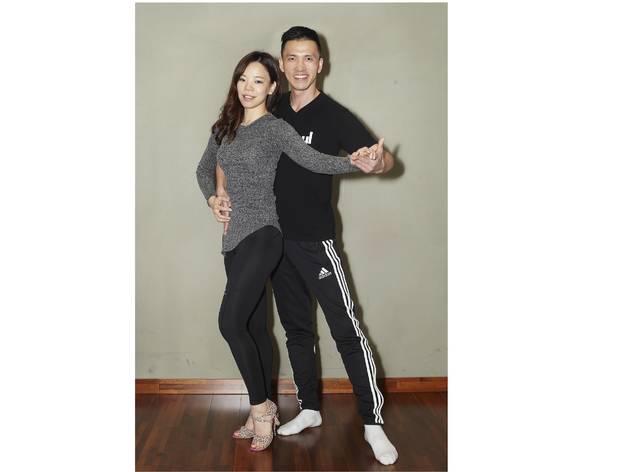 For many people who enjoy salsa recreationally, they might take lessons in the beginning and then keep up with it at these venues. While the classes I took in Korea were the advanced ones and quite rigorous, beginner classes are less stressful. You just learn and repeat, repeat, repeat. Taking classes in the beginning make it easier to make friends and be part of a crew. My recommendation for complete beginners—the Salsoul Dance School located in Gangnam. The teachers here are great and for dancing, you follow the teachers. The people at the Bulldog Pub are also great about helping you learn."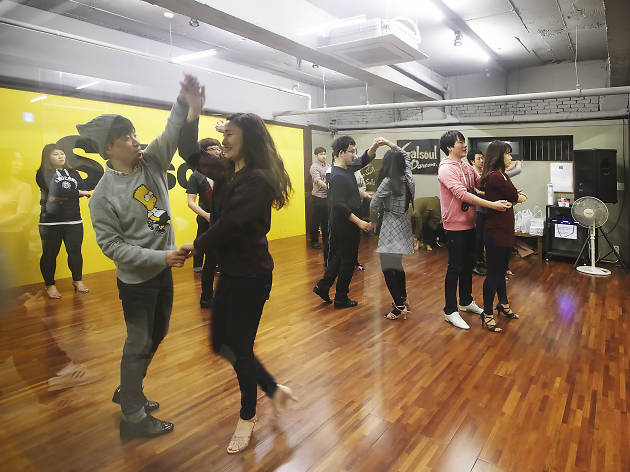 Things to do, Cultural centers
Located right by exit 4 of Gangnam Station, the Salsoul Dance School teaches several types of dance including Latin, ballet, diet dance and salsa. Teresa and Jeio, both well-known names amongst the Korean salsa community for having won championships all over Asia, run the school. Teresa explains that the most important part of starting to dance is opening one's mind and learning to become one with the music. While beginners show up to class to learn the basics, there's so much to be done before one even gets a partner. First, you must learn how to step, how to listen to the music and when to turn. In fact, the dance you initially learn is not even salsa, but meringue, the basic steps of which are much easier to learn. "For us, it's not so much about technique, but the groove—the feeling of the music," Teresa goes on to explain. "Korea's a great country for salsa."
Basic etiquette and tips
There's no dress code: You'll find that unless it's a special event, most people will dress fairly casual. Of course you will have people come dressed to impress, but you won't be turned away for dressing in jeans and a t-shirt.
Asking people to dance: Men, simply walk up to a girl you'd like to dance with, extend your hand and ask politely. No need to be shy about it, just don't be creepy. If she says no, then "these aren't the droids you're looking for," and move along. Ladies, it's just one dance, not a lifetime. If you're there to improve your dance moves, the more people you dance with, the faster you learn. Of course, you're perfectly free to say no.
Drinking: The majority of Korean dancers will not get drunk while dancing, for the simple reason that it's difficult to do double, triple and sometimes quadruple turns while inebriated. If the room is spinning, it's not because of the alcohol. That's generally saved for after you leave the club to get some chicken and beer.
Crowded floor: Even the best dancers bump into other people from time to time. It's nothing personal, so there's no need to get confrontational about things. Most of the time you just look at each other, acknowledge what happened with a gesture of the hand or a nod of the head and you carry on dancing.
Denny's salsa club recommendations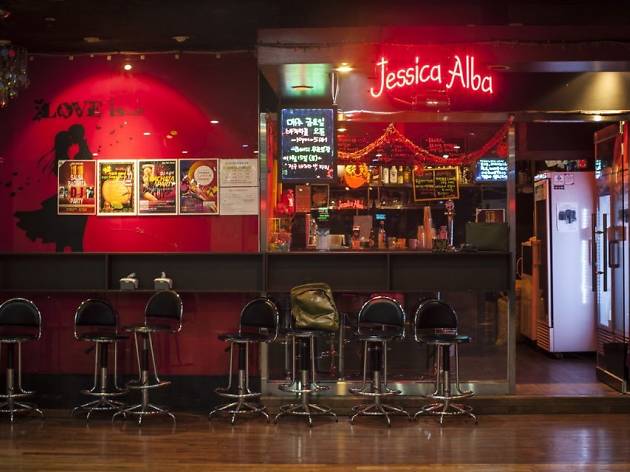 Things to do, Event spaces
One of the oldest Salsa clubs in Seoul with one of the largest dance floors. They have a rotating lineup of DJ's on their roster, and the second Monday of every month is their DJ party where they all play their sets throughout the night. The Hongdae area has a large number of salsa academies, and most of their students gather here on the weekends to practice their moves and show off what they've learned. The unspoken rule is that the more seasoned dancers are closer to the DJ booth and the newer dancers are on the other side of the dance floor.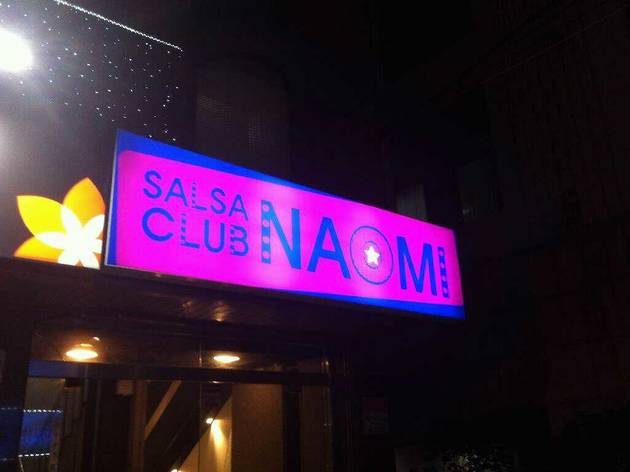 Things to do, Event spaces
This club has been around since 2012, and is named after the owner and operator Naomi, a veteran of the Korean salsa scene. The club is a reflection of her personality, which can best be described as "colorful." Open every day, the most popular night to go dancing is on Friday, where they are open until about 5am. If you want to see the salsa dancing elite come out to party, this is one of the top clubs south of the Han River.
Things to do, Cultural centers
Itaewon's salsa scene has been around for more than a decade. For most of that time, Club Caliente was the spot to go. A change in ownership led to their doors closing, leaving the faithful dance crowd in the lurch. Several others have come and gone to fill the void; but the Bulldog Pub has been the most successful, winning over the old dance crowd and bringing in their fair share of new people. Most days, it's just a pub, but on Friday and Saturday nights, it's salsa night. The dance crowd here is probably the most laid back of all the clubs in Seoul with a good mix of both foreign and Korean patrons. Some come to watch and others to dance, but all are welcome. If you are brand new to the salsa scene, this is the least intimidating of the salsa clubs to check out.