Tomorrow's gaming, today.
Find your chill at Seoul's Virtual Reality cafés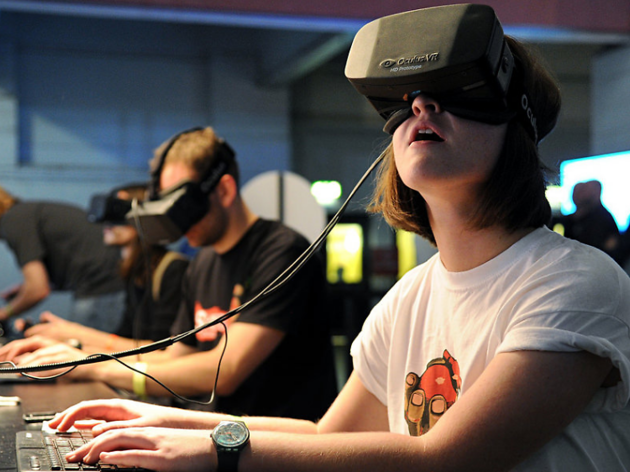 One pair of goggles, it's the main ingredient that will transport you into a whole new world, one that you may not have imagined before. You might be fighting evil spirits inside of an alien spaceship or swinging like Spider Man through a grand canyon-like environment or even making burgers and fries to feed hungry zombies slowly making their way to your food truck. Whatever the situation may be, the best part is, it just feels so real. The scare that you feel when aliens attack, the butterflies in your stomach when you're swinging, and even the panic that you feel when the zombies get closer and closer, all of those feelings are part of what makes the experience so delightful. The editors at Time Out Seoul can confidently say that VR gaming is an extremely convincing experience.
Show Me The VR: A VR experience to be had with friends
To play VR games, each individual must have their own VR set. At Show Me The Money there are three rooms, each of them equipped with its own VR set (a pair of HTC Vive goggles and controllers). Unfortunately, due to the limitation of room numbers, only three individuals will be playing games at a time, meaning there will be an extremely long queue outside. While you are waiting, you might want to look at their game menu. Once you've waited your turn and head inside, the staff will ask which game you decided on playing. For a group of 3, what they highly recommend is the multiplayer zombie-shooting game. Each player will then be assigned a room. You probably won't be too impressed with the rooms as they feel quite shabby with the walls and floors covered with soft, protective material. Hanging from the ceiling will be the VR goggles and headset, while the controllers will be handed to you. However, as soon as you put the VR set on and the first demons start rolling in, your inner warrior that you've probably never felt before will take over your whole body. You'll be able to communicate with your friends through the headset in order to strategize and move positions while waves of zombies run your way. Playing with the controller might be a bit confusing at first, but you'll get used to it in no time. A wide variety of weapon choices from shotguns to sniper rifles and even samurai swords will have you turn, swing, aim and shoot all over the place. The 20-minute shooting session will feel so real you won't want to stop and you'll probably be convincing yourself that if you just had a little bit more time, you could have won the game.
TIP
While moving through the maze, you'll notice yellow and green boxes which you will have to shoot with your gun to obtain. The yellow boxes are extra health and the green boxes are extra ammunition. Make sure each member of your team has a chance to get these boxes as each individual is responsible for their own health and ammo. Also, don't forget about the baby zombies that crawl on the ground. You'll have to look down and shoot as they hog onto your legs to drain your health.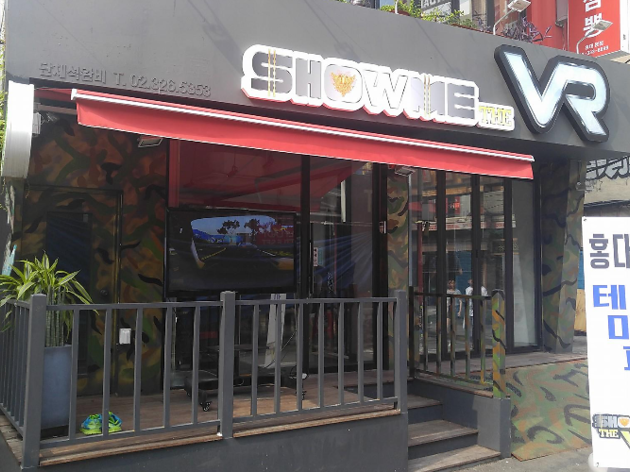 RED VR: Clean, modern interior comes with a few VR glitches.
Unlike Show Me The VR, RED VR is much more organized interior and seems more like a place you could hang out in. And because they charge on a time basis, you can go with a friend or two and alternate playing on the VR set. All the games are readily available so that players can choose and change the game they want to try out whenever they want (the only downside is that it takes a few minutes to switch games and might even freeze at times). RED VR has around 7 rooms that are all set up with an HTC Vive VR set, a TV (for those not playing to see what's going on in the virtual world), a computer (for players to choose the game), and soft bench and end table. The rooms are quite small but can comfortably cater 3 to 4 people. You'll probably see a lot of couples helping each other through the games. The cost is set to 10,000 won per person for 30 minutes (or 20,000 won for an hour) but it will include a drink for each person – their fizzy lemonade is pretty good.
RED VR has over 15 different games including Zombie, horror, adventure, action, and sports games. To start off, we recommend 'Ultimate Booster'. It's a game that takes you through a choice of an urban city, a vast canyon or even the unknown galaxy. The hook is that it'll be a thrilling experience familiar to that of a Viking in an amusement park. The game will get all your shy body movements to free themselves as you tremble to stand up right and catch your balance while in the virtual world you swing to and fro creating butterflies in your stomach. Make sure your friends take a video clip of you! 'Dead Hungry' is another recommended game. You are required to grill patties for a burger and even deep fry potatoes for French fries in order to feed hungry zombies. Feed them enough and they will turn back into humans. This game will make you move and feel as if you were really operating a food truck!
TIP
Playing a VR game for too long will get you quite dizzy and even feel sick. It's because while your body's moving all over the place, inside the virtual world, it's only your arms and head that is allowed to move. This uncoordinated movement between your eyes and body will have your body in a confused state. The 30-minute session is actually a pretty decent amount of time, so don't get greedy and make sure to share game times between your friends. It'll also help you from getting way too sick. Also, there are a few glitches with the gaming program. It will take a while for you to switch from game to game and freeze at times. So we recommend that you stick with one for a while before choosing another.
More to explore