Heads up! We're working hard to be accurate – but these are unusual times, so please always check before heading out.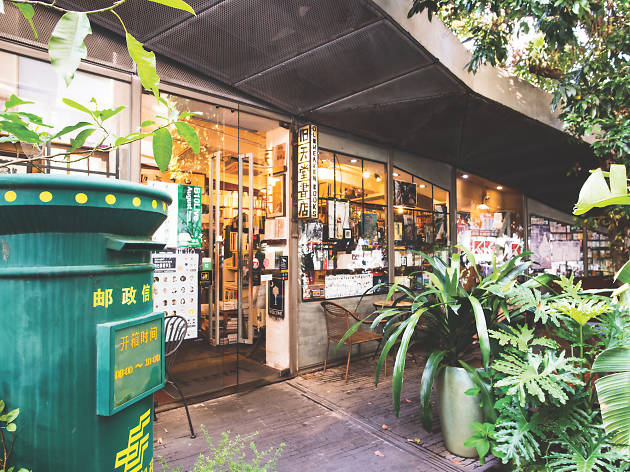 What to do in Overseas Chinese Town, Shenzhen's coolest neighbourhood
The buzzy OCT area holds some of the best restaurants, bars, and things to do in Shenzhen. Here's our insider's guide
What's the deal with Overseas Chinese Town?
In Shenzhen, nearly everything is new. Fuelled by a zipping tech industry that's made many locals millionaires overnight, China's fastest-growing metropolis is shiny and modern. Overseas Chinese Town (OCT, or Huaqiaocheng in Chinese) is probably the city's most affluent neighbourhood, and home to many young entrepreneurs who have made their money in tech empires. But OCT is still approachable, especially for those not paid in yuan. Audis vie for space with scooters on palm-lined avenues. Duck into the district's crown jewel, OCT-Loft – an '80s warehouse complex that's been transformed into a thriving arts district – and you'll find locals incubating start-ups over cappuccinos and musing on contemporary art.
Sprawling OCT is full of odd pockets. Huge tracts are filled by an assortment of kitschy amusement parks, but seek and you shall find untouched traces of an earlier China. In the city's last remaining 'urban villages', buzzing warrens of low-rise streets hide craft beer shops where you can pay in Bitcoin and sizzling late-night barbecue stands, alongside gritty shops and motor repair stalls.
RECOMMENDED: Full guide to the 50 coolest neighbourhoods in the world
If you only do one thing…
Photograph: Sarbast T. Hameed / CC-BY
Hit up one of OCT's bizarre amusement parks. You could join the queue at the popular Window of the World, with its collection of miniature landmarks, but there's also Splendid China Folk Village – where instead of world wonders, it's China's (and Tibet's) domestic monuments that appear in XXS size. Wandering from a tiny Great Wall to a petite Three Gorges is truly surreal.
Get cultured
The OCT-Loft art district is full of edgy galleries, but the art scene extends further to Hua Art Museum – a graphic design gallery in a renovated warehouse – and Hexiangning Art Museum – home to more traditional Chinese art. Both are within striking distance of the OCT metro station.
Stay up late
OCT's nightlife tends to be hidden away in sleek speakeasies or chilled-out beer bars – but for for a more traditionally Chinese after-dark experience, hit the shaokao (barbecue skewer) street food stalls in the urban village of Baishizhou.
Eat here
The seasonal menu at Magpie includes creative takes on familiar European dishes with Chinese spices. Reservations are generally a good idea.
Staff at big, bright Cantonese restaurant Ting Yue (2 Xinglong St, Huaqiaocheng) don't speak much English – but don't worry, there's a picture menu. The house grilled pork belly keeps locals coming back.
Inside the Venice Raytour Hotel, Blue Italian is an upmarket Continental restaurant run by an Italian chef. The name nods to the blue-hued accents and (tasteful) Venetian glass decor. There's an excellent old-world wine selection too, though it's not cheap.
Charming 'blooming cafe' B.Park is full of fresh flowers. It gets busy on weekends, so aim for a weekday evening or a fizz-fuelled lunch of inventive soups, seafood and pasta.
Drink here
Covered in Chinese street art, Bionic Brew's garage-style taproom is the place to try its own locally made craft beers, including the flagship Bionic Ale: a citrusy American-style pale ale. There's a pizzeria and another brewery – Peko Brewing – next door.
If you prefer your drinks shaken or stirred, try Mixy: a sleek cocktail bar with a hard-to-find location above a traditional wet market on Xinglong West St.
Head to the Penny Black Jazz Café in OCT-Loft for cocktails, plus live jazz on an open-air stage most nights. They mix a mean Margarita and there are blankets for keeping cosy in winter.
A 100-strong wine list makes Wine Lab the go-to spot for a night out on the red. Co-owners and Shenzhen locals Benson Law and Mica Wu both discovered their love of wine while studying abroad in France.
How to get to Overseas Chinese Town
OCT is located on the western side of Shenzhen and has its own metro stop, Overseas Chinese Town, on the green Line 1. It takes half an hour to reach the Luohu district, where you can change for Shenzhen railway station and the Hong Kong border crossing.
What else is nearby?
Take the orange Line 2 at Window of the World station and head south-west to the harbour neighbourhood of Shekou to visit The Design Society, an enormous new exhibition space set up in partnership with London's V&A.
Discover the best things to do in Shenzhen
Shenzhen city boasts creative art spaces, sprawling shopping malls and fantastic restaurants, not to mention awesome bubble tea. If you're planning a visit, here's our guide to all the things to see, eat and do while you're there.