Heads up! We're working hard to be accurate – but these are unusual times, so please always check before heading out.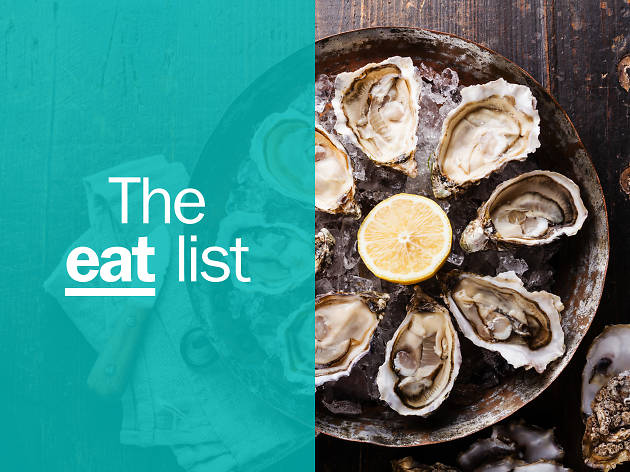 The 12 best restaurants in St Augustine
Fresh seafood dominates the scene at the best restaurants in St Augustine, where Southern flavors truly leave a mark
DISCLAIMER: Restaurants across Florida are now open at 25% capacity. We will be updating this page as soon as new information becomes available.
The best restaurants in St Augustine heavily rely on the town's history. The oldest city in the United States, St Augustine has long been considered a destination for history buffs looking to check out ancient sights like the iconic 17th century fort Castillo de San Marcos and Ponce de Leon's dubious Fountain of Youth. But there are many more things to do in the port town, plenty of them targeted at foodies.
Culinary gurus flock here to pay respect to the long-standing local culinary tradition established by the Minorcans, a multicultural group descended from 18th-century indentured servants. Their Mediterranean-inspired style—heavy on the seafood and datil-pepper spices—still influences the fare of the area, even in the wake of the growing farm-to-table trend and as new-wave coffee shops and gastropubs continue to sprout.
Here, the best restaurants in St Augustine mix southern flavors, colonial preparations and of-the-moment ingredients to create something truly unique and decidedly Floridian.
Best restaurants in St Augustine
Open for family-style takeout from Wednesday through Sunday night
What is it? Set in an actual 1920's ice factory, this painstakingly restored restaurant and bar pays homage to the building's history as well as the food and drinks of the early 20th century.
Why go? Bartenders chisel down massive blocks of ice into fresh, oversize cubes for Florida-inspired drinks such as the New World Gin & Tonic made with St Augustine Distillery gin and state-grown grapefruit. Food also draws from the region, highlighting dishes that focus on locally sourced seafood like the buttermilk fried Florida Gulf oysters.
Open at limited capacity
What is it? Essentially a new take on Old Florida kitsch, this brightly colored restaurant offers a cool tropical vibe that can put most tiki bars to shame.
Why go? The menu nods to northern Florida's southern-influenced fare with whimsical dishes such as the cornbread stack: cheddar-and-vegetable-stuffed cornbread topped with choice of blackened fish or tofu, then drizzled with chimichurri aioli and served with a side of sweet pickled house veggies. As the tofu option suggests, the Floridian has a robust selection of dishes for vegans and vegetarians.
Operating at limited capacity starting 5pm Wednesday through Sunday
What is it? Local ingredients prepared with international flavor is what draws guests to this quaint restaurant in St Augustine's historic district.
Why go? Besides being considered one of the most romantic restaurants in the country, Collage is also touted for dishes like the sauteed escargot wrapped in delicate puff pastry, lobster ravioli in pesto cream sauce and sweet-and-savory grouper crusted in parmesan cheese, pecan and brown sugar.
Open at limited capacity
What is it? The 1865 Lincolnville Victorian that houses Preserved oozes southern charm with a quaint front porch and tons of original detail. The space is so beautiful, it could easily skate by with unimpressive fare. That certainly isn't the case.
Why go? James Beard nominee chef Brian Whittington, formerly of Jacksonville's award-winning Restaurant Orsay, serves excellent ingredient-driven lowcountry cuisine like local fish with rice middlins (similar to grits), crawfish étouffée and pickled okra matched with a wide range of boutique wines and Florida brews.
Open at limited capacity
What is it? This acclaimed seafood restaurant serves one of the top versions of St Augustine's signature Minorcan clam chowder.
Why go? Soup. The tomato-based soup is enlivened up with datil pepper, a habanero-like chile that's a time-honored staple in the local cuisine. The clams are delivered daily along with the rest of the locally sourced fish and shrimp that make up the satiating menu.
Open at 50% capacity
What is it? For more than 50 years, locals and tourists have flocked to this laid-back Anastasia Island restaurant hailed for its spicy Minorcan chowder and plump fried shrimp.
Why go? It may be a living piece of old Northeast Florida history, but the no-frills place certainly doesn't feel staid or overplayed. It's tiny and cash-only, but the buzzy stalwart still commands wait times of up to three hours for its famous shrimp.
Open at limited capacity
What is it? Seafood (and meat and vegetables) get the New Peruvian treatment at this contemporary mom-and-pop on Anastasia Island. Opened in late 2016, it's considered one of the hottest restaurants in town.
Why go? Traditional anticucho beef hearts marinated in panca pepper and chargrilled have become a thing of local lure. And the ceviche lima made with white corvina fish has been called a work of art. While the appetizers and entrees are impeccably prepared, the place is praised for its visually stunning decor and its caramel-heavy desserts.
8. Michael's Tasting Room
Open at limited capacity

What is it? Evoking St Augustine's ubiquitous Spanish architecture, Michael's Tasting Room is known for its high-end Mediterranean fare with a strong emphasis on cuisine from the Iberian peninsula.
Why go? Since debuting more than a decade ago, it's been considered one of the top special-occasion dining destinations in town. The seasonally changing menu spans beyond tapas (though the goat cheese terrine should not be overlooked) to include solid entrees like the braised beef short rib with mofongo mash, all of which pair deliciously with Michael's selection of award-winning wines.
9. Uptown Scratch Kitchen (CLOSED)
The restaurant is currently closed
What is it? Chef Vinny D'Amato manned the stoves at five-star hotel restaurants like New York's famed Waldorf Astoria and the Ritz-Carlton, New Orleans before opening this charming food truck with his wife, Christina.
Why go? Located next to DOS Coffee & Wine, the truck welcomes guests to sit at outdoor picnic tables or inside the coffee shop. Pick a spot and fill up on fresh interpretations of global comfort food such as local shrimp po'boy with beer-battered onion rings and above-average fish and chips served with hand-cut garlic rosemary fries.
10. Maple Street Biscuit Company
Open at 50% capacity
What is it? Founded in nearby Jacksonville in 2012, the lovely little bread shop satiates carb-loving locals with fresh-baked biscuits, which are available plain, stuffed or smothered with things like spinach, sausage gravy and wood-smoked bacon.
Why go? Need to soak up the booze from a night out? This is your place. One of the most famous picks is the Squawking Goat, a 779-calorie biscuit sandwich made with fried chicken breast topped with a fried goat cheese medallion and covered in red-pepper jelly.
11. The Kookaburra Coffee
Open at 50% capacity
What is it? Australian coffee culture meets Florida chill at Kookaburra Coffee, boasting three locations in St Augustine. Each cafe doles out the usual mix of lattes, pour-over coffees and single-origin brews you need to kick-start the day.
Why go? Kookaburra offers a tasty selection of Aussie brekkie and stuffed pastries, like meat, veggie coconut curry and Thai chicken chili. Check them out on your way to the beach for a simple grab-and-go meal.
12. Harry's Seafood Bar and Grille
What is it? This Florida-based mini-chain offers NOLA classics such as jambalaya, po'boys and crab-crusted redfish royale at reasonable prices.
Why go? Indulge in Creole-style fare while enjoying the balmy breeze through the courtyard of one of the oldest bayfront homes in St Augustine. It's a great lunch spot for those who want to sit outside without turning into a lobster, plus Harry's features live music under its tree-covered canopy most evenings.
Discover Time Out Market: the best of the city under one roof