Lausanne's best bars
Looking for a top bar? Lausanne has plenty. We've rounded up the best for whatever you're after – from cocktails to craft beers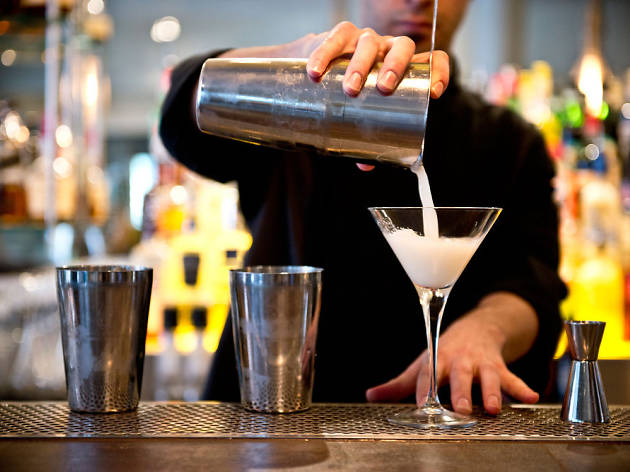 Looking for the ideal Swiss bar? Lausanne punches above its weight when it comes to watering holes, and the scene keeps getting better. From drunken debauchery to sophisticated sipping, there's something for every taste and sensibility. Hang out with the city's students and expats in any number of long-standing pubs and lively sports bars, try local tipples and nibbles in an increasing array of wine bars, or sample beer brewed on site in several micro-brewery pubs. Things are lively all week, but the pubs really get going from Thursday night onwards, particularly around Place Benjamin Constant where every inch of pavement is packed with happy revellers.
Making the most of its position on the edge of Flon, Lausanne's nightlife district, Friends Café is the bar of choice for many of Lausanne's cool young things, attracted by its cocktail list, upbeat vibe and special events.
Read more
Holding its ground amid the cluster of bars on an increasingly frenetic street corner, this cheerfully named place has much to make a bar-goer's day happy: a lively vibe, outdoor seating in a sunny spot and classic burgers to make the Fonz proud (including one named after him). The line-up of draught beers is a bit of a let down, mind. If you're looking for something a little less casual and a little more sophisticated, head upstairs to its sister restaurant, the Longhorn Steakhouse, for a piece of Swiss beef grilled to your liking.
Read more
Always busy, this bar and restaurant is a classic Lausanne night-spot and something of a place to be seen. Its menu of burgers, salads, risotto and steak tartar is decent and well-presented, and there's a good choice of brunch options on weekends. Things get increasingly raucous from Thursday evening onwards when drinkers fill the bar and every inch of pavement space outside. If you're after a quick takeaway lunch, its little confiserie next door is worth knowing about too – only open for a few hours over lunchtime, it's a great place for a quality sandwich, cous-cous salad, slice of homemade puff pastry tart or a cupcake.
Read more
From a morning coffee in the sunshine to a pre-clubbing apéro, or just a hard-earned pick-me-up after a strenuous shopping spree, Les Arches is the perfect place to sit and watch tout Lausanne go by.
Read more
Lively, low-lit and a bit grungy, there's good reason this bar-come-pub has a devoted clientele: it brews its own beer on site. Choose from one of seven homebrews including a classic IPA, a best-selling red ale, a ginger beer (of the alcoholic variety) and a surprise beer of the month. While probably not quite up to Italian standards, the bar's extensive menu of pizzas will satisfy the inevitable munchies that come with sampling all seven beers. There are often live music and DJ nights too.
Read more
Equipped with pool tables, large screen TVs showing football and ice hockey matches, plus a popcorn machine pumping out free salty snacks, it's hardly a surprise this sports pub is eternally popular. The music is jukebox pop-rock, the lighting is disco-ball low and the decor is sports jerseys and Canadiana. Come on match days for a packed house and a charged atmosphere, or avoid them if you want a seat and a quiet drink or a chance on the pool table. Beer can be ordered by the jug, and there's a regular happy hour split into two half hours. It's just a shame that the rather unfriendly service lets the side down.
Read more
A relative newcomer on the Lausanne bar scene, this smart pub is a welcome addition to the clutch of drinking holes around Place Benjamin Constant, and it's a classy affair. A small outside terrace leads into a stylish interior – all muted colours and dark wood furniture – where you can partake of an artisan beer from a vast range of local and international tipples. While at first glance the menu of burgers, salads and tapas seems nothing special, the globally-inspired burgers (from Japanese tuna to Thai chicken and French foie gras and duck) are original and sophisticated. They even theme special burgers around live sports games, shown on screens in the bar.
Read more
This cocktail bar and tapas restaurant takes inspiration from all over the world to produce an intriguing menu with diverse flavours. Your culinary road-trip could include Japanese tuna sashimi, Jamaican jerk chicken, Vietnamese spring rolls or Tunisian-style salad – choose carefully, lest you arrive at a palate-confusing combination. Plates are small, so you need multiples to make a decent-sized dinner (this is no cheap night out), but the quality is high. Cocktails are equally pricey but just as classy. Again, flavours are worldly and interesting – no Sex on the Beach in sight. Instead try the Black Pearl, a sweet-sharp mix of rum, ginger, lime and cardamom.
Read more
Massively popular with expats, this English-style pub comes into its own as a place to watch live football and rugby and quickly gets crammed on match days. Perched half way up the steps from Riponne, it has a large garden area out front with its own bar which serves as an overspill, especially in summer. During world cup games big screens set up here attract the masses. As a freehouse, it has a wide range of beers on tap including London Pride, while the food – burgers, chicken wings, nuggets, salads – satisfies hungry drinkers without being anything particularly special. But the best reason to visit is the atmosphere. Friendly and down-to-earth, you'll likely come away from a night here with both a hangover and a few new pals – especially if you share your table on match days with those who failed to reserve one ahead of time.
Read more
Show more