Zurich's best brunches
Make the most out of your brunch, Zurich has loads of great places to have your pre-noon hunger fix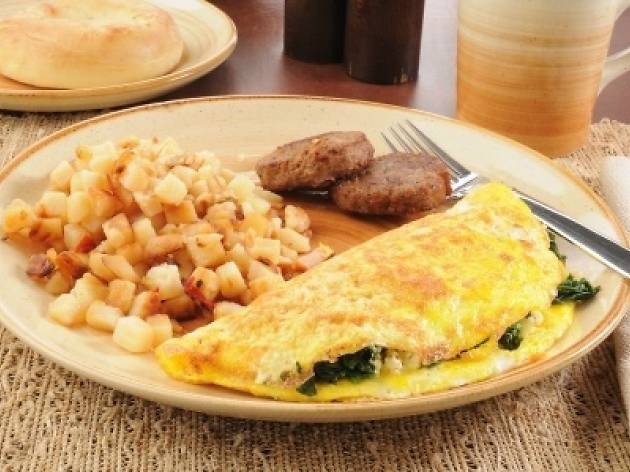 Its fabulous setting looking right over the lake and beyond make it worthy alone for a visit, however that is not all that appeals about this quirky, charming and fun restaurant/bar. For Sunday brunch there is no better place to be, and it can be a lively venue in general to spend an evening out for drinks or dinner.
Read more
Originally the café bar of the adjacent Maison Blunt, for Sunday's oriental brunch, there's a loungy feel with sofas with exotic fabrics and the traditional Moroccan tea room tables. This seating arrangement might not please everyone, but there are more 'European' chairs and tables at the front.
Read more
We love Iroquois' American-style hamburgers and fries - choose from beef, chicken, veal, fish or vegi. All are served alongside bottles of locally-produced artisan ketchups. But it's not all about the burgers. There's also a good range of salads and daily specials, as well as a weekend brunch offering, Znüni (morning tea) and a very decent kids' menu, that doubles as a colouring sheet (pencils are provided) - nice. Rounding it off is a drinks list comprising beer, wine, cocktails, coffee, tea, softdrinks and juices.   Iroquios hosts seasonal events, such as its annual pumpkin-fest in October, and screens international sports including tennis and the World Cup.   The shabby-chic interior offers a comfortable dining space with a tiny art gallery at the far end. In summer, there's a pleasant terrace area where diners can spill out onto leafy Seefeldstrasse for a meal or a beverage. 
Read more
With its oh so French feel, cute interiors and lovely outdoor space, this café found the speedway straight into the hearts of Zurich's hip and cool when it opened in 2011. It's a place to chat, to relax, to read - and most of all to have breakfast. But beware, its Sunday brunch is one of the most popular in town and you will have to book a table well in advance.
Read more
Despite interiors that might remind you of your own granny's bedroom, it may surprise you with its monthly bash of country music and one of the best Sunday brunches in town.
Read more
This bright room with its black and white tiles might have originally been a butcher's shop, but meat is not that much of a concern anymore in a café bar that is famous for its vegan muffins. It's a popular place for brunch on a Saturday and Sunday, so get there early or book a table.
Read more
With its gastropub feel and location in a park by the river Sihl, the Fork & Bottle has become somewhat of an expat hub in Zurich for English speakers. And this is by no means a bad thing. The convivial atmosphere and friendly, efficient staff make for a splendid meal, whether it's Sunday brunch (try the eggs Benedict if you can resist the full English!) or a bang-up pub meal from the seasonal menu at other times.
Read more