All the Money in the World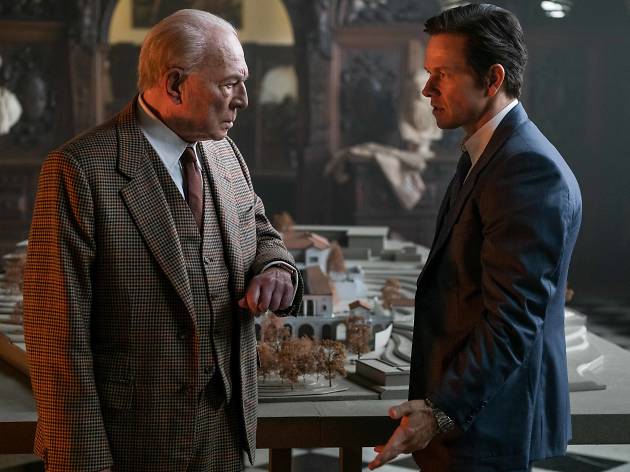 Time Out says
Wealth, envy and blood swirl in Ridley Scott's propulsive kidnapping drama, based on a world-famous case that shed light on the rich and callous
The arrival of a top-notch new thriller – pounding with excitement and suffused with the kind of mote-flecked grandeur that director Ridley Scott seems to conjure effortlessly – should be news enough, but there's something that must be addressed first. Christopher Plummer, as the billionaire J Paul Getty (All the Money in the World's thorny antagonist of sorts), is a wondrously stubborn and ominous presence. An evil magician pulling a fortune out of the Saudi desert yet turning a blind eye to the 1973 kidnapping of his grandson, Getty is a hissable figure but Plummer makes him impossibly magnetic: petty, consumed with money, prone to self-mythologising, the lord of a dusty English mansion he seems to occupy alone.
Unless you've been kidnapped yourself, you'll know that Kevin Spacey, beleaguered by scandal and suddenly toxic, was digitally removed from the movie and replaced, last-minute, by Plummer. Any curiosity you may have should now be rechannelled to Scott, who, almost brazenly, has pulled off one of the most seamlessly entertaining dares of his career (one that includes such post-production nightmares as Blade Runner and Gladiator).
A wizardly conductor of mood and technique, the director drops us into a La Dolce Vita Rome – teeming with paparazzi that will become a scary human wave – as well as a chilly corporate boardroom where Getty's feisty daughter-in-law, Gail (Michelle Williams, well-suited to the pantheon of tough-jawed Scott heroines), extracts herself from a ruined marriage to a wastrel. She leaves with custody of the children but some years later, after teenage John Paul Getty III (Charlie Plummer) is snatched off the street, she has to enter into negotiations with the criminals, as well as the man who holds the purse strings to a $17 million ransom.
All the Money in the World nails the sun-bleached Italian countryside, where the intelligent kid is jailed by a grimy crew of extortionists (including one with a touch of sympathy, well-played by Romain Duris). David Scarpa's nail-biter of a screenplay – based on John Pearson's 1995 account Painfully Rich, adapted with a free dramatic licence – amps up the tension with phoned-in demands and impulsive raids by knuckleheaded local police, yet it never loses the bitter, fascinating taste of imperious wealth: the Gettys are "from another planet", Paul says in a voiceover and the movie turns that alien remoteness into a liability.
Is it too catty to suggest that perhaps some cash could have been spent on digitally replacing Mark Wahlberg? As Fletcher Chase, an ex-CIA spy and Getty's security expert who bonds with Gail on her quest to get her boy back, he feels too modern for the otherwise pitch-perfect period effort. It's a small quibble. The film reminds us that, onscreen and off, bumps along the road of life can often be surmounted by carefully applied money, but a tenacious mother (or director) is what ultimately makes the difference.
Details
Release details
Rated:
MA15+
Release date:
Monday January 1 2018
Duration:
132 mins
Cast and crew
Director:
Ridley Scott
Screenwriter:
David Scarpa
Cast:
Christopher Plummer
Michelle Williams
Mark Wahlberg
Charlie Plummer

Rating Breakdown
5 star:

0

4 star:

0

3 star:

0

2 star:

1

1 star:

0
ALL THE MONEY IN THE WORLD is a standard Ridley Scott thriller with one scene of brutality in the cutting off an ear that had me on the edge of my seat scratching my arm-rests with my nails. Scott didn't hold back on that scene and definitely improved the film. This is a heavy talking heads picture with two great performances from Michelle Williams and Christopher Plummer. These two performers ground the film with stellar acting. I found Mark Wahlberg's character pointless as an ex-CIA spy working for Getty. It is Williams who takes command of the situation.
Since Scott has been using digital cameras most of his recent films have a flatness and coldness that isn't there with film. I wasn't impressed with the cinematography from one of the great visual stylists. It's time to go back to film.