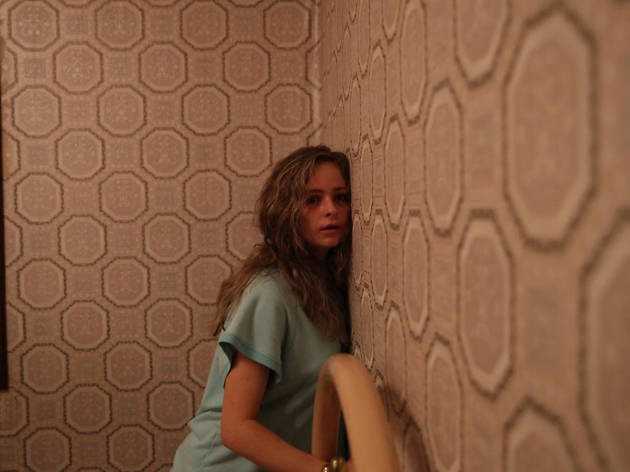 Time Out says
Domestic animals are baying for blood in Ben Young's creepily effective serial-killer thriller
It's the sheer style of the thing that ropes you in. The opening shot pans hungrily across a netball court where high school girls are frozen in super-slow motion, full of vigour yet helpless as butterflies pinned to a board; the camera's wolfish gaze slides over their bronzed legs and short, short skirts. We're in Perth, 1987, during the sweltering lead-up to Christmas. Teenager Vicki (Ashley Cummings), in defiance of her mother Maggie (Susie Porter), sneaks out one night to go to a party; she ends up in the clutches of John (Stephen Curry) and Evelyn (Emma Booth), a suburban dope-dealing couple who spice up their tempestuous relationship by cruising the streets and kidnapping, torturing and murdering girls.
'Tis the season for Aussie abduction thrillers. Cate Shortland's backpacker nightmare Berlin Syndrome also takes an arthouse approach to genre material, but Hounds of Love is the one that keeps you handcuffed to your seat. First-time writer-director Ben Young is a master of mood. Figures move in and out of focus as if in a fever dream; there are no jokes or extraneous subplots; and a chilly soundtrack of retro synthesisers, choral music, Nick Cave and Joy Division sings of the dark underside of the sunny suburbs. Having been lured into their living room by the promise of weed, Vicki succumbs to a spiked glass of Château Cardboard as John and Evelyn dance erotically in front of her to 'Nights in White Satin' – a scene that is pure demonic seduction.
The girl is no fool: chained to a bed, she soon realises she needs to exploit the faultlines between the cold-eyed John and the needy Evelyn if she hopes to escape them and their savage, poorly housetrained mutt. John clearly looks at his captive with rape on his mind; Evelyn, on the other hand, sees her both as sexual threat and surrogate child. Sure, it may be easy to pick holes in the logic of this scenario (why is it no one on this quiet suburban street can hear her screams?), but it makes perfect sense on the level of myth: Vicki's horrific ordeal plays out like the rabbit-hole version of her unsatisfactory home life.

Young is an experienced music video director and seems to have an innate understanding of film as emotional catharsis. His considerable ambitions are helped along by a top-notch cast. While Curry – more familiar for comedies like The Castle – is a reptilian little-man acting out chilling fantasies of control, the movie's key psycho-drama plays out in Booth's performance. When this earthy, damaged woman looks at her own naked figure in a mirror, looking for attractiveness among the scars of childbirth, it's unnerving, explosive stuff. Subtexts aside, Hounds of Love is also an expert exercise in suspense, taut as the wire of a Hills Hoist. It instantly joins Animal Kingdom and Snowtown in the pantheon of great Aussie noir.
Details
Release details
Rated:
MA15+
Release date:
Thursday June 1 2017
Duration:
104 mins
Cast and crew
Director:
Ben Young
Screenwriter:
Ben Young
Cast:
Emma Booth
Ashleigh Cummings
Stephen Curry

Users say