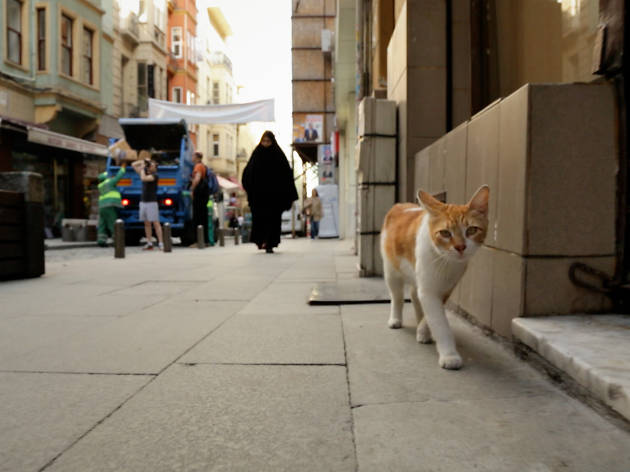 Time Out says
In a city overrun with wild cats, a secondary urban lifestyle emerges – one with whiskers
Impossible to resist (and 100 per cent allergy-free for us afflicted souls), Kedi is almost shamelessly satisfying: a documentary about the thousands of scrappy wild cats that prowl Istanbul with insouciance. Whose streets? Their streets. This isn't a documentary for disbelievers.
Historically the ancient city has, for centuries, dealt with what might be termed a cat problem. Still, Ceyda Torun's warm-hearted exposé definitely sees the army of felines as an asset. Sometimes captured in high-angle drone shots and elsewhere via a slinky roving camera, Kedi is The Shining, but with cats. We're down on the ground with these animals, whose day-to-day impulsiveness finds a sinuous expression in some of the most elegant camerawork to ever 
grace a nature doc.
Somewhat predictably, we follow seven especially brazen subjects, and it's easy to get swept up in their individual dramas. There's the little guy who paws every afternoon at the window of a café like he's auditioning for a new production of Oliver! We also meet amorous alley strutters, psychotic yowlers and regally pampered pusses that know they have us gamed.
Kedi is so likable that it would have benefited from a single voice of disapproval – some crank who we could laugh at for being humourless. (The cats are a serious health issue and, I've heard from Turks, a little scary.) But that presence is nowhere to be found, slightly reducing the film from what it might have achieved as a statement about urban coexistence.
Glowing, Kedi finds depth via its many interviews with humans, some of whom see the cats as wise spirits, others who need them as objects for their compassion. These beasts awaken something within the people, making them kinder and more playful. If Kedi did the same for audiences, that wouldn't be so bad.
Follow Joshua Rothkopf on Twitter: @joshrothkopf
Details
Release details
Rated:
G
Release date:
Thursday June 22 2017
Duration:
80 mins
Cast and crew
Users say