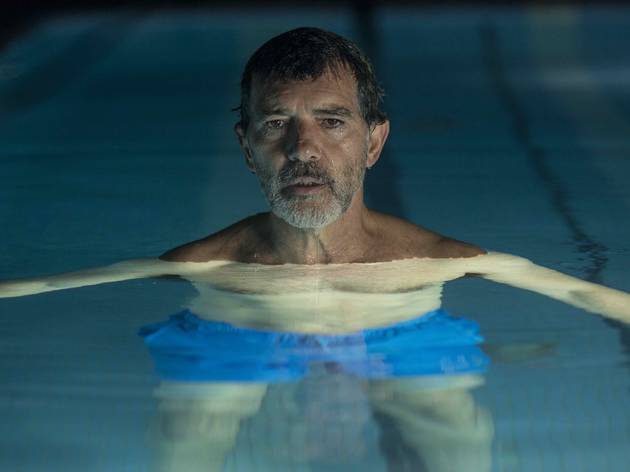 Time Out says
Pedro Almodóvar's nostalgia-soaked memoir is a humane journey into an ageing director's soul
A gorgeously crafted memoir about a jaded filmmaker past his prime, Pain and Glory could be Pedro Almodóvar's most autobiographical work since Law of Desire. The grand irony is that there's nothing jaded about the filmmaking on display: it's drenched in a passion for cinema and shows Almodóvar right at the peak of his powers. There's no sense of waning creativity, only a mood of longing and nostalgia that's unmistakably from a deeply personal place. You could call it Almodóvar's Cinema Paradiso.
The man at its heart is Salvador Mallo (Antonio Banderas), a Madrid filmmaker suffering from all sorts of aches, pains and maladies that make him a prisoner in his own body. He questions his mortality as a matter of routine, but his immortality – professionally, at least –is guaranteed by Taste, a big arthouse smash from the '80s that's being celebrated with an upcoming screening. He's been invited, along with the film's stormy star Alberto (Asier Etxeandia), and asked to participate in a Q&A afterward. The wrinkle is that the pair fell out making the movie and haven't spoken since, and when Salvador initiates a reconciliation it ends in a heroin-addled fug with the ageing auteur availing himself of Crespo's supply. The Q&A, inevitably, doesn't go well.
Banderas is terrific. He's Almodóvar's onscreen alter ego right down to the graying rebel hairdo and strikingly colored outfit of polo shirt and trainers. He inhabits the character with a sense of haunted distraction: a man in his sixties belatedly trying to reconcile with his earlier life, and to clear his emotional debts. There are touching scenes with the old friend he fell out with and the boyfriend who drove him to despair. Most movingly, we see his mother (played as an elderly woman by Julieta Serrano) in ghostly flashback, untangling rosaries in an armchair as she tells him how she wants to be dressed at her funeral.
Pain and Glory dips repeatedly into Salvador's past, with old memories floating through the film like a breeze through an open window. The film begins with his mother (played by Penélope Cruz in her younger years) singing along to a flamenco song as a group of women wash white sheets by a river. There's a sexual awakening as the young Salvador spies a bare-skinned builder showering himself in a garden surrounded by stark walls. We see him as a child with his seamstress mother in a station as the town around them celebrates a local holiday and sets off fireworks. Almodóvar fills this poignant tapestry of recollections with bold colours and infuses them with emotional details. It's a deeply intimate experience and it'll pierce your heart. Joseph Lambies
Details
Release details
Rated:
MA15+
Release date:
Thursday November 7 2019
Duration:
108 mins
Cast and crew
Director:
Pedro Almodóvar
Screenwriter:
Pedro Almodóvar
Cast:
Penélope Cruz
Antonio Banderas
Leonardo Sbaraglia

Users say