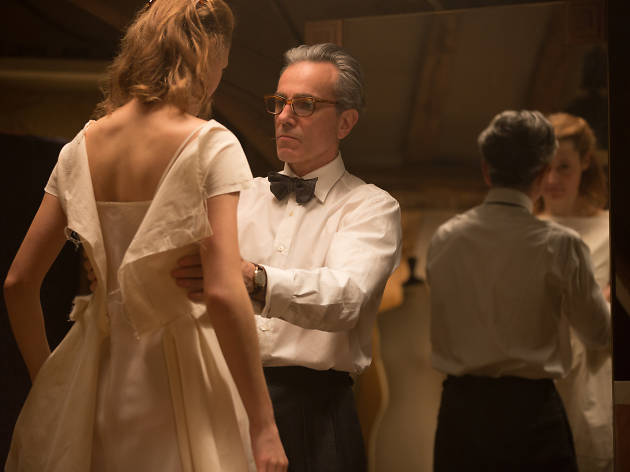 Time Out says
Deceptively hidden under layers of gorgeous surfaces, Paul Thomas Anderson's borderline-sick romance waltzes towards a riveting tale of obsession
False gods strut through the movies of Paul Thomas Anderson: rapacious oilmen, well endowed porn stars, inventors of new religions and spinners of old lies. Phantom Thread, the writer-director's ultra-fascinating bad romance (powered by an uncommonly sophisticated script by Anderson himself), gives us a real god – or at least one who's earned his perch.
Reynolds Woodcock (Daniel Day-Lewis, greying, fastidious, never unpersuasive) rules his private corner of London's 1950s haute fashion world. A dresser of wasp-waisted princesses, he pursues his craft in total concentration and near-complete silence. "There's entirely too much movement at breakfast!" Woodcock shouts with terrifying severity, an Anderson hallmark. When his character woos a lowly waitress, Alma (Vicky Krieps, purposefully blank), onto his tailoring pedestal to be his new lust object, you cringe on her behalf.
What an absolute joy it is, then, to watch Alma slowly turn the tables on this insufferable creep. Phantom Thread hides this development until it can no longer; its build-up is consumed with subtle flirtations, the thrill of driving fast in a sports car, the elegance of the clothes and the ritualisation of Woodcock turning bodies into consumable things. It's almost a little too square and prestigey for the maker of Inherent Vice, but then Jonny Greenwood's delicate piano score goes cello-heavy and the mood darkens into neediness – and worse.
Anderson's swing of the power pendulum represents his most fun piece of direction to date. Out come the daggerlike stares of Woodcock's possessive sister, Cyril (Mike Leigh regular Lesley Manville, owning every lip curl and bit of viciousness), and we get that hoariest of plot points: poison-mushroom soup. Forgive that one, because the film is after something incredibly rare that I won't spoil, a mutually assured destruction that kicks the attraction into overdrive.
Enough can't be said about Phantom Thread's psychological gamesmanship, which morphs from the typical mode of obsessive artist and docile muse into co-conspiratorial glee, then ruinous loneliness and the bickering realities of wedlock. Ultimately, we're talking about a picture of a weird marriage, one spiked by perversely orchestrated hazards. Even though the tone here is impeccable as a Max Ophüls classic or high-period Bertolucci, you really have to go to something subversive like The War of the Roses to get a hint of the comic blackness. It's sexy, silly and undeniably wonderful – like the best of affairs.
Details
Release details
Rated:
M
Release date:
Thursday February 1 2018
Duration:
130 mins
Cast and crew
Director:
Paul Thomas Anderson
Screenwriter:
Paul Thomas Anderson
Cast:
Daniel Day-Lewis
Lesley Manville
Vicky Krieps

Rating Breakdown
5 star:

0

4 star:

1

3 star:

0

2 star:

0

1 star:

0
Riveting layered characters of subtle nuanced performances of 1950 London fashion world. Day Lewis exemplifies his craft of fashion for the rich and famous in the lifestyle of the rich and famous. Anderson has said he was heavily influenced by Hitchcock's REBECCA when it came to the influence of this film. A sick twisted romance that gradually creeps under the skin of the audience and completely immersive.