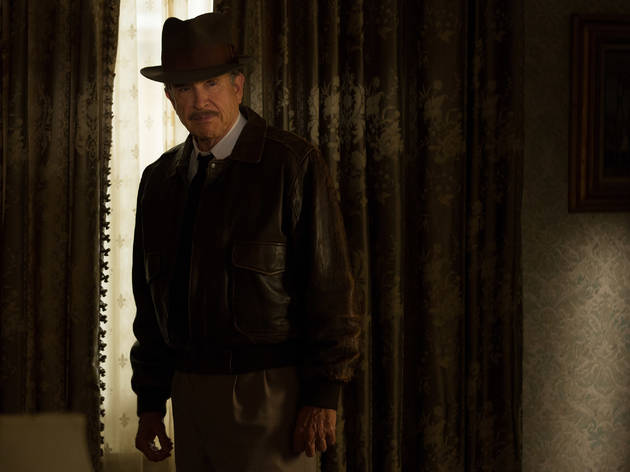 Time Out says
Warren Beatty's strange star turn as legendary eccentric Howard Hughes is the most fascinating element of a story we've heard too often
Sphinx, playboy and Hollywood legend Warren Beatty, now 79, has used his fame to direct and produce a clutch of daring movies, all of which would have languished without him. Heaven Can Wait (1978) is the kind of impeccable verbal comedy that was going out of style during the dawning era of the blockbuster; Reds (1981) and Bulworth (1998) are examples of the studio machine put to radical political purposes. Even Dick Tracy (1990) is the most unusual thing Madonna ever agreed to be involved with.
It may be that Beatty was born to play Howard Hughes, the billionaire mystery man and womaniser who might be described with the same terms above. But the star's long-gestating passion project, Rules Don't Apply, has a few unfortunate strikes against
it – not least of which is Martin Scorsese's epic 2004 biopic, The Aviator, which covers similar ground. For his original script, Beatty turns to collaborator Bo Goldman, himself steeped in Hughes lore after penning the off-kilter 1980 comedy Melvin and Howard. In its own impressive way, Rules feels crazier than any previous Hughes film: Beatty leans into the germophobe's wildness, flinching at the presence of children, refusing to answer questions and – most disturbingly – conducting his affairs from behind a curtain like some ominous figure from a David Lynch nightmare.
Distractingly, Beatty foregrounds the romance of two young people: a secretly talented starlet under contract to Hughes (Lily Collins) and a clean-cut limo driver with business ambitions of his own (Alden Ehrenreich). Their flirtation – strictly prohibited by the boss's code of conduct – is sweet but deeply disposable, especially when it's more fun for us to luxuriate in Beatty's unhinged turn. Rules Don't Apply flies along at an inhuman speed; the edits are sharp, skipping years at a time, and the production values are unshowy. Like everything this star-director has done, the film is deceptively smart. It's just a little too late to the game.
Details
Release details
Release date:
Thursday April 27 2017
Duration:
126 mins
Cast and crew
Director:
Warren Beatty
Screenwriter:
Warren Beatty, Bo Goldman
Cast:
Warren Beatty
Lily Collins
Alden Ehrenreich

Users say