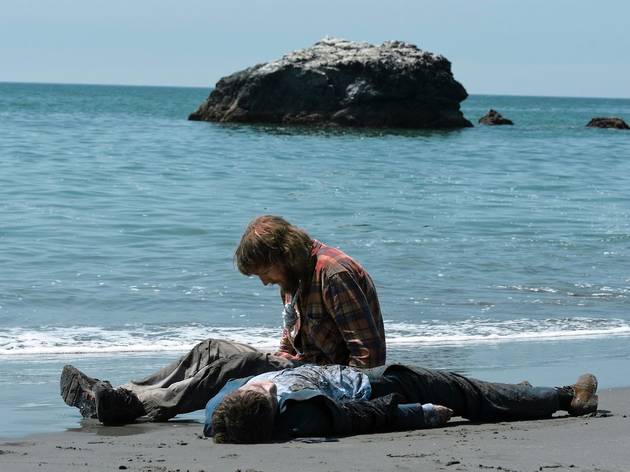 Time Out says
Daniel Radcliffe farts his way to an instant all-time stink bomb as a talking corpse with gas issues
Sometimes movies feel like fever dreams, fuelled by sexy bodies in motion or a pounding electro soundtrack. This one's fuelled by farts. A puerile survival movie about a desert-island-stranded beardo and his new best friend – a flatulent, washed-up corpse – Swiss Army Man is shocking only for the calibre of its cast (never less than fully committed), but it leaves alarming questions about their taste in scripts.
Scraggly, suicidal Hank (Paul Dano) is all noosed up and ready to go on his speck of a remote island when, along the beach, he sees a limp body in the waves (Daniel Radcliffe, taking on a role that gets progressively weirder). Spirits soaring, Hank races down to his only companion, whose pallid body discharges its final fumes. But these sounds go on and on, noisily, and suddenly, both men are on the water in a bizarre human-jet-ski combination propelled by a steady stream of ass gas.
You won't believe what you're seeing, Harry Potter's bare bottom being the least of it. If co-writer-directors Dan Kwan and Daniel Scheinert (viral-video sensations credited as 'Daniels') had built the ensuing movie out of such desperate dream sequences interposed with Hank's crushing reality, Swiss Army Man might have worked as an unhinged Cast Away for millennials. But we're already way off the deep end: the ocean escape is real, landing them on a woodsy shoreline, and 'Manny', as Radcliffe's rigor-mortis-bent companion calls himself in a croak, becomes a full-fledged character: a magical source of drinking water that vomits out of his mouth.
Stupefying in all respects, the film doubles down on Hank's obsession with a young woman he once saw on the bus (Mary Elizabeth Winstead), and the two buddies begin ritualistically recreating that moment with branches and garbage found in the forest – a Michel Gondry-esque explosion of DIY production design. Here's where the film plummets in ambition: all of this bizarritude comes in service of the most banal, if-only-I'd-talked to her pining.
Back on Planet Earth, we're still talking about a ridiculously infantile film, one that flatters itself by intimating deepness. And it would be a disservice to compare Swiss Army Man to the work of, say, the Farrelly brothers, filmmakers who couple scatological humour with stealthy sweetness. Only the film's all-voice score, manically hummed by Manchester Orchestra members Andy Hull and Robert McDowell, captures the inner workings of a cracked mind. The rest of the movie is breaking wind. - Joshua Rothkopf
Details
Release details
Rated:
M
Release date:
Thursday July 14 2016
Duration:
97 mins
Cast and crew
Director:
Dan Kwan, Daniel Scheinert
Screenwriter:
Dan Kwan, Daniel Scheinert
Cast:
Daniel Radcliffe
Paul Dano
Mary Elizabeth Winstead

Users say