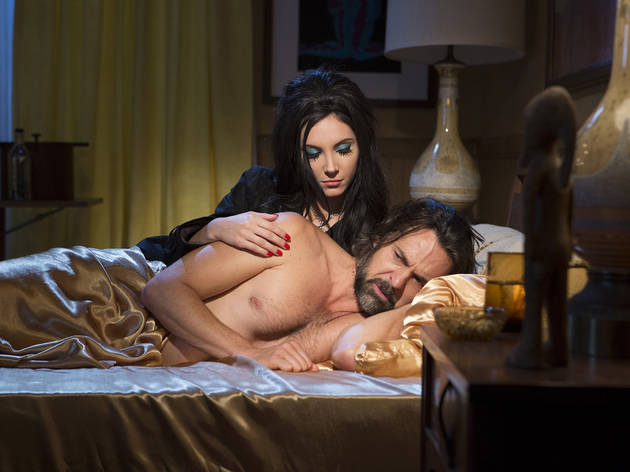 Time Out says
Smouldering with retro '60s style, Anna Biller's sexploitation drama updates dusty gender politics with hardcore feminist defiance
When watching the top-heavy sexploitation movies of Russ Meyer – films like Faster Pussycat! Kill! Kill! (1965) and Supervixens (1975) – it's easy to pick up on a robust love of powerful women. His characters are well endowed not only with genetic gifts but growling attitude and claws. Writer-director Anna Biller is an obvious fan: her work, including 2007's Viva and now the vastly entertaining The Love Witch, seems plucked from the same Playboy-era universe of huge hairdos, lurid makeup and voracious female appetites.
But Meyer could never make a psychodrama as sophisticated as Biller has now: it's cloaked in a retro wardrobe and soundtrack (much of the music, by Italy's Ennio Morricone, is sourced from '60s thrillers) but loaded with irony and a fluid sense of identity. The Love Witch stars the statuesque Samantha Robinson – looking like she stepped out of a centerfold – as Elaine, who drives up the California coast away from her failed marriage to a dolt. But don't call her disenchanted. If anything, Elaine's got more magic than most – a willingness to cast sexual spells over unlucky men. We also learn pretty quickly that she's a serial killer.
Elaine wends her way through a parade of male caricatures – a "libertine" French lit professor, a frustrated and weepy married man, a lantern-jawed cop – but she's always in control, toying with their sense of entitlement. Biller's dialogue is intentionally stilted; she draws attention to the banal come-ons that once passed for romantic repartee but also to the contortions that women had to strike in order to play the game. And nobody, it turns out, plays it better than Elaine. But at what cost? The Love Witch ends on a daring note of psychosis, launching the film into the uneasy company of David Lynch's Mulholland Drive. "Don't diagnose me!" Elaine spits at a conquest, a half smile on her trembling lips. But that's all you'll want to do, in between cheering.
Details
Release details
Release date:
Thursday February 9 2017
Duration:
120 mins
Cast and crew
Director:
Anna Biller
Screenwriter:
Anna Biller
Cast:
Samantha Robinson
Jeffrey Vincent Parise
Laura Waddell

Users say