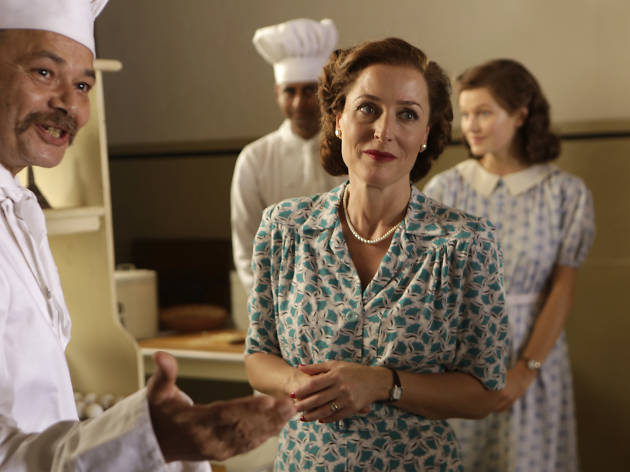 Time Out says
This tale of romance of the eve of Indian partition is generous but not completely convincing
Bend It like Beckham director Gurinder Chadha winds back the clock to the eve of Indian Partition for this big-hearted but frustratingly basic upstairs-downstairs drama. The upstairs is as high as you could go in 1947 India: Lord Louis Mountbatten (Hugh Bonneville) is the last viceroy of India. His job is to transfer the country to independence and he's joined in a sumptuous Delhi palace by his wife (Gillian Anderson) and daughter (Lily Travers).
Downstairs, meanwhile, is a microcosm of wider tensions: opinions vary among the Indian staff, Hindus and Muslims, about whether their country should remain united – the preferred option of Gandhi (Neeraj Kabi) and Nehru (Tanveer Ghani) – or split into India and Pakistan, in accordance with the wishes of Muslim leader Muhammad Ali Jinnah (Denzil Smith).
The escalating crisis is awkwardly echoed in the soapy love story between Mountbatten's servant, Jeet (Manish Dayal), a Punjabi Hindu, and his childhood sweetheart, Aalia (Huma Qureshi), a Muslim. As a simple walk through the headline history of the time, Viceroy's House is vaguely illuminating. We meet all the main political players and Mountbatten is presented as a charming pragmatist who is relatively powerless in the face of the iron will of Winston Churchill.
But, at the human level, this is shallow, and Chadha clumsily fuses political drama with romantic melodrama. It's also odd how, having plumped for the below-stairs angle of Downton Abbey, she has cast its lead Hugh Bonneville (curiously unsweaty in the 114-degree heat), as if to underline the inspiration. As a memorial, this is compassionate and heartfelt; as drama, it begs a lot of forgiveness.
Details
Release details
Rated:
PG
Release date:
Thursday May 18 2017
Duration:
106 mins
Cast and crew
Director:
Gurinder Chadha
Cast:
Gillian Anderson
Michael Gambon
Hugh Bonneville

Users say