The 12 best restaurants in Tallahassee
From standout cafes to fancy eateries and roadside gems, these are the best restaurants in Tallahassee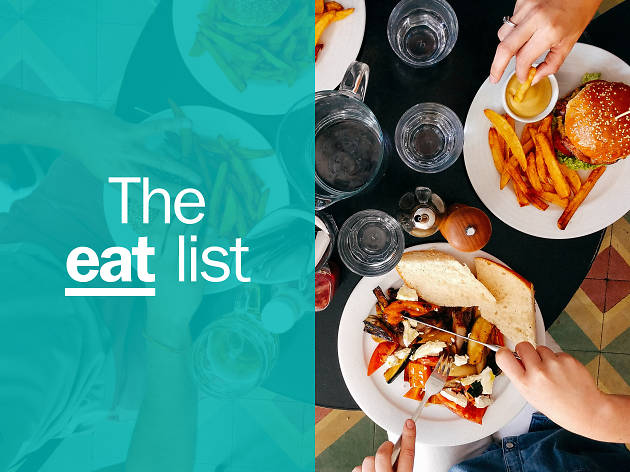 As far as character is concerned, Tallahassee is bursting with it. This is a rowdy city that knows how to celebrate when its favorite sports team, the Florida State Seminoles, scores a win; it's a creative city, with a vibrant music scene, a ton of things to do and distinguished alumni such as The Doors singer-songwriter Jim Morrison and Ellen Taaffe Zwilich, the American composer who was the first woman to ever win a Pulitzer Prize for Music in 1983.
This same iconoclastic spirit can be seen—and tasted—when visiting the best restaurants in Tallahassee. Whether looking at flavorful Southern breakfasts, off-kilter burger joints, the cluster of locally-owned spots around the All Saints District or hip vegan hangs, there's plenty of options for hungry gourmands passing through Florida's state capital.
Best restaurants in Tallahassee
1
Photograph: Courtesy Yelp/Erin R.
What is it: As far as eclectic eats go, Kool Beanz Café has the local market cornered. For over 20 years, the restaurant has been offering a comprehensive menu specializing in diverse, memorable plates.
Why go: Because you like your surroundings to be as colorful as your meals. With a health-conscious menu that changes on a daily basis, you'll have to be very quick to catch your favorite items.
Price: Blowout
2
Photograph: Courtesy Yelp/Heather R.
What is it: Widely regarded as the best Italian restaurant in Tallahassee, Bella Bella is clearly a favorite.
Why go: Because no culinary options evoke family time quite like a delicious Italian restaurant. Of particular note is the bubble bread appetizer, a soft bread topped with an appetizing combination of garlic spread, gorgonzola and mozzarella, all baked until it reaches its final bubbly form. No great meal is complete without great drinks and the eatery knows this: select from a wide array of cocktails, wines and beers.
Price: Pricey
3
Photograph: Courtesy Yelp/O E.
What is it: Although it took some time, vegan dining seems to have broken out of its once-limited clientele and become just as important and valid a dining consideration as any other type of cuisine. In Tallahassee, one need look no further than the Sweet Pea Café for mouthwatering vegan options.
Why go: Because you prefer your meals to be organic, vegan and locally sourced. With their falawesome falafel sandwich and rotating brunch specials, Sweet Pea Café does everything to keep the menu delicious, diverse and memorable all at the same time. Be warned that due to its small size and popularity, there occasionally may be a wait to dig in.
Price: Bargain
4
Photograph: Courtesy Yelp/Kerry O.
What is it: Located in the Gaines Street corridor of Tallahassee, Gaines Street Pies has its work cut out for it: any spot serving pizza and beer until 12am on weekdays (3am on weekends) is bound to be a popular spot.
Why go: Because you enjoy washing down your cheese and pepperoni with a cold, refreshing brew. In addition to traditional pizza joint fare, indulge in a variety of appetizers like the spinach artichoke dip as well as a bevy of healthier salad options. Whether you're stopping in during the afternoon or in the middle of a late night misadventure, you'll find plenty to love at Gaines Street Pies.
Price: Average
5
Photograph: Courtesy Yelp/Daniel P.
What is it: It's a bit of a schlep away from Tallahassee's most bustling areas, but the trek to this west side joint is more than worth it. Woodchuck's Café has been a perennially popular brunch spot since its May 2013 opening.
Why go: Because you like your homestyle cooking to be conceived and served by a local. Even though it's primarily a space for nourishing breakfasts, chef Chris Benfield's menu also includes conventional lunch fare in the form of BLT and pulled pork sandwiches along with build-your-own-chicken selections.
Price: Average
6
Photograph: Courtesy Yelp/Angela R.
What is it: Voodoo Dog serves juicy burgers and unforgettable hot dogs with a generous side-serving of 90s kitsch and televisions displaying Japanese monster movies.
Why go: Because you'll be giggling in-between bites. The basic house dog, the titular Voodoo Dog, is a wiener wrapped in deep fried bacon—building from that, customers can order goofily named options such as the Chicago-style Abe Frohman dog and the grilled Fat Katz dog. Their burger options are equally as silly and tasty, with the egg-drenched Barth Burger a particular standout.
Price: Bargain
7
Photograph: Courtesy Yelp/Elyssa F.
What is it: Since opening in 1999, the family owned and operated Jasmine Café has been one of the premiere destinations for delicious sushi and Asian cuisine in Tallahassee. Located downtown, the venue's menu—although primarily sushi-oriented—also includes pad Thai and curry bowls for anyone who isn't quite comfortable with eating raw food.
Why go: Because you enjoy accompanying your nights out on the town with a savory spicy squid salad. Jasmine Café is cheaper than traditional sushi fare (and also has frequent drink specials including $2 Pabst Blue Ribbon and $3 Yuengling) but those operating on a budget should be warned that their tab can easily and will likely accumulate over the course of their meal.
Price: Pricey
8
Photograph: Courtesy Yelp/Bret I.
What is it: Just ten minutes down the street from the Florida State Capitol, Bada Bean is serving delicious caffeinated brews right alongside hearty "egg"cellent breakfasts and sandwiches.
Why go: Because you like your trendy coffee shops to be family-friendly and have a fully-fleshed out menu. Bada Bean channels an old school diner feel, making it ironic enough for artsy college students to feel okay about visiting while still welcoming large families. Rather than checking out any one of the numerous breakfast chains littering the city, be sure to pay a visit to the most "bada"licious eatery in Tallahassee.
Price: Pricey
9
Photograph: Courtesy Yelp/Mattew C.
Liberty Bar and Restaurant
What is it: For any foodies who operate as night owls, Liberty Bar and Restaurant is the place to be. Opening at 5pm on weekdays and 11am on weekends, Liberty stays open until 2am every night, fostering a chance for creatures of the night to meet and bond over their shared culinary tastes.
Why go: Because you want your late-night fare to be as fresh as possible. Eat all the gourmet American food you've ever wanted, with a whole lot of cocktails and live shows on the side.
Price: Blowout
10
Photograph: Courtesy Yelp/Matthew C.
What is it: Hidden away in a corner of Railroad Square Art Park lies the Crum Box Gastgarden, a small spot specializing in sausages. Co-founded by Trey David and Pete Evarts in the fall of 2014, the Crum Box Gastarden humbly lies in a red caboose adjoined to an outdoor area with picnic tables and necessary shade.
Why go: Because you like your meals to be intimate, quiet affairs. Although you likely won't have much left to take home, the Crum Box Gastgarden's freshly made meatball subs and sausage selections are more than enough to satiate the hungriest customer. The spot also hosts an annual sausage fest… Need we say more?
Price: Bargain
11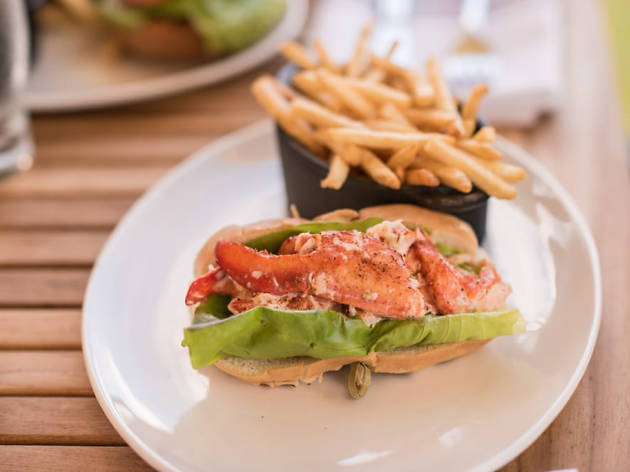 Photograph: Courtesy Yelp/ The Edison
What is it: Since first opening in 2015, the Edison has strived to provide Tallahassee with a potent blend of international cuisine accentuated by local flavors. Situated in an old electric building overlooking Cascades Park, the Edison serves high-end dining that blends worldly delights with Tallahassee and Florida-born styles.
Why go: Because you enjoy your authentic meals to come with a side of gorgeous view. Open for brunch, lunch and dinner, customers can enjoy filling dishes such as the Jacksonville strip steak and Suwannee river shrimp and scallops for dinner. The Edison also has a daily happy hour from 3-7pm where customers can enjoy $4 specialty cocktails and $4 draft beers.
Price: Blowout
12
Photograph: Courtesy Yelp/Kandis J.
What is it: Accessible only by car, Chubby's Chicken is a modest Tallahassee institution. Even though there's nowhere for customers to sit down and munch, Tallahasseeans have never had a problem braving long lines and perilous traffic in order to enjoy the restaurant's beloved Chubby Box.
Why go: Because you like your chicken slathered in sauce and as unreasonably tangy as possible. Chubby's wide selection of flavored chicken and accompanying sauces make for one of the most inviting opportunities to taste-mix-and-match in town. Be sure to get the Mexican wrap, a more-than-satisfying option offering sour cream, guacamole, cheddar cheese and tomato along with grilled or fried chicken.
Price: Bargain
Discover Time Out Market: the best of the city under one roof
Planning a trip to Tallahassee?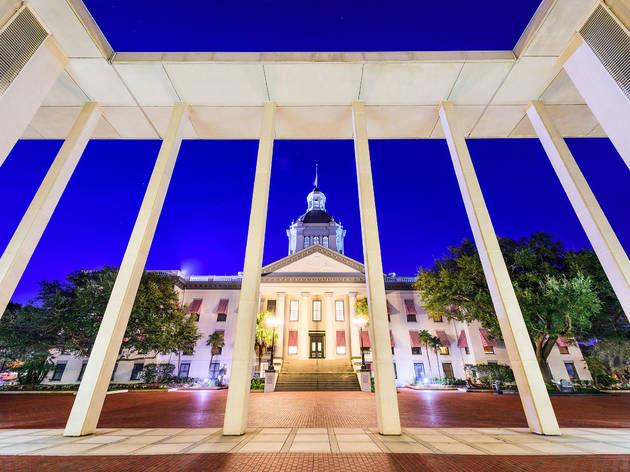 Florida's strongest quality may very well be its diversity: all across the state, cities and towns are lush with different kinds of food, activities and environments to explore.