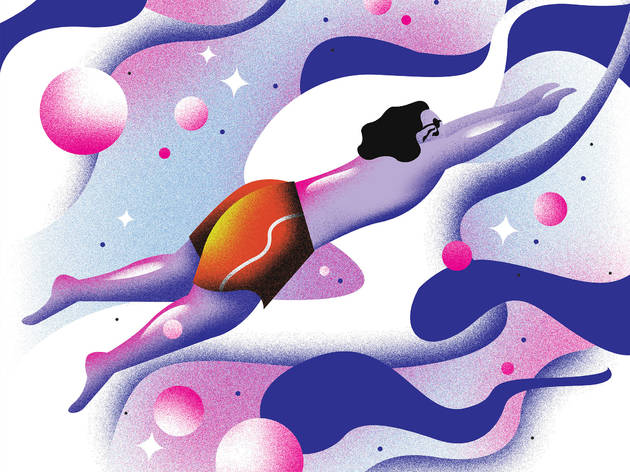 How to get into outdoor swimming (and stick with it)
Open-water swimming is good for you – but it's also cold, wet and sometimes uncomfortable. Here's how to dive in
It might sound like the stuff of nightmares, but if you missed the memo, cold-water swimming is properly good for you. It helps your mind deal with stress and anxiety and your body fight off various lurgies – and it might even help stave off dementia. And swimming outdoors, surrounded by sky and nature, just feels better than the striplights of your local indoor pool.
I'm still a hell of a way off matching the real cold-water gurus: where I live, in London, there are people who take to the Hampstead swimming ponds year-round. But over this summer I've found it increasingly hard to get near any reasonably non-murky body of water without wanting to jump in. And as the British weather has got worse towards autumn, I've found myself becoming one of the people I used to roll my eyes at, dashing into the sea when the other people on the beach are wearing winter jackets.
Here are some tips I've picked up. First and most obviously, you need to be a fairly strong swimmer: turning blue and getting dragged out by lifeguards is a bad vibe, so brush up on your breaststroke.
Most people advise that it's easiest to start cold-water swimming in the late summer and keep pushing through as water temperatures plummet throughout the autumn, so your body has a chance to get used to the cold. But you can start in autumn or even winter – just make sure to check out organisations like NOWCA and the Outdoor Swimming Society for essential safety tips.
One good rule of thumb is to not stay in for more minutes than the number of degrees it is in the water. And definitely start by heading to a legit (and therefore lifeguarded) outdoor swimming spot, rather than your nearest river. Then just grit your teeth, do a few warm-up exercises and take the plunge!
Once you're feeling the cold-water buzz, some kit is essential. You'll probably need a wetsuit – preferably second-hand, or splash out on something more eco-friendly than neoprene if you can afford it. The serious pros have gloves, hats and often tow floats: bright orange buoys that you pull along behind you, keeping you afloat and visible and your stuff dry.
You don't need all that gear, but I'd definitely advise a changing robe to keep you snug when you're changing. Rubber-soled surf boots have changed my swimming life, making it much easier to dash in and out of the water. Oh, and buy a thermos. Before you know it, you'll be a regular Arctic seal.
More fitness inspo: how to get started with…