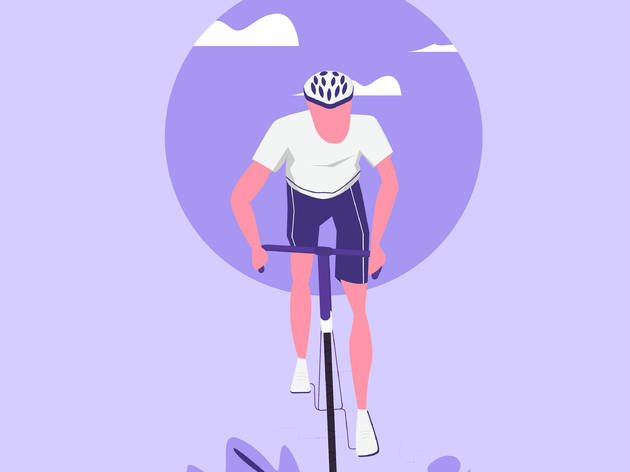 How to start cycling for fitness (and actually stick with it)
Not just a handy way to commute, cycling is one of the best workouts around. Here's how to get going, even when it gets tough
Cycling – the long-distance, lycra, Tour de France, tiny-cap variety – is not easy to get into. I got into it about eight years ago, and then almost immediately got right the hell out of it.
Somehow, going for a seriously long ride at 9am on a Saturday morning felt like a good idea at the time. It sounded healthy, ambitious, driven. So I bought a fancy bike and headed for the hills. But it was hellish. Slow, brutally exhausting, cold, miserable. I was shocked. I'd been cycling in London for years and years, commuting 16 to 20 miles a day. But something about doing 50 miles in one go, at speed, with hills, first thing in the morning, just destroyed me.
I did two more long rides and then sold the bike, for a big loss.
But earlier this summer, I caught the bug (not that one) again, and decided to give it another go. Something about being interminably stuck at home made the prospect of disappearing into the countryside for a whole day incredibly alluring. The question was, could I hack it better now than eight years ago?
I thought I was going to have 17 heart attacks in a row
So I took it slowly and sensibly. Instead of buying an expensive bike and doing the hardest ride I could, I headed out on my normal bike and did some hill climbs the internet and my friends told me would be challenging. (Here in London, that was Mott Street and Claypit Hill in Epping – but wherever you are, there'll be nearby climbs to try.)
It was hard. Very hard. I thought I was going to have 17 heart attacks in a row, I stopped halfway up every hill, I stopped at the top, I stopped when I got back to the bottom. I stopped a lot.
And eventually, I started to enjoy it. I got better, faster; I stopped having to stop halfway up every hill. So I built up a real nice fancy road bike (which got nicked from INSIDE my flat, long story), bought some lycra (yes, it looks silly, but you'll look even sillier if you're the only dickhead climbing up a massive hill in jeans) and started riding with my friends, who are excellent cyclists, and super supportive of my attempts to keep up with them.
Cycling has become one of the best things in my lockdown life
Now I do at least two long rides a week, one solo, one with friends. Last week I did 130km out into Kent. Next week we're going to do the Essex loop made famous by London-born Giro d'Italia winner Tao Geoghegan Hart. It's become one of the best things in my lockdown life: social, coffee-fueled, exhilarating, fun.
So that's my advice: try it. Take it slow, build up the endurance and then test yourself with longer and longer rides. Once you've got the miles in your legs, get a good bike, and – most importantly – go out with friends. See you halfway up some hill in the countryside – I'll be the one trying to swear but unable to breathe properly so it just sounds like 'fuhhh thiiis'.
More fitness inspo: how to get started with…