Interview: Sophie Ebrard
We meet the photographer who's turning porn into poetry at the Kyotographie festival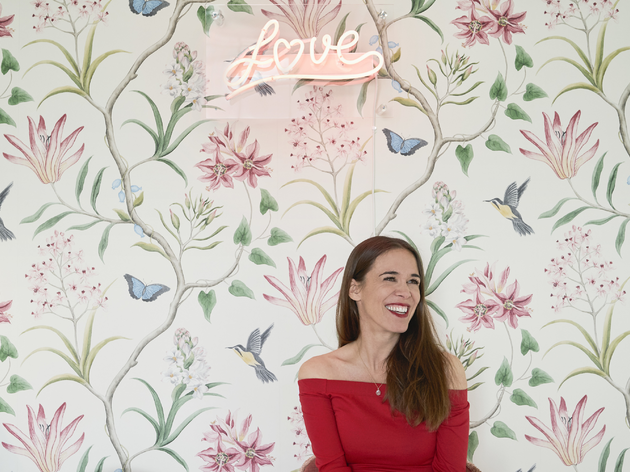 Currently exhibiting in the KG+ category for up-and-coming names at Kyotographie, the international photography festival held across the ancient capital's traditional storehouses, castles and temples, Sophie Ebrard has only just arrived in Tokyo when we meet her in Roppongi. Not that it shows: the French-born photo artist is instantly ready to talk us through 'It's Just Love', a uniquely poetic look at the beautiful side of the porn industry.
Born in 1976, Ebrard spent a decade in advertising before becoming a professional snapper. Currently dividing her time between London and Amsterdam, she has attracted quite a bit of international attention with 'It's Just Love'. But how will her admittedly risqué images go down in notoriously conservative Kyoto? And what is her opinion of the porn business after spending four years essentially living within it?
It's your first time in Japan. How do you like it so far?
I love Japan. It was amazing to be able to [be] immersed into Japanese culture by organising a show. The culture and language are so different that it made everything more difficult! But it's also been such an amazing experience and I met extraordinary people. I think I started to have a grasp on Japanese culture, understanding a lot more than if I had just visited temples and done the touristy things.
How did you first get into photography?
I've been a photographer for seven years, so I'm still quite new. Before that, I had a career doing something else. And one day, I just felt that it wasn't me anymore, and I really needed a change. So I became a photographer – I just wanted to do it for me, so there was almost no pressure. Because I didn't go to art school, I wasn't much influenced by how they teach you to just 'try everything'. [My work] really started to be 'me' very quickly.
So you're self-taught?
Yeah, I shoot about 99 percent of my work on analogue cameras, and I learnt the craft myself. I was really dedicated and spent a lot of time examining colours, the way I wanted to work, who I wanted to shoot and so on. That's what I did for the first few years.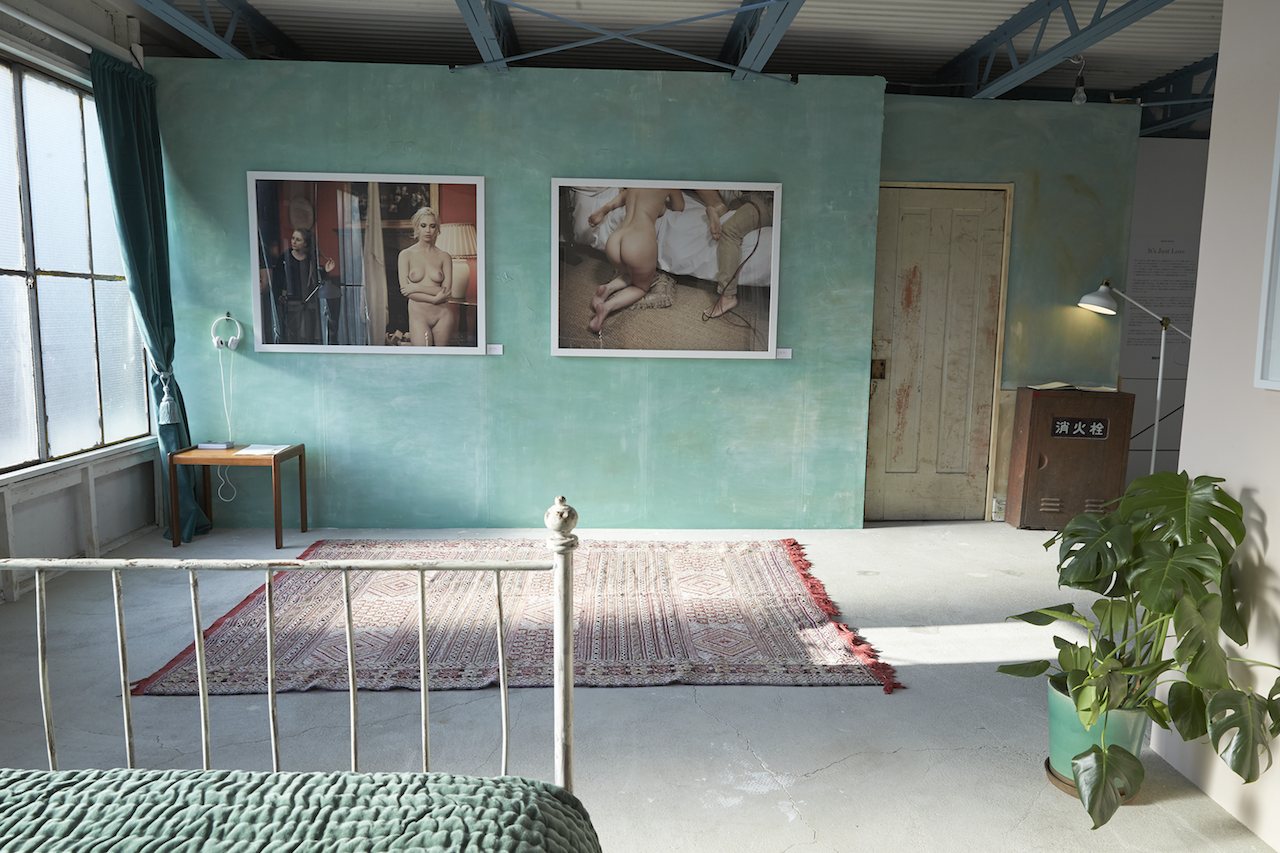 How did you end up shooting at porn sets?
I was always very interested in nude [photography]. But because I was shooting my friends, I didn't feel it was appropriate to ask to shoot them naked. So I went to a swingers party – not something you'd do in your [daily] life. I was a bit shocked and nervous, but when I arrived, it was very chic and beautiful.
I sat for almost two hours and watched people interacting and having sex, and it was just gorgeous. I wasn't seeing the act, just how the bodies were intertwined, and there was something very beautiful about it. And that was when I felt the need to do a project.
Were you invited to shoot, or?
Yes – by coincidence, I met a porn director called Gazzman [at the party] and we had a chat. I told him that I really wanted to do a project on nudity, and then he said 'well, I have a set coming, just come to one of my sets'. Which was very lucky, because the porn industry is such a closed industry. Otherwise it would have been really difficult to get into the business.
I went to one set and really liked what I was seeing, and so I carried on for four years, following him around in the US, in Los Angeles, in Portugal, Spain, Scotland, Wales – six different locations in total.
Four years – that's quite some time. What motivated you to keep going?
I, and everyone in the Western world, has preconceptions about the porn industry: that it's seedy and not beautiful, that people aren't treated very well, that women aren't treated well, and that there's not much humanity. But I felt the opposite – I felt that there was a lot of respect, which I didn't expect, and people were having fun.
So I realised that it's an industry like any other, and that people in it are passionate about it as much as we are passionate about our [work]. I also managed to find beauty, and managed to show all of these aspects in the pictures taken. I really felt the need to show my version of the porn world.
How do you define beauty in this case?
I like to find beauty everywhere I go. That's part of my DNA as a photographer, finding beauty even in bleak places. My eye is kind of trained like this – I almost 'skip' the non-beautiful world to see beauty.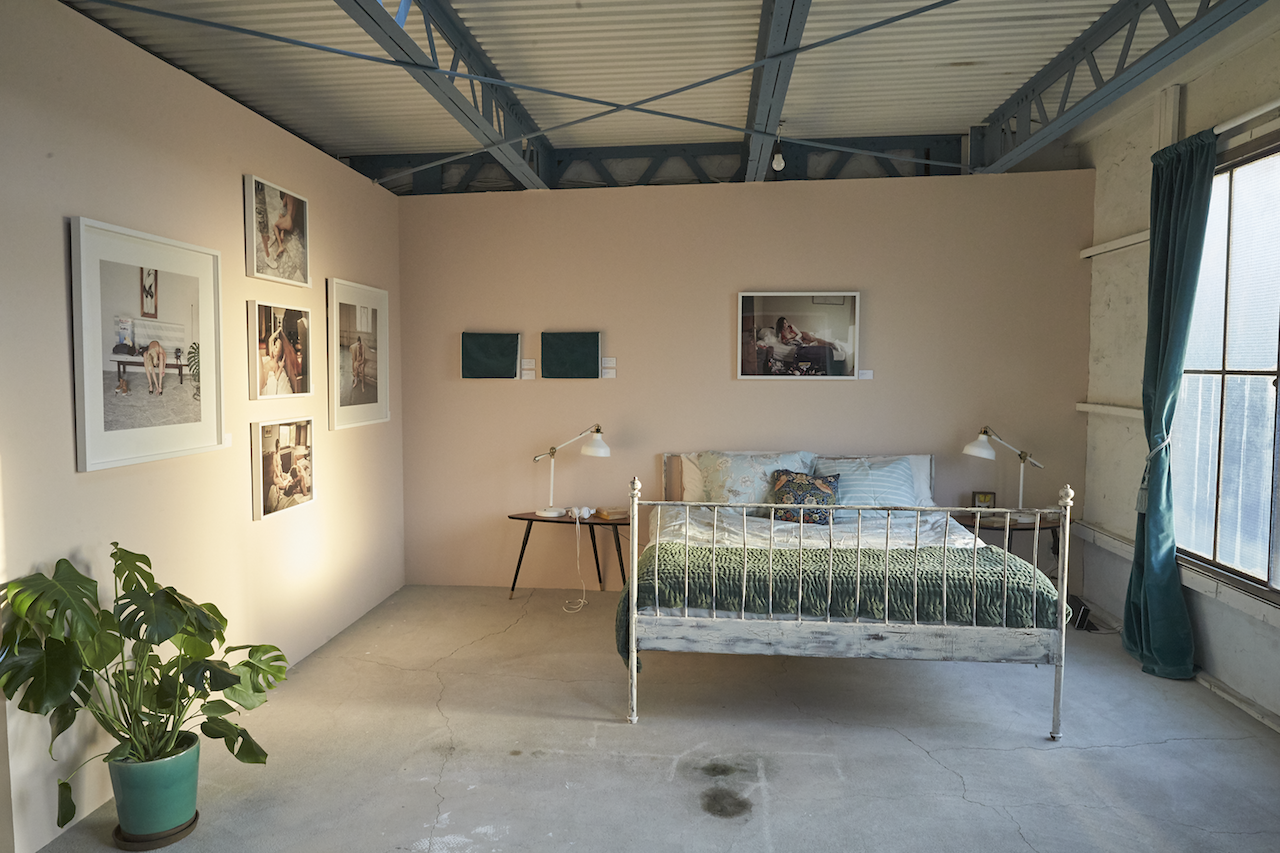 The first 'It's Just Love' show was held at your home in Amsterdam?
People loved that they could come into my house and see the show. We also did a big set design there, moved away the furniture, repainted, did everything – it was like a gallery. My neighbours came and they were happy, but stunned as well. We initially thought that the only people who would be interested would be the hipster-cool-funky kind of people, but it actually became really mainstream very quickly.
The Kyotographie exhibition is also very interesting in terms of space. What do you want to say with the way it's presented?
It's an immersive experience: you have sound, moving images, smell… there are so many elements beyond the pictures that capture the senses. It's nice, because it's not just for people who are interested in art. It's not like going to a gallery – a large white space where you really have to understand what's happening.
I really wanted [the space] to be chic. We could have made it too kawaii, too cute, too girly, or vulgar. There was an in-between that I wanted – I didn't want it to go all pretty pink and girly. We brought everything from Amsterdam for the exhibition: the wallpaper, furniture, paint, everything. It's hard to find the exact type of European-look furniture that I wanted here in Japan.
Some of the photos are covered with little curtains. Why is that?
I covered them mainly because of Japanese law – you're not supposed to show [male] genitals – but the reaction, those little shocked yet joyous 'whoops' from the audience, was a nice, funny addition too.
It's interesting that you were able to show the male genitalia with the curtains; that didn't pose any legal problems or anything?
We've been working on the show for the past eight months or so, and some of the main things we've been trying to understand is whether the photos will be stopped at customs, and whether people will come to see them.
There was always this element of risk, but I guess at least showing some respect by not having them completely public helped. It could cause problems in a city like Kyoto, I guess, but so far so good.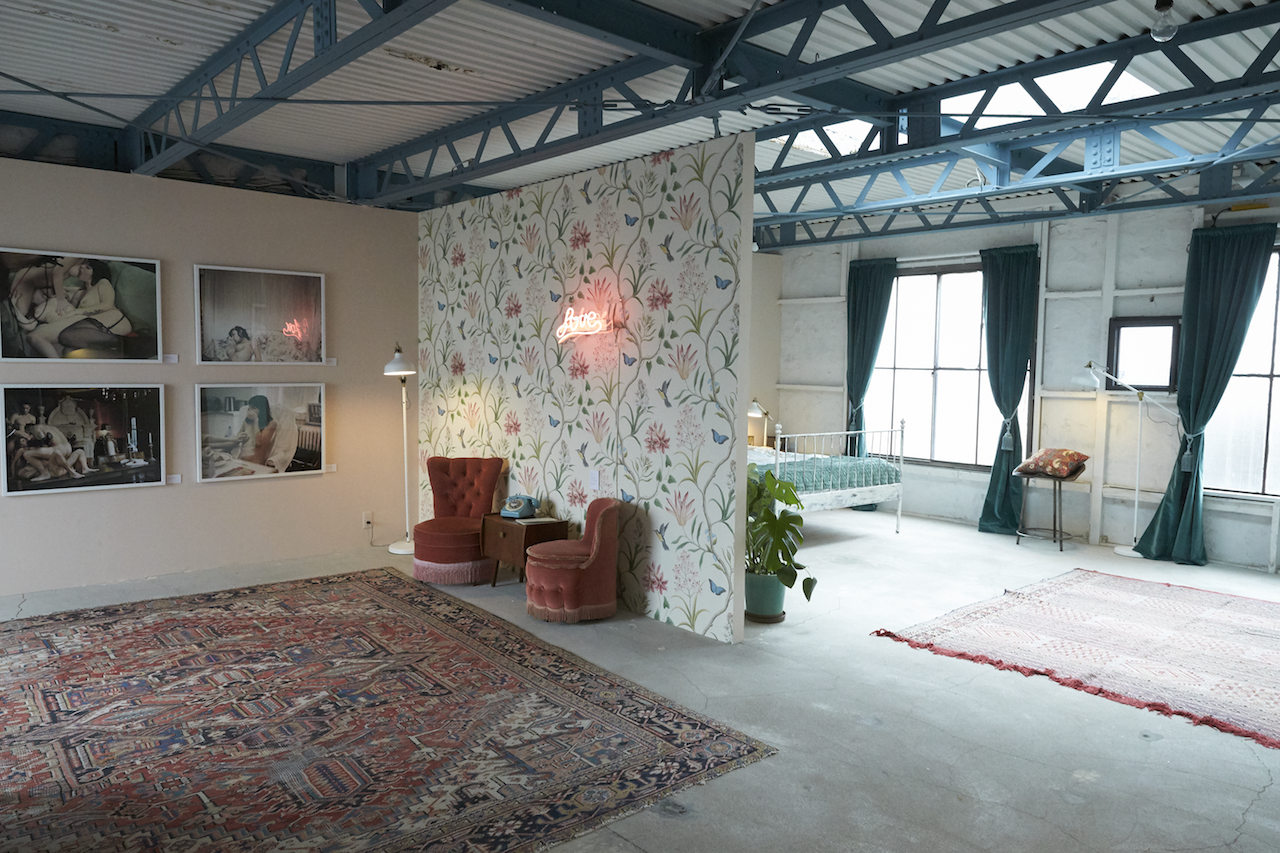 What does the word 'love' stand for in this exhibition, and in your work in a broader sense?
I didn't expect there to be love in the making of porn, love between the people. 'It's Just Love' is almost like the end of a sentence: at the end of the day, it's just love, and people bring it to the job they're passionate about. There are actually two porn actors who met on one of the sets, and now they're married. It was very cute to see because I was there at the very beginning of their relationship.
While working on the project, was there anything you promised yourself you would or wouldn't do?
I always had to keep in mind that it's an art project, as it's actually very hard to find a border between porn and art. You get used to seeing certain things – after the first day, you're a like 'eh, what's going on?', and then the second day you feel like it's completely normal.
What the [crew were] shooting was so different from what I was shooting. It was very interesting to see that with the same light, the same models and the same moment we could have such different images. They were making proper porn images – quite 'in your face' images – while I was making art and trying to show the beauty in the body.
Also, there's one thing that I didn't want to do: I didn't want to portray the porn industry in a sad way, because it's very easy to go on set and just prompt people in that direction. Like there will be a girl on the sofa, and she's tired so she's taking a nap, and you can take a picture where she'll look very sad.
You say it's easy to create a sad narrative of the porn industry. But did you ever feel there were actual sad sides to it as well?
No, not really. I think I was really fortunate; what I saw was always very pleasing to the eye. I'm not an advocate for porn – I know that I was probably fortunate, but from what I've seen there was no sadness. I think I wouldn't have carried on with the project if I had seen things that were unpleasant.
Has spending four years living with people from the porn business, surrounded by it, changed your view of the industry?
I don't watch porn, so I was very naive when I arrived on set – I didn't know anything. But I had all these preconceptions. I guess I see it more as an industry now, but it would be very pretentious of me to say that I know it inside out, because I've only seen one director on his sets, and a few girls.
The truth is that the porn industry is dying. It's always been an industry with a lot of money, but because of YouPorn and stuff, everything is free now; the younger crowd, they don't buy porn, they just go get it online. So there's no more money.
The people who still do porn with some money are those that make stuff for people in their forties. The males they feature are 40-plus, and then the girls are younger – to attract that clientele. Once they age, I don't know what's going to happen to the porn industry.
Images: It's Just Love ©Sophie Ebrard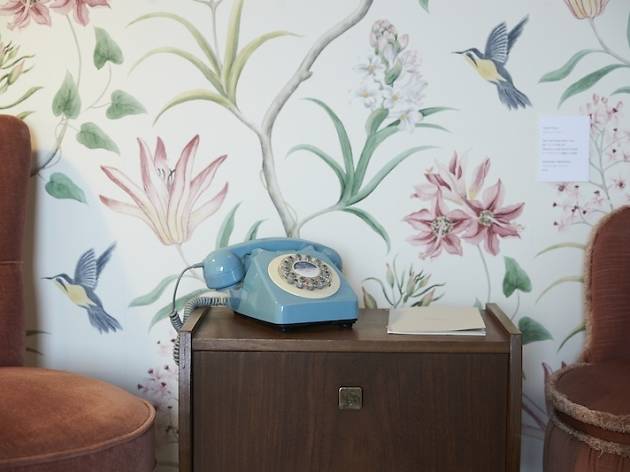 Sophie Ebrard: It's Just Love
Until May 7
At Frank Work Studio
9-9 Chudojimae-Dacho, Shimogyo-ku, Kyoto
1pm-7.30pm daily
¥500
Heading out to Kyoto?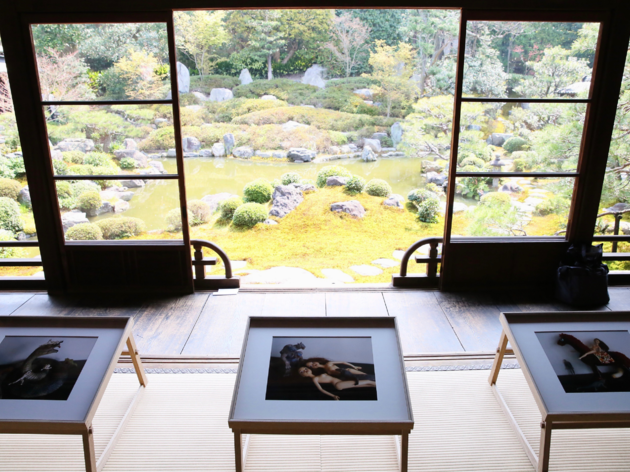 Our top picks for the fifth edition of the Kyoto-based international photography festival
More to explore