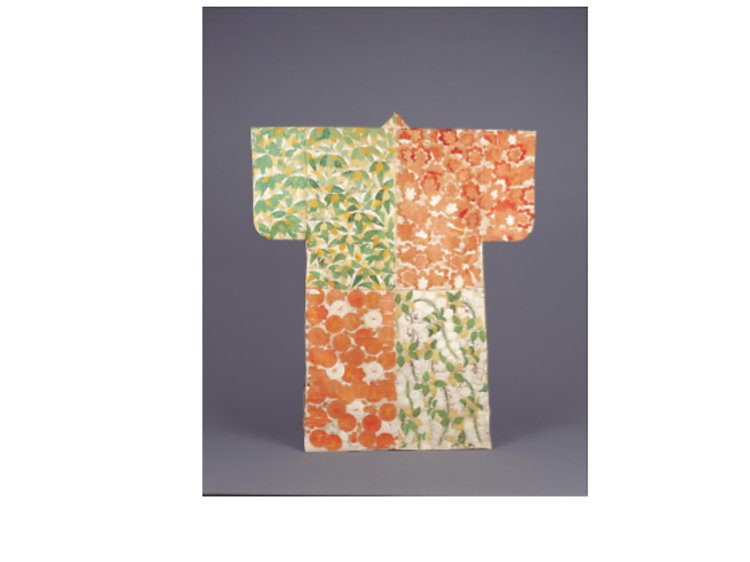 重要文化財 縫箔 白練緯地四季草花四替模様 安土桃山時代・16世紀  前期展示4月14日(火)~5月10日(日) 京都国立博物館蔵
Kimono: Fashioning Identities
Held at the Tokyo National Museum from June 30 to August 23 2020, this exhibition dug deep into the history and cultural significance of the kimono. It touched on themes such as the garment's origins, its evolution and its contemporary role, and featured a range of remarkable items – from the only remaining kimono decorated by master painter Ogata Korin and a jinbaori coat worn by the 16th-century warlord Oda Nobunaga to the OTT clothing designs of Taro Okamoto.
For Kris Yoshie, the exhibition stood out for its extensive range. 'The show was interesting because it featured a wide variety of kimono, not only those of a specific artist or era,' she says. 'For those who weren't able to attend, the Japan Cultural Expo website has video of the first half, including explanations of the garments exhibited. The clip can be viewed until the end of March 2023, so you can explore the history of the kimono almost like at the exhibit itself.' (Note: the exhibition's official website will be closed by the end of March 2021, but some of the videos will be made available on the Japan Cultural Expo website instead.)
'I used to wear kimono on occasions such as New Year's and to my coming-of-age ceremony, but have not been able to do so after becoming disabled. But come to think of it, before Japanese people started wearing Western clothing, everyone – including those with disabilities – dressed in kimono. That speaks both to the adaptability of the garment and to the ingenuity of our ancestors. I like how the kimono's sustainability, how it can be resized and turned into other items, is coming into focus again.'
Note: This exhibition ended its run on August 23 2020.