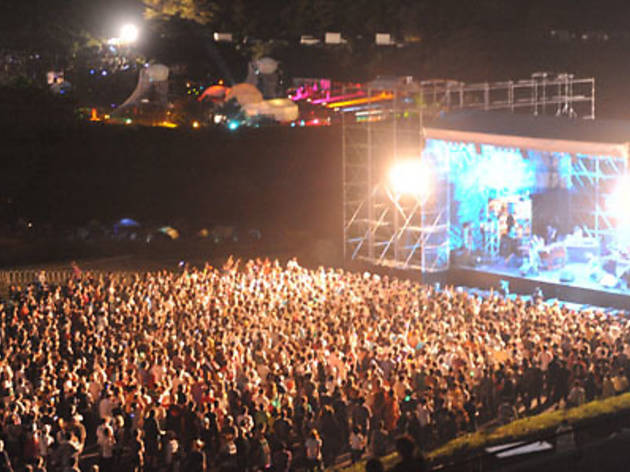 Time Out says
Friendly warning! We're working hard to be accurate. But these are unusual times, so please check that events are still happening.
Metamorphose is the summer festival for people who love techno, house, electronica, and other genres of electronic music. Its pre-eminence shouldn't come as a surprise to anyone, considering that it is approaching its 10th year, having started way back in 2000. This year's festivities are set to take place on September 4th. It's being held at Izu Shuzenji's massive amusement park Bicycle Land Cycling Sports Center, as it has been for the past several years –as if it would be held anywhere else. What makes Metamorphose special is the schedule. By and large, outdoor festivals kick things off some time around noon, with the main act finishing up around 10pm. If the fans want to keep partying their only option is to head over to the dance tent. Metamorphose, however, does things a little differently. It's an all night festival with the main activities not really getting started until after midnight. And it's not just about the music. Lasers, moving images, and other lighting effects are an important part of Metamorphose's special vibe. It also doesn't hurt that there are hot springs and amusement park rides (rollercoasters in the dead of night, anyone?) on the premises to be enjoyed as well. Yes, Metamorphose is much, much more than just your typical outdoor music festival. As it's all taking place right next door to Shuzenji – with hot springs that are considered great even by Izu standards – fans will be able to check out various hot springs before or after the festival. Even though Metamorphose is an outdoor festival, it's important not to forget that it's being held at an amusement park, so no need to worry about packing up the camping gear. It's even possible to make a day trip out of it, being only about a two hour train ride from town.
Enough with the build up; let's get on to this year's line up. For starters, there's the krautrock legend Manuel Götschiing, who's making his third appearance (once having done so under the moniker Ashra). This time around he'll be performing his 'Inventions for Electric Guitar'. He'll be accompanied by three other guitarists, including Steve Hillage, who has been trailblazing at the front line of psychedelic music under the banners of Gong and System 7. Originally recorded back in 1975, 'Inventions for Electric Guitar' was an important stepping stone on the path leading to the more electronic-leaning sounds of Manuel's later work with Ashra, which makes heavy use of synthesiser. This will be a don't-miss opportunity to catch live on stage this masterpiece of minimal music, constructed of layer upon layer of looping guitars and echo. Speaking of legends, Grandmaster Flash – the father of hip hop – will also be performing at the festival. The line up of artists representing Detroit techno, one of Metamorphose's fortes, will be befitting of the tenth anniversary celebrations. First off there's X-102, which reunites Jeff Mills and Mike Banks of Underground Resistance fame. Following will be DJ Derrick May, well loved for his amazingly erotic and funky style. Moritz Von Oswald, one of the originators of the Berlin techno scene, will be performing live with the Moritz Von Oswald Trio, hopefully even outdoing the amazing show they put on when they came to Japan at the beginning of this year. The house/techno DJs Dubfire and former Underworld member Darren Emerson, who've been consistently shaking up Europe's biggest dance floors, will be rocking the turntables. Veteran DJs Larry Heard and Henrik Schwarz will be representing for the pride of deep house. There's even more to Metamorphose than just its dance/electronic cred, with a stellar rock line up on the menu as well. Mogwai, the Omar Rodriguez Lopez Group (of Mars Volta fame), and 65 Days of Static will be keeping things interesting. Nanao Tavito, who's been garnering a lot of attention since the release of his first album 'Billion Voices' will also be appearing. Tommy Guerrero will be delivering the laid back guitar stylings of America's west coast to his fans here in Japan. Let's not forget that the punk/reggae trickster Don Letts, as well as Shing02, will also be taking the stage. Rounding things out will be the familiar sounds of the great Japanese DJs Ryota Nozaki (Jazztronik), Eye, Fumiya Tanaka, Calm, Kihira Naoki, DJ Q'Hey, Mayuri and more.
Details