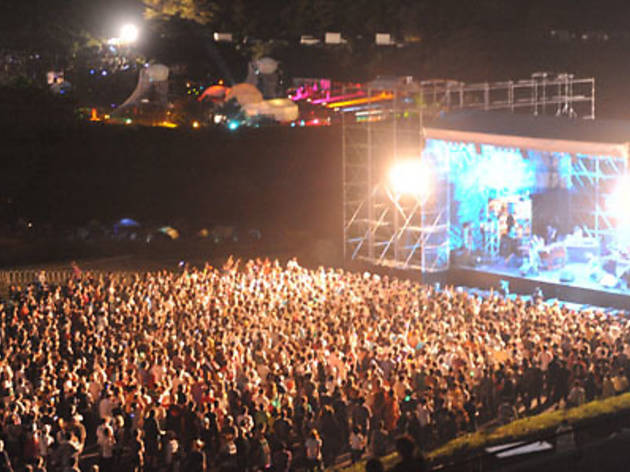 Note: The organisers of Metamorphose announced this morning that the event has been called off due to the typhoon, making it the second big outdoor party this summer to be fouled up by inclement weather, after Freedommune Zero just a few weeks ago.
Now into its 11th year, Metamorphose continues to act as a symbolic swansong for the summer festival season. While it's principally known as a techno festival, the remit is actually a lot broader than that: witness Mogwai's rapturously received set last year, and the inclusion of overblown psychedelic popsters The Flaming Lips this time around. Other attractions include Orbital and 808 State, the '90s dance acts who've staged live comebacks in recent years, veteran party starter Tim Deluxe, former Kraftwerk member Karl Bartos, and the godfather of techno himself, Derrick May. In what's sure to be an emotional performance, too, tabla whiz U-Zhaan will be playing as 'U-Zhaan x Rei Harakami', in tribute to the Japanese electronica producer who died suddenly last month.

Here's the complete lineup...

DJ Baku, Karl Bartos, Cut Chemist, Deep Cover, Tim Deluxe, Dub Squad, 808 State, Eye, The Flaming Lips, Galactic, Galaxy 2 Galaxy, Gold Panda, Derrick May, Mayuri, Minilogue, Moodymann, Tavito Nanao, Nisennenmondai, Orbital, Q'Hey, Rega, Stevie Salas, Talvin Singh, Ebo Taylor and Afrobeat Academy, Toe, 2526, U-Zhaan x Rei Harakami (tribute set)

Note: Leftfield have cancelled due to illness