Rock in Japan Festival 2013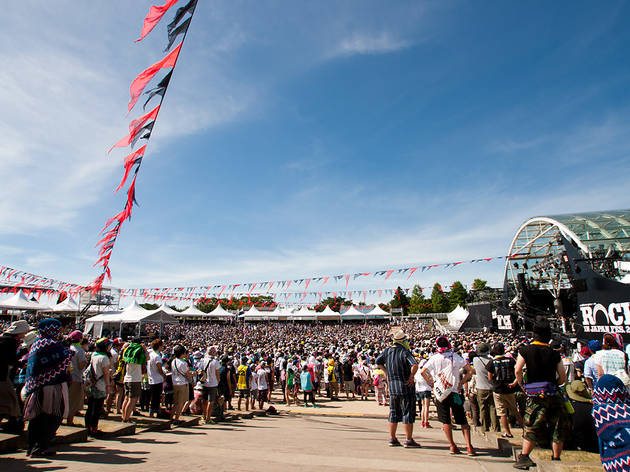 Few music magazines have a better grasp of what the public wants than Rockin' On, the influential periodical behind the annual summer Rock In Japan festival and its winter counterpart, Countdown Japan. The former, held at an attractive seaside park on the Ibaraki coast, consistently sells out in advance each year – despite (or maybe because of) the fact that the lineup has more repeat performers than any other summer music fest. Here's the lineup so far...

August 2
The Back Horn, Back Number, Bigmama, [Champagne], Coldrain (NEW), Dr Downer, The Flickers, Flower Flower, Fujifabric, Fukurouzu, Good Morning America, Motohiro Hata, Hey-Smith, Husking Bee, Inoran, Shishido Kavka, Kyary Pamyu Pamyu, Last Alliance, Maximum The Hormone, Merengue, MowMow Lulu Gyaban, Mongol800, Yuji Nakada, Negoto, Shiori Niyama, Noise and Milk, Okamoto's, One OK Rock, Puffy, Rip Slyme, Rottengraffty, Sakanaction, Straightener, Shugo Tokumaru, Soil & "Pimp" Sessions, Tancobuchin, Totalfat, Unison Square Garden, Wasureranneyo, Zazen Boys...
August 3
Akai Ko-en, Androp, Applicat Spectra, Asian Kung-Fu Generation, Back Drop Bomb, Base Ball Bear, Bump of Chicken, Buzz The Bears, Capsule, The Chef Cooks Me, Cinema Staff, Creephyp, A Flood of Circle, Good4Nothing, Hello Sleepwalkers, Hilcrhyme, Ken Hirai, Leo Ieiri, J, Miliyah Kato, Kinniku Shojo Tai, Lecca, Low IQ 101 & The Rhythm Makers, Magokoro Brothers, Nico Touches the Walls, 9mm Parabellum Bullet, Nothing's Carved in Stone, The Novembers, Overground Acoustic Underground "5", Passepied, Pes, Polysics, Samezame, Sayonara, mata kondo ne, Shinku-Horou, Special Others, Yu Takahashi, Mao Uchu, White Ash, Masayoshi Yamazaki...
August 4
Yuko Ando, Anzen Chitai, Avengers in Sci-fi, The Band Apart, The Birthday, CNBLUE, Does, Dragon Ash, The Dresscodes, Flower Companyz, Group Tamashii, The Hiatus, Kana-Boon, Kinoco Hotel, Taro Kobayashi, Kreva, Luki, Tortoise Matsumoto, The Mirraz, Miwa, Miyavi, My First Story, Nubo, Ohashi Trio, Tamio Okuda, Orange Range, Perfume, Plenty, Predawn, Quruli, Rihwa, Maaya Sakamoto, Sakanamon, Scandal, Scott & Rivers, The Starbems, 10-Feet, TK from Ling Tosite Sigure, Tokyo Karankoron, Tricot...