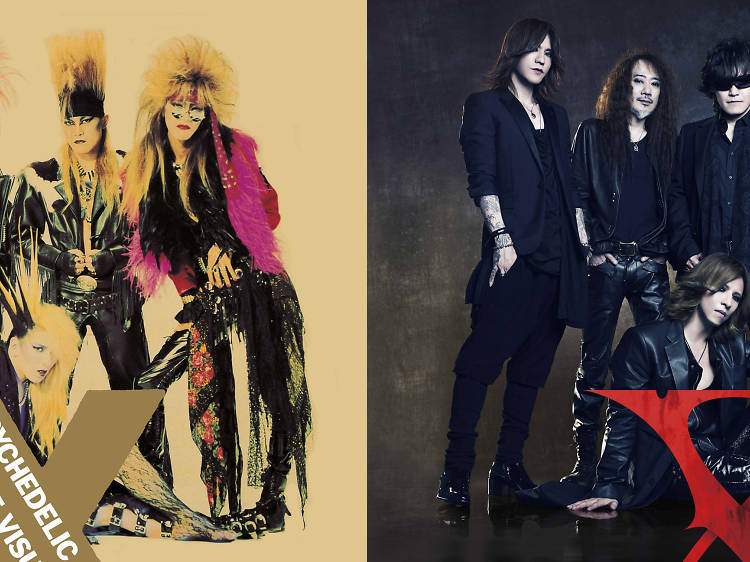 Visual kei (meaning 'visual style', with the 'kei' pronounced 'k') is a musical genre – and beyond that a subculture – which grew out of a tangled mix of glam rock, punk and new wave influences, combined with kabuki theatre and shojo (manga for young women).
Heavy metal band X Japan (pictured above), formed in 1982, are widely considered the pioneers of the genre and are also credited with originating the name, which was presumably adopted from their slogan, 'Psychedelic violence crime of visual shock'. Notorious for their gravity-defying hairstyles, flamboyant clothes and outrageous make-up – which could be interpreted as both warrior-like and hyper-feminine – they predictably shocked parents whilst enthralling teenagers across the nation. Along with bands such as Buck-Tick and D'erlanger, X Japan introduced the country to shocking new visuals and sounds. They kickstarted a movement that saw musicians exploring the boundaries of excess, explicitness and androgyny while providing a unique take on Western music styles.
Although the music is generally described as heavy rock or metal (including everything from punk to power metal, and later nu-metal, hip-hop, electro and pop), visual kei actually spans a vast array of genres and continues to evolve. A better defining factor is, perhaps, the aesthetics. Dark, gothic, historical and traditional influences are common, and large elements of the look are comparable to the Western rocker styles of yesteryear: big hair, matching leather outfits and elaborate stage costumes.
While LA glam metal or the New York Dolls might have experimented with lipstick and lace, visual kei goes one step further in blurring the genders through cross-dressing and androgyny. It's a theme that works for many of the bands' story concepts, and also supports the Japanese appetite for idols and appreciation of male beauty and youth. These musicians aren't just 'guys in a band', they're a real-life representation of the unattainable princes in a girl's comic book, combined with something cool and exciting. Maybe an ageless bisexual vampire or a fantastical erotic space pirate or a dazzling rock angel… you get the idea.