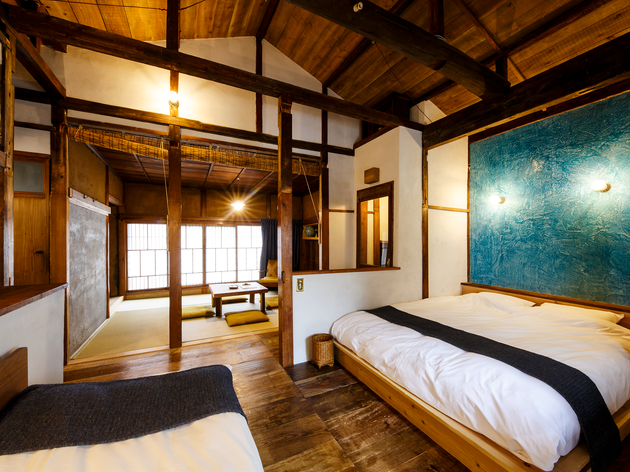 A heritage home in Akasaka is now open for booking as a guesthouse
Posted: Tuesday August 13 2019, 6:59pm
Tradition is slowly disappearing from the fast-moving modern metropolis that is Tokyo. Just like the protagonists in Virginia Lee Burton's 1943 children's book 'The Little House', too many Tokyoites are driven to the suburbs as historical neighbourhoods give way to skyscrapers and the concrete jungle.
Nevertheless, those who want to see Tokyo before its rapid urbanisation can still find glimpses of its pre-modern past in bits and pieces scattered across the central area. But perhaps none of such brief encounters can match the memorable experience of spending the night in Tokyo Little House at the heart of bustling Akasaka.
Inspired by Burton's book, Tokyo Little House seeks to preserve a slice of the past within a modern setting. Owner and editor Kohei Fukazawa, along with his wife and writer Kimiko Sugiura and translator Sam Holden, undertook extensive (mostly DIY) renovation on the small two-story house built by his grandparents in 1948, turning it into a charming, one-of-a-kind boutique guesthouse.
No details were spared in upcycling decades-old items and retaining original designs wherever possible. Wooden boards from old furniture are reborn as material for the new, while the house's walls are intentionally exposed to give guests an idea on how the building was constructed.
Yet, modern heating, soundproofing and home appliances are introduced to ensure comfort for guests. With a microwave, refrigerator, a rice cooker and a small stove, guests can feel like a long-time resident even if just staying for one night.
The result is a single-suite lodging that allows only one group at a time (up to five people) to enjoy the juxtaposition between the homey past of the guesthouse and the modern lights of Akasaka right outside.
But for those who do not have the chance to stay overnight in Tokyo Little House's second-floor space, a visit to the first-floor café and gallery area is a must. The menu pairs premium coffee prepared by Fukazawa's sister, who worked for a famous coffee roaster, with craft beers from popular Kawagoe-based Coedo Brewery and baked goods from Meguro's heritage bakery Morikage Shoten.
The gallery, on the other hand, features a rotating exhibition on the history of Tokyo. It's currently showing a series of photos taken by the US military in the immediate aftermath of World War II. Knowing that Tokyo Little House has risen from the burnt-down remains of residences destroyed by wartime bombings will help increase your appreciation for the little piece of history preserved in this little two-story house.
For more information about Tokyo Little House, including bookings, check the official site here.
Share the story