Everyone's been posting their home-cooked chocolate cakes, classic Japanese dishes or fancy home-baked bread on Instagram for the past month or more. But before you reach for another 1kg bag of flour, why not swap that sourdough for a different kind of fermented food and try your hand at making traditional Japanese nukazuke pickles?
In Japan, pickles come in many different forms, but none is more distinctly Japanese than nukazuke. These pickles aren't made using vinegar – instead they're cultured with a paste called nukadoko.
What's nukadoko?
Similar to a sourdough starter, nukadoko – a rice bran paste – is a living organism that requires daily nurturing. A nukadoko pickling bed can last for 50 years or more if properly stored – many Japanese families pass their pickling beds down through generations.
Once you have a nukadoko started, you can pickle just about any vegetable, or even cheese, meat and fish. Pickling time varies depending on the food and its size – cucumbers can take just a few hours, whereas harder veggies like radishes and carrots may take a day or two to ferment.
Getting started
If you're ready to give traditional Japanese pickles a try, there are plenty of recipes online for making a nukadoko. We love this one from Chopstick Chronicles that walks you through creating your very own nukadoko pickling bed. For something a little more advanced, try this recipe from Japan Centre, which uses beer and dashi powder to help ferment and flavour the nukadoko.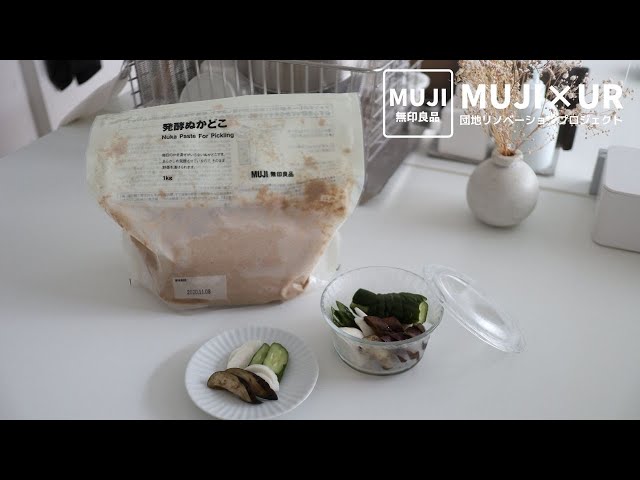 If you'd rather jump straight to pickling, Muji sells ready-made nukadoko paste which comes in a large bag and is ready to use right away – you'll find it at Muji stores or online. The YouTube video above shows how to get started making pickles with the Muji nukadoko.
However you get your nukadoko pickling bed, it will need your daily care and attention. If you're making it yourself, you'll know your nukadoko is ready when it starts giving off a slightly sour smell.
Making nukazuke pickles
To start pickling, take your cut and washed vegetables and rub them with salt. Veggies like cucumber can be pickled whole, but larger ones, like daikon, are best cut up into smaller pieces. If you want to try fermenting more delicate foods such as tofu or avocado, wrap them in paper towels first.
Bury the food you want to pickle in the nukadoko mixture and make sure it's all well covered. Then let it sit in a cool, dark place or in the refrigerator. If you have a mix of different vegetables, allow about 24 hours for them to pickle properly.
When the fermentation process is finished, take the pickles out of the mixture, rinse them with water and pat them dry. Then, just cut them up into smaller pieces and enjoy.


More food news
Nine ways to use miso that don't involve soup
Simple recipes made from Japanese convenience store items
Cook real-life versions of iconic Studio Ghibli dishes
This Tokyo artist turns slices of toast into edible art