Afuri needs little introduction to anyone interested in ramen. The noodle chain has garnered a cult following since opening its first restaurant in Tokyo in 2004, and it now has nine locations in the city and more around the world. The signature dish is yuzu shio ramen, and now you can learn to make it at home thanks to chef Adam Liaw's YouTube series, Ramen School.

The Malaysian-Australian chef, television presenter and author rose to fame after winning the second season of Masterchef Australia in 2010. Liaw's wife is Japanese, and the couple spends a lot of time in Japan, deepening his knowledge of Japanese cuisine.

In Ramen School, Liaw dissects a bowl of ramen to reveal all its essential elements before showing you how to make the ramen at home. Liaw says the tare (seasoning sauce) is what helps define the type of ramen. To make an Afuri-style yuzu-shio tare, he combines some classic Japanese ingredients: mirin for sweetness, sake for umami, rice vinegar for sourness, salt, some broth, and yuzu juice for acidity and fragrance.
'Yuzu has the most amazing aroma. It's not like lemon, not like grapefruit, it's quite unique,' says Liaw. (Pro tip: if you can't find yuzu, we like to substitute it with lime juice and a splash of orange juice.)
Next is Liaw's aromatic oil, a blend of spring onions and dried baby anchovies toasted in corn oil, pork and chicken fat, with a strip of yuzu zest at the end to infuse the mixture. 'Usually the thing that you can smell when you come into a ramen shop, partially is the broth, but mainly the aromatic oil,' he says.
To assemble your bowl of ramen, it's broth first, followed by tare, aromatic oil, noodles and then the toppings. The result is a light and delicate broth, with layers of fragrance and flavour.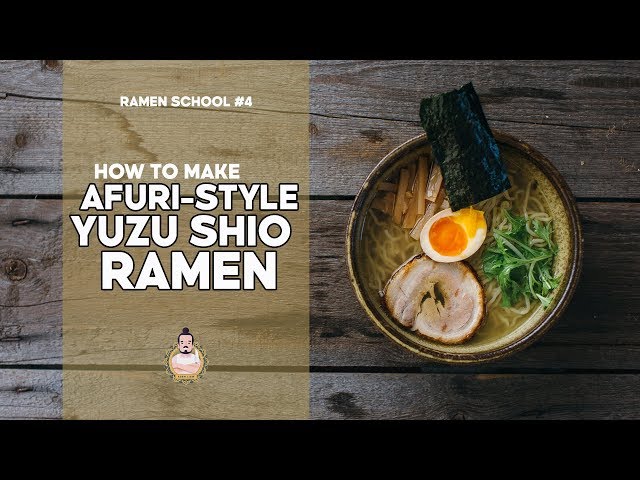 There are plenty more tips and tricks throughout the series, like using hot ramen broth to warm the soup bowl before serving, and Liaw even includes handy hints for making informed choices next time you're ordering at a ramen shop ticket machine.
Find the full recipe for Adam Liaw's Afuri-style yuzu shio ramen here.
More home cooking inspiration
Nine delicious ways to use miso that don't involve soup
Tokyo Michelin-star chef shares recipes made from convenience store items
Make Tiktok's famous whipped coffee
Bake decadent chocolate cake with just a rice cooker
Learn how to make classic Japanese dishes with these cooking videos