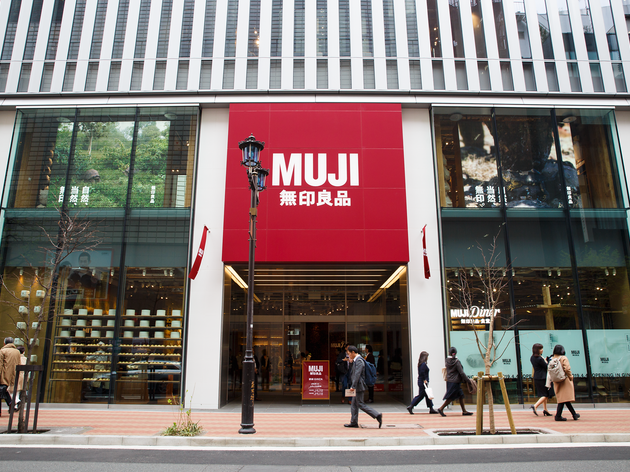 Muji opens its first Japanese hotel and global flagship store in Ginza
Posted: Wednesday April 3 2019, 10:52am
This Thursday April 4 marks the official opening of the highly anticipated Muji global flagship store in Ginza, and it's a culmination of all the things we love about the brand's functional, minimalist aesthetics. The largest Muji property in the world, this wonderful world of Muji expands over six spacious floors. It houses the country's first Muji Hotel as well as the Muji lifestyle store, two restaurants, a library, gallery spaces and even a salon/bar serving drinks and cocktails. So yes, you can now eat, drink, shop, sleep and even dream Muji.
Muji Hotel Ginza
Offering a total of 79 guest rooms, Muji Hotel Ginza takes over the sixth to the tenth floor, and there are nine different room options to choose from. If you've also dreamed of having your home all decked out in everything Muji, this is how it will look like. The rooms here are fitted with Muji lifestyle items, including its signature mattresses and toiletries, and feature classic Japanese touches like tatami floors and even wooden bathtubs.


Back at the hotel lobby on the sixth floor, you'll find the Atelier Muji. It features two gallery spaces, a shop, a lounge, a private library and Japanese restaurant Wa, which highlights a rotating selection of food from different prefectures across Japan. You'll also find the salon space here, where staying guests and the public can enjoy cocktails, drinks and small bites at a long wooden counter.


Muji global flagship store
Known for its simple and practical designs at reasonable prices, Muji is the go-to store for everyday essentials, whether you're in need of kitchen equipment, furniture, clothing or even an overwhelming selection of stationery and snacks. Sticking true to the brand's clean and homely aesthetic, this retail space and the aforementioned hotel are inspired by their home turf in Ginza, with an emphasis on sustainability – hence the use of upcycled materials throughout the interior decor. The store has even gone plastic-free, only offering either paper shopping bags or reusable totes, some of which you can purchase with a deposit charge and return later for a refund.
The first floor at the store features a bakery where you can see the bakers turning out fresh pastries. There's even a juice bar and tea-blending service, where you can personalise your own tea mix. Don't miss the fresh produce section if you're looking to pick up groceries and ready-to-eat bento boxes offering a variety of international dishes like pad thai, curry and Korean bibimbap. For those looking to do some DIY cooking, the shop carries an extensive selection of frozen and pre-packaged food items that you can easily heat up to serve at home.


The second to the fifth floor is where you'll find a wealth of lifestyle and fashion goods, and can even pick up a few souvenirs to take back home. Do stop by the customisation service area on the fourth floor: you can add on embroidery embellishments to certain items and even letterpress printing to personalise your stationery.
Muji Diner
Early risers rejoice: the Muji Diner at the basement opens from 7.30am for those looking for a healthy breakfast to start the day. The diner is focused on using seasonal produce with no preservatives, and works closely with farmers and growers to harvest only the best ingredients each and every season. Check the daily menu board for the set meals, or order from a selection of healthy Japanese dishes from day to night.
For more information on Muji Hotel Ginza and the Muji global flagship store, click here. Bookings for the hotel can be made here.
Share the story