15 minutes with Ken Ishii
The techno king talks Fashion Fuse, Tokyo club scene, and plans for the new year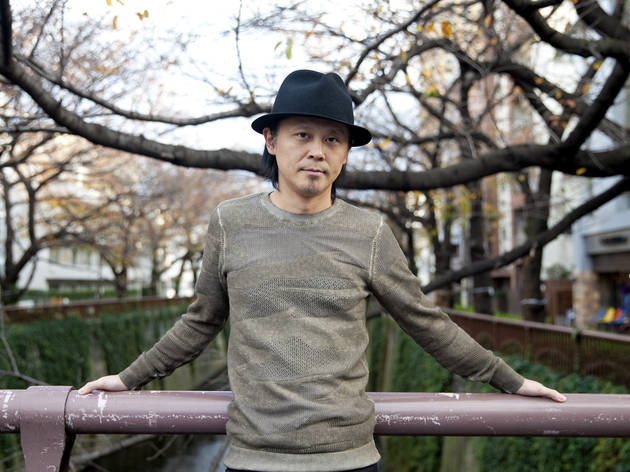 If you have even the slightest interest in clubbing and/or electronic music, you've probably heard of Ken Ishii. Internationally, the veteran DJ and producer is perhaps the best known Japanese techno artist, having put together a two-decade career that includes countless gigs at venues ranging from Ibiza to New York's famed Twilo and to Fuji Rock, producing the theme track for the 1998 Nagano Olympics, and forays into a variety of musical genres. Celebrating his lengthy career, Ishii has been changing it up in the last few years, releasing both the laid-back 'Music for Daydreams' album and the critically acclaimed 'Taiyo' (in collaboration with the Berlin-based Marc Romboy). His latest production, 'Dots', continues this independent trend.
This month, Ken Ishii will be headlining at the seventh edition of Tokyo Fashion Fuse, the ultra-glamorous party that combines dance music, catwalk models and fancy cars. Having appeared at the 2011 edition as well, Ishii is excited to be back at TFF, where he'll be joined by DJs like Satoshi Otsuki and Dani Savant, as well as models including popular TV personality Sumire, Sun Wei and Asano. Time Out Tokyo sat down for a quick chat with the relaxed techno king.
So you're back with Fashion Fuse, you must have enjoyed it the first time around?
Yeah, it was a great show, had both dance music and fashion, and the crowd was quite mixed: all kinds of people, not just music industry people and clubbers. That's what it's all about, a good mix, so I really enjoyed it.
What are your expectations for TFF?
They'll have more fashion shows, and also other music acts, so I'll want to watch the shows and have a good time. You know, they've booked some interesting people (laughs), so I want to watch them. There's even the cars [party-goers can pose with two Aston Martin sports cars], so that makes the party interesting – it's something that just doesn't happen anywhere else.
Your latest album was released under the 'Flare' artist name, kind of going back to your early career. Why did you choose to bring back that alias?
'Flare' is more for freestyle electronic music. When I make music as Ken Ishii, it's mostly techno, but as Flare, I like to do something more free. Especially for this album ['Dots'], when I was making it, I didn't even think about my fans or my listeners, I just did what I wanted to do. It was complete musical freedom. I thought I was very lucky to be able to release something like this, particularly at this 'heavy' time for the music industry. I'm really enjoying the whole project, just making music and releasing it.
Must have been really fun making this album, then?
Yeah, certainly. No rules, you know? Just compiling something that came up in my brain.
This latest album was released 20 years after your overseas debut. Looking back at your career, how has your way of making music changed over time? Or has it changed at all?
It's been changing. When I started, I started with old-fashioned hardware: keyboards, rhythm machines, half-rack effects, small mixers, adding stuff along the way. Then, maybe about 15 years ago, I'd put a computer into the setup. At the beginning it was just a part of it, but now it's more and more [computerized]. Now, about 90 percent is done on the computer. I mean, I still use keyboards and stuff, just not to forget that old-fashioned feeling. I still like going back and touching the keyboards, but still, even this album, it's almost 100% computer-made.
Then, do you feel like making music has become easier to get into, now that anyone can pick up some software and just start with their own ideas?
Sure. At the time when I started making music, you needed to have a, well, 'big spirit', a lot of energy. It cost more, took more time, more everything. But now, you can get some free software and just get started. Simply put, I'm jealous of the people who want to make music now (laughs). Now, everyone has a chance to make music, which is good. I mean, that's what I wanted when I was a teenager.
Having performed extensively all over the world, what do you think of the Tokyo club scene? How does it compare to e.g. European cities? There always seems to be people complaining that the scene's not really what it could be.
You know, when compared to other places, it's still good. It's stable, I mean everyone in the business is complaining about the scene, sure, but it's still stable and at a high level. I always have a good time when I play in Tokyo, there's always a lot of people, so I think it's going alright. Also, looking back at when I started, the scene was really small, maybe 300 people max [would come to gigs], now 30,000 is possible. The size is good, and people are starting new festivals and stuff, so the scene is healthy. If a music scene lasts long, you'll have some ups and you'll have some downs. The club scene is like a living creature; it always changes.
So the current situation with clubs getting shut down because they let people dance, you'd include that in those temporary 'downs'?
Yeah, I mean I do care about it, but it's kind of a standard Japanese thing, they like to keep things vague. They [the authorities] won't do anything fatal to the club scene. We can keep it up, I mean some people have to be careful at times, but I think it'll be alright.
How about the future of techno here, can you name any up-and-coming DJs in Tokyo? Who's going to be the next big thing?
Well, there are many people who are getting to be known recently, but who have actually been around for a long time. People like DJ Sodeyama, A. Mochi, they're good names to come out. Of course, Sodeyama's been around for 20 years, but he's getting more recognition now, so I'd like to highlight him.
Finally, any big plans for 2014?
I really don't make plans (laughs). I'm currently working on new music though, since after the latest album, now's the time to make and release some more dancefloor stuff. I've been working on that, and then just straightforward DJing. 2014 is gonna be more DJ-oriented for me, the standard life of a DJ artist, playing and making DJ music.