A chef's tour of Shinjuku
Follow the Park Hyatt's executive chef on a late-night swing in Shinjuku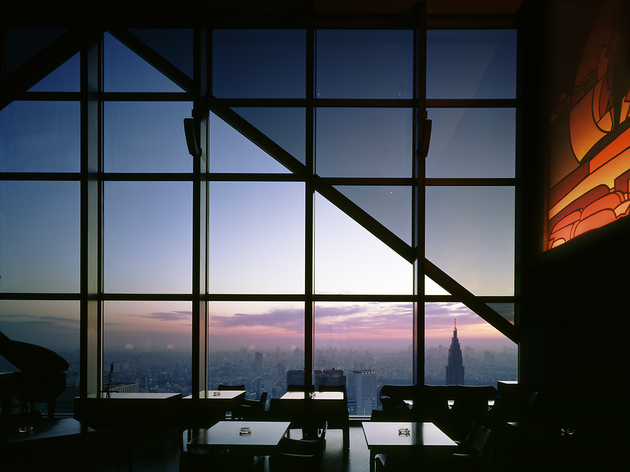 Thomas Angerer is executive chef at the Park Hyatt and oversees the hotel's eight award-winning restaurants including the iconic New York Grill. He has lived and worked in Shinjuku for four years – who better then to guide us through the area's best late-night bars and restaurants?
'For my perfect night, I'd start in the hotel – watching the sunset while having some cocktails at the New York Bar (Park Hyatt Tokyo 52F, 3-7-1-2 Nishi-Shinjuku, Shinjuku-ku, Sun-Wed 5pm-12midnight, Thu-Sat 5pm-1am). Up here on the 52nd floor it's amazing seeing the city change into "night mode". The sun goes down, the lights go on and it looks like a computer game. And I can't wait to go and play.
So I'd venture south into Nishihara, which is full of tiny neighbourhood restaurants and bars. You're not going to find many tourists here, but people are friendly. My favourite yakitori restaurant, Fuku (3-23-4 Nishihara, Shibuya-ku, 03 3485 3234, 5.30pm-11.30pm, closed Wed), is here. It's very small – 25 people and the place is full. I take guest chefs here when they come and they always love it, it's simple but the quality is outstanding.
Everything on a stick is incredible, but be sure to try the chicken neck with leeks on top and, if you're feeling adventurous, chicken tail. Finish off with green peppers stuffed with cheese and wrapped in bacon. It's insane. Everything is better wrapped in bacon!
So some sake, some skewers and we are off to Bar Nakagawa (3-25-5 Nishihara, Shibuya-ku, 7pm-4am). The owner does an amazing Moscow mule – he infuses the vodka with ginger for two weeks and it really kicks. He hand-shapes the ice and only plays classical music. This is what Tokyo is all about – finding these small little places where the owners go the extra mile.
It's probably approaching midnight by now, so let's head to Golden Gai (1 Kabukicho, Shinjuku-ku) and its bars. On the way we can make a pitstop at Yoyogi Village (1-28-9 Yoyogi, Shibuya-ku), which is built from shipping containers. In summer they put down some sand and create their own beach next to some beautiful palm trees. Grab a bucket of beers and sit in a deck chair or go to the music bar which has thousands of vinyl records lining the walls.
Once we get to Golden Gai I like to play "Bar Roulette". One person picks a street, another picks a number and another left or right. Then you go to, say, the third bar on the left of the second street. You walk in and see what happens. It never fails. One bar will be playing punk, one jazz, one is decorated with dolls' heads and only spins obscure '80s J-pop... You're always going to find a place that's fun.
Hang there for a few hours and then grab some ramen before you head home as the sun rises. There are some great places in Golden Gai: I like Nagi (2F, 1-1-10 Kabukicho, Shinjuku-ku, 24 hours daily). Order the tonkotsu – the pork broth will power you up for the walk home as the sun rises between the skyscrapers.'
Thomas Angerer