A chic night in Ginza
Spend the night out in style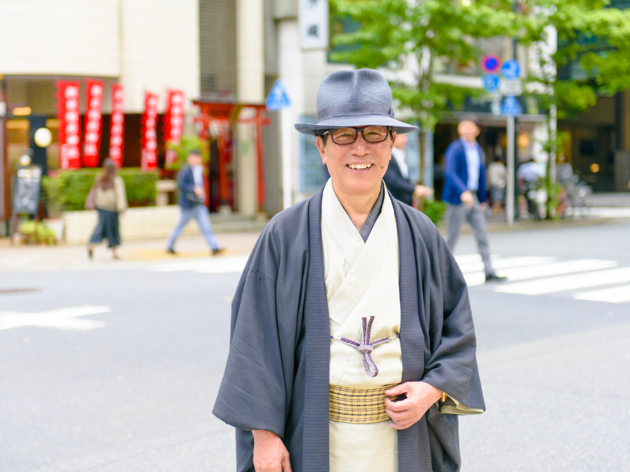 Komei Motoji is the president of Ginza Motoji, a kimono purveyor that operates three shops in Ginza. He has lived and breathed Tokyo's glitziest neighbourhood since 1979, never taking a day off, but making up for it by enjoying Ginza's nightlife to the fullest. These are his top after-dark picks in the area.
'I love my job, and work 365 days a year. But sometimes you need a break, and that's when I head to Tateru Yoshino Ginza (Pias Ginza 12F, 4-8-10 Ginza, Chuo-ku, tateruyoshino.com/ginza, 11.30am-2pm, 6pm-9pm), a French restaurant not far from our main shop. Chef Yoshino worked under Joël Robuchon in Paris and creates amazing dishes, but the location is unbeatable too – on the 12th floor of the Pias Ginza building, with views over the entire neighbourhood.
Make sure not to fill up completely, as we're heading to a yakitori joint next. Cheap, tasty and cheerful, Take-chan (4-8-13 Ginza, Chuo-ku, 03 3561 6889, 5pm-8.45pm, closed Sun & hols) has been a local favourite for over half a century. I'm usually content with just having a few drinks over dinner, but on nights when I feel really thirsty, I head for Bar S (Ginza Shiseido Bldg 11F, 8-8-3 Ginza, Chuo-ku, 5.30pm-11.30pm, closed Sat, Sun & hols). This fancy cocktail spot opened in 2015 inside the Shiseido Building and is a great pick for closing out the night.
Another nice option is Bulgari Il Bar (Bulgari Ginza Tower 10F, 2-7-12 Ginza, Chuo-ku, bulgarihotels.com/en_US/tokyo-osaka-restaurants/tokyo/il-bar, Mon-Sat 11.30am-11.30pm, Sun & hols 11.30am-6pm) on the tenth floor of the Italian luxury brand's flagship store – the biggest Bulgari store in the world.'