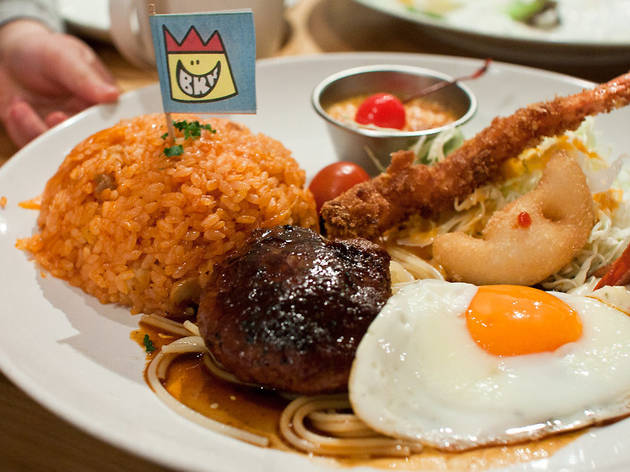 Time Out says
The sign outside the door informs customers, with a splendid sense of equivalence, that dogs and children are equally welcome at Baby King Kitchen. With its whitewashed walls and leather sofas, this tot-friendly spot near Koenji Station could easily be mistaken for a regular café – albeit one with a baby changing station in the toilet, an indoor swing, dinky slide and library of children's books. In its determination not to shed its grown-up trappings, the place seems to be angling for parents who'd rather stay at home than face another trip to a sterile family restaurant: call it the Bills Odaiba demographic, if you will.
Of course, the food at Baby King isn't quite as refined as the kind of stuff Bill Granger whips up in his kitchen, but they make up for it in volume; the ¥1,200 children's lunch plate – hamburger, battered king prawn, fried egg, rice, salad, wiener sausage and small dessert – would probably sate a grown man, and Time Out's three-year-old accomplice doesn't come close to finishing it.
The menu also includes a selection of themed dishes that will probably make most sense to Studio Ghibli fans, be it 'fried egg on toast whipped out of a wizard's bag' (as seen in Laputa: Castle in the Sky) or 'herring pie baked with grandma' (Kiki's Delivery Service). However, the kiddy options are far outnumbered by the adult ones, including some quite respectable pastas, pizzas, sandwiches and rice bowls – not to mention a good selection of booze.
Whatever your age, you can expect your food to come dotted with ketchup smiley faces, though we've been to maid cafés that were more infantile than Baby King Kitchen. Given the prices, it's probably the kind of place you'd go to as a treat rather than on a regular basis, and we were also surprised to discover that there weren't any non-smoking seats available. However, there's plenty to like about this kid-friendly café, not so much childish as young-at-heart.
Details
Address:
2F, 3-2-15 Koenji-Kita, Suginami-ku
Tokyo


Transport:
Koenji Station (Chuo, Sobu lines), north exit
Contact:
Opening hours:
11.30am-11pm daily
Best selling Time Out Offers