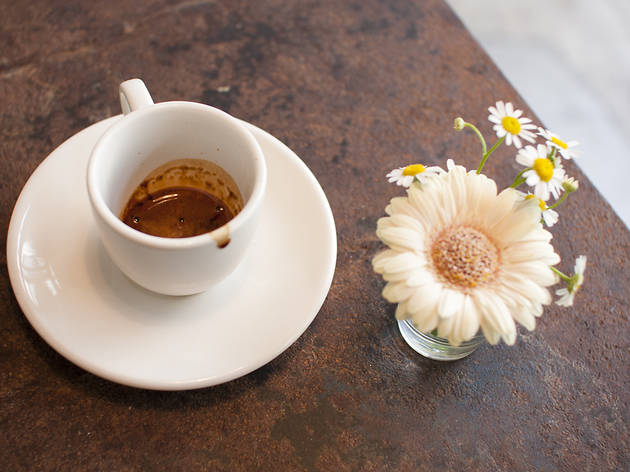 When it first opened in 2009, Bear Pond Espresso didn't take long to acquire a reputation as Tokyo's new coffee Mecca. Housed in a former sweet shop with space for half a dozen customers, it's constantly busy, and at weekends you can expect to queue out the door. The man behind the counter is Katsu Tanaka, who learnt his art during a nearly two-decade stint in New York, during which he attended seminars and public cuppings organised by some of the main players in the US artisanal coffee scene. His espressos come as a syrupy 1oz trickle of chocolate and nut that's gone in a couple of gulps, but you'll be relishing the aftertaste for a lot longer. Just make sure you turn up before 2pm, because Tanaka won't make espressos after that, claiming that the shop gets too busy for him to do the job properly. That's just one of Bear Pond's idiosyncratic rules – there's also a strict no-photo policy – and the service can range from friendly to downright truculent, which has earned the place its fair share of detractors. If that doesn't put you off, though, the coffee is generally superb: the cafe latte and its condensed cousin, the Gibraltar, are both excellent, while the jars of iced latte are a popular option during the summer months.
Venue name:
Bear Pond Espresso
Contact:
Address:
2-36-12 Kitazawa, Setagaya-ku
Tokyo


Opening hours:
10.30am-6pm / closed Tue
Transport:
Shimokitazawa Station (Odakyu, Keio Inokashira lines), north exit
Rating Breakdown
5 star:

0

4 star:

0

3 star:

0

2 star:

0

1 star:

3
Very rude lady behind the counter, aggressively asked us to make an order while we were still browsing the menu. Told a customer to close the door after he left it slightly open. No general customer service manners, appeared like they didn't want to be there working.
when we asked for espresso - the girl working behind the counter rejected all pleas for espresso saying they can do americana or latte but no espresso!!! we were so disappointed that just left,
Commenting to say that the owner was one the rudest, most unpleasant servers I have ever experienced. You say "truculent", I say "was borderline racist to me"...
When I entered the shop for the first time and sat down to look at the menu, he immediately yelled over to me in an aggressive voice "hey buddy, this is Japan. Not America. In Japan we order first and then take our seat" - 2 things "buddy", first I am not American. Second, actually in Japan people *do* usually take a seat before they order. I asked him to give me a couple of minutes to look at the menu and he again, actually yelling, said "if you're not going to order then get out" - WTF? I'm a mild mannered white guy, lived here for years - what did I do to deserve this? I am sure he gets his fair share of axxhole tourists but don't take that out on me. Coffee is a solid 8/10 though.